Archived News
Holy Cow! Haywood Pathways to launch food truck
Wednesday, September 02, 2020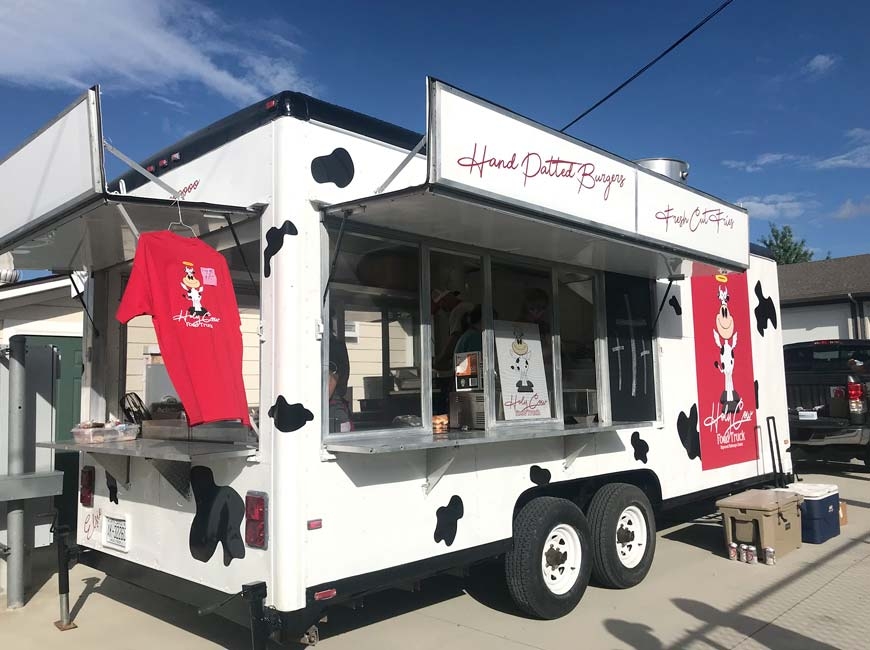 By Boyd Allsbrook • Contributing writer | Since its opening in 2014, the Haywood Pathways Center has become a life-changing place for people in Haywood County. Originally founded as a shelter for people experiencing homelessness or getting out of jail, it is now a holistic care and rehabilitation program. Residents are given warm beds, good food, and most importantly, resources for returning to the workforce.
As a nonprofit, Pathways relies heavily on donations to support its work. While churches and members of the community have been generous, this funding model can be inconsistent. Pathways Director Mandi Haithcox spoke recently about a new project to generate regular income.
"One thing we've wanted to do from the very beginning is to have some sort of social enterprise so we can help fund ourselves," she said. "We had a donor say "I'll give you the money for a food truck. Find the matching funds and we'll go from there.' We were able to do that."
Pathways bought a run-down carnival trailer from McLeod Concessions. Jackson County's Tuckasegee Wesleyan Church worked every weekend on restoring the truck, remodeling it inside and out. In July, they finished and brought it to the Pathways Center.
"Cute as beans," interjected Haithcox when describing the finished truck. "They named it Elsie, and it's called the Holy Cow because it serves hamburgers."
Pathways assembled a team to crew the truck. Serendipitously, the line cook had already worked seven years on the Holy Cow truck when it had been a carnival trailer.
"It had been his grandmother's, so he knows the ins and outs of it. And now he's here, working on it as his job," Haithcox said.
The food truck has been at New Covenant Church, where the congregation got to test out the food and give feedback. Although they had planned to launch the truck last week, they were delayed by technical difficulties at the Pathways commissary kitchen. Despite this minor setback, Haithcox said they still plan to open in September. She laughed about the timing, saying, "It's like, are we really going to open food service in the middle of COVID? But then it's outdoors, which seems to be the only thing that works."
The truck will serve hot dogs, hamburgers, and similar cook-out dishes. All money spent at the Holy Cow will go directly toward helping those staying at the center.
"The goal is to be able to provide some funds for our general operating support. But then also the big picture is moving towards helping residents with employment and job skills once we're established," she said. "Things like culinary, customer service — helping folks who have spotty resumes get some job experience and transition them into the community workforce. That's kind of the big-picture vision but right now we're just trying to get going."
The food truck will operate at several different locations, including the Bethel Professional Building, Waynesville's South Main Street, and Canton's First Baptist Church. Follow the Holy Cow Facebook page for updates.
Pathways is more than halfway to meeting its $5,000 fundraising goal to install a new walk-in freezer to use for food storage. To donate, visit www.facebook.com/ haywoodpathwayscenter.
Golf against hunger and homelessness
A golf tournament slated for Friday, Sept. 25, in Cruso will raise funds for Haywood Pathways Center and The Community Kitchen.
The event will take place at Springdale at Cold Mountain. Golfers will enjoy Holy Cow breakfast burritos, access to the driving range, 18 holes of golf, cart rental and a boxed lunch from Black Bear Café. This will be a Captain's Choice tournament in which each team will start at an assigned tee time from 8 a.m. to noon so that health precautions can be observed. All players must wear masks.
The event will be the first Unified Charitable Golf Outing for the two independent nonprofits, which help people experiencing food insecurity and homelessness in Haywood County. COVID-19 has affected both organizations' traditional fundraising plans while also increasing demand for emergency assistance. As partners in service, the groups agreed to further their partnership in creating this unified fundraising venture.
Register by Sept. 18. The fee is $150 per golfer or $600 per team. Advantage packages and raffle tickets are available with registration or on the day of the event. Register online at www.haywoodpathwayscenter.org or in person at Haywood Pathways Center in Waynesville or The Community Kitchen in Canton.
Event sponsors are wanted, as are local businesses and individuals willing to donate an item or service to the raffle. Contact This email address is being protected from spambots. You need JavaScript enabled to view it. or This email address is being protected from spambots. You need JavaScript enabled to view it., or visit www.haywoodpathwayscenter.org.