Archived Outdoors
Erosion issues ongoing at Millennial Campus
Wednesday, August 26, 2020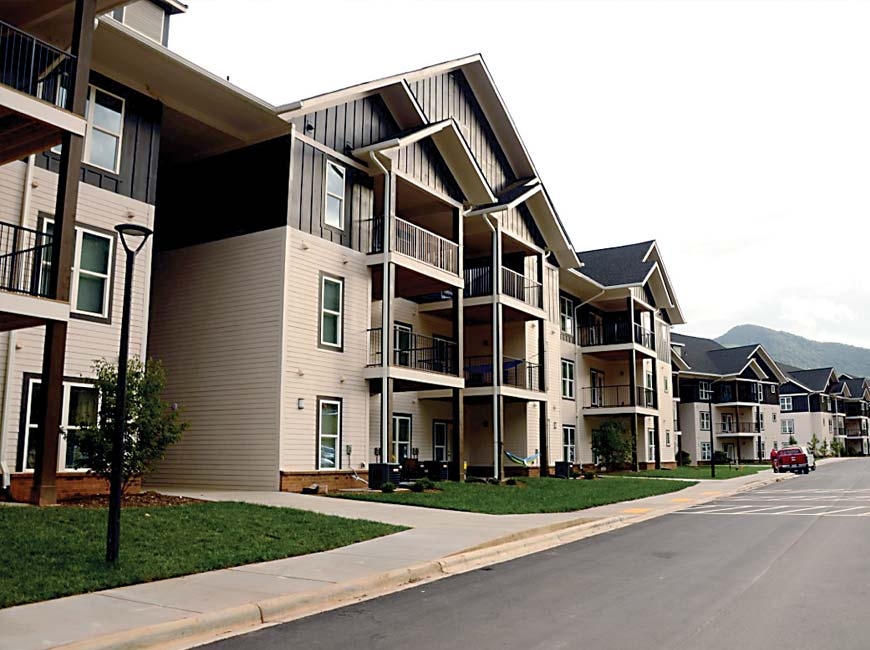 The site is still in violation of environmental standards, but the parking lot at The Husk is full following student move-in this month. Holly Kays photo
Despite multiple outstanding environmental violations, a new student housing complex located on Western Carolina University's Millennial Campus off Killian Road welcomed its first group of tenants this month.
Called The Husk, the 500-bed development was envisioned as a public-private partnership that would increase student-housing opportunities at a time of explosive growth for the university at a location situated just barely off the main campus. In December 2018, the Board of Trustees of the WCU Endowment Fund entered into a 40-year ground lease with ZP No. 335, LLC — a limited liability corporation whose listed address and contacts mirror those of Zimmer Development Company — entrusting that corporation with building and operating the planned development.
Lack of local control
Work on the project started in 2019, and it wasn't long before community members began to notice mud flowing from the construction site, down through Long Branch and into the Tuckasegee River. On June 17, 2019, the site received its first of many notices of violation from the N.C. Department of Water Quality. The aggregated results of multiple public records requests and documents provided to The Smoky Mountain News show a total of 10 notices of violation issued by the Division of Energy, Mining and Land Resources and six such notices issued by the Division of Water Resources.
The issue has come up in multiple Jackson County Commission meetings, with commissioners expressing anger and frustration over the situation but finding themselves unable to do much other than to appeal to the state. The state has control over the project, not the county.
"I think we all agree if this was a problem we had direct control over, we wouldn't be sitting here talking about it," said Commission Chairman Brian McMahan during an Aug. 18 meeting. "The reality is this is a state problem. We have no jurisdiction over it. We have no control over it. We have no ability to intervene in this project, change the course of the outcome. There's very little we can do. I know it's frustrating."
As students were moving into the completed buildings, many of the violations were still in effect, according to Jackson County Building and Code Enforcement Director Tony Elders. The violations described within them had not yet been sufficiently addressed by the developer.
"So when they get ready to move people in, if things in and around that place have not been taken care of properly, they're still going to move in?" asked Jackson County Commissioner Boyce Deitz during an Aug. 4 meeting.
"Yes sir," Elders replied.
"Well once that happens — really, am I wrong? — a lot of people that's been damaged by this and they've done nothing else to hold their feet to the fire," said Deitz.
The N.C. Department of Environmental Quality has the authority to issue stop-work orders in cases where off-site sedimentation causes severe damage to adjacent lands or severely degrades a lake or natural waterway. The DEQ did not do anything to halt the project until Aug. 14, when it filed for injunctive relief. Injunctive relief is stronger than a stop-work order, as it halts all work except for corrective actions until it is removed, while a stop-work order expires after five days.
However, this action will likely have little practical effect on the project. At this point, the structures are all complete with the exception of the pool house. The pool itself is approved for occupancy, and Zimmer has temporary certificates of occupancy for all buildings except the pool house. Those certificates are good for 90 days, with final ones issued when zoning approval for final landscaping and such is completed.
Long Branch flows brown from the construction site on July 23. Ken Brown photo
Continued violations
The violations in question have to do with erosion issues. Contractors have repeatedly failed to contain mud on the site, causing departing dirt to color nearby waterways various shades of brown, especially during heavy rainfall.
Ken Brown, executive director for the Watershed Association of the Tuckasegee River, grew up on a 78-acre property that includes the very land where the new apartments are located. He remembers when Long Branch, which flows right through it, was wider, shallower and good for fishing. Increased development in the area has forced the stream to become narrower and deeper, creating a whole different kind of aquatic ecosystem. Add in the continued onslaught of mud from the Zimmer project, and it's become unrecognizable. All that sediment has had a detrimental effect on the ecosystem there, he said.
"The only way a bedrock mountain watershed carries such a turbid sediment load is from unmitigated soil disturbance," he wrote in a July 5 post to WATR's Facebook page.
Public records show that in 2019 the project garnered notices of violation from DEMLR on June 17, July 17 and Nov. 13. This year, DEMLR issued such notices on Jan. 1, Jan. 9, Feb. 13, April 20 and Aug. 7 — just a week before move-in was scheduled to begin. The Division of Water Resources, meanwhile, issued notices of violation on June 19, July 31 and Nov. 4 of 2019; as well as Jan. 21, April 8 and July 9 of 2020.
The issues on the site came to a public head on Halloween last year, when a landslide originating from the Zimmer site resulted in extensive damage to a student housing development located downhill. One of the 12 small houses owned by Sherri Deitz was condemned after the landslide knocked it off its foundation, and all the homes had to be temporarily evacuated, with extensive mud removal required. Nobody was injured.
Another, smaller housing project from Zimmer, constructed on the opposite side of Little Savannah Road from The Husk, has also violated environmental rules. The Division of Water Resources issued a notice of violation to The Helm apartments on Aug. 17. The document states that the project violated turbidity standards and illegally discharged waste into the water.
Multiple penalties have been issued and according to public records total at least $105,000. However, Zimmer is contesting the fines in court. The process of assessing and issuing penalties is a slow one, so fines have not yet been issued for all notices of violation given in the project.
"Extraordinary rain events in the spring and summer of 2019, on occasion, overwhelmed the erosion and control measures," reads a petition from Zimmer contesting one of the fines in question, dated June 3, 2020. "On those occasions when the site was found to be out of compliance, Zimmer promptly corrected and addressed deficiencies. Zimmer believes it should not have been subject to civil penalties for noncompliance."
Brown doesn't buy that defense.
"Never in one given day on a rainy day has that site been in compliance enough to keep soil from leaving the site," he said in an interview for a March 4 story detailing the erosion issues.
Records show one instance in which Zimmer did not correct violations by the mandated deadline. On April 20, DEMLR issued a notice of violation stating that an April 14 inspection revealed violations of the N.C. Sedimentation Pollution Control Act and of the Construction Stormwater Permit. The notice informed Zimmer that it was required to correct the violations within seven calendar days of its April 23 receipt of the notice. However, according to a follow-up communication sent May 12, when the site was inspected on May 6 — nearly a week after the May 1 deadline to correct the violations — those violations were still ongoing. The notice informed Zimmer that it could be fined up to $5,000 per day for failing to correct the violations.
"The Division has lost confidence in your ability to prevent future water quality violations due to repeated violations and noncompliance with DEMLR," Division of Water Resources Regional Supervisor Landon Davidson wrote in a July 27 email to Jeffrey Zimmer of Zimmer Development Corporation and Joe Walker of WCU, provided to The Smoky Mountain News by Brown. "Please respond to this email by July 31, 2020 and provide an explanation as to why the site remains unstable, why erosion from the site continues to impact surface water and how these issues will be addressed."
Buildings are complete, but bare dirt is still visible on the site. Holly Kays photo
Looking toward the future
County leaders are frustrated about their inability to compel Zimmer's compliance with environmental standards, and in recent weeks the discussion in commissioners' chambers has turned to the question of how to prevent such a situation from occurring in the future.
"There's not much we can do about the past and not much we can do about the present, but in the future we do have opportunities for change," McMahan said during an Aug. 18 meeting.
At 6 p.m. Thursday, Sept. 10, the Jackson County Planning Board will hold a public hearing on an ordinance amendment that would require developers of multi-family developments to have erosion control measures in place before obtaining building permits from the county. The proposal was "very well received" when introduced during a previous Planning Board meeting, County Attorney Heather Baker told commissioners Aug. 18.
The planning board could vote next month to recommend that commissioners adopt the ordinance. If that happens, commissioners could hold a final public hearing in October to consider the amendment before voting on final adoption.
"Speaking as an individual on this board, you can't get the wording to us fast enough for us to change it for you," said Commissioner Mickey Luker during an Aug. 4 meeting.
The county is also considering pursuing legislative change on a state level. During an Aug. 11 work session, commissioners discussed proposing a change to state law that would give counties the option of taking responsibility for local soil and water inspections rather than reserving that responsibility for the state in the case of projects like the Millennial Apartments, which is considered a state project due to its location on WCU Endowment Foundation land.
"Maybe we can just get some traction on that and rally with some of our colleagues around the state to see if we can't get some control or at least in the future be more in the driver's seat," said McMahan during the Aug. 18 meeting.
For its part, WCU says it has also learned some lessons from the ordeal.
"We have been greatly disappointed by the violations and the ineffectiveness of the contractor and developer to address the issues with their site work, and we made our disappointment known throughout the project," said Vice Chancellor for Administration and Finance Mike Byers. "We believed that our agreement (ground lease) did not provide us with enough leverage to litigate successfully and in a way that would offer the greatest possibility of rectifying the problem quickly."
In the future, said Byers, the university will add language to its ground lease agreements that will improve its ability to influence the developer "in a number of ways" — including mitigation of regulatory issues.