Archived Reading Room
Jefferson's education, books, reading and gifts
Wednesday, August 26, 2020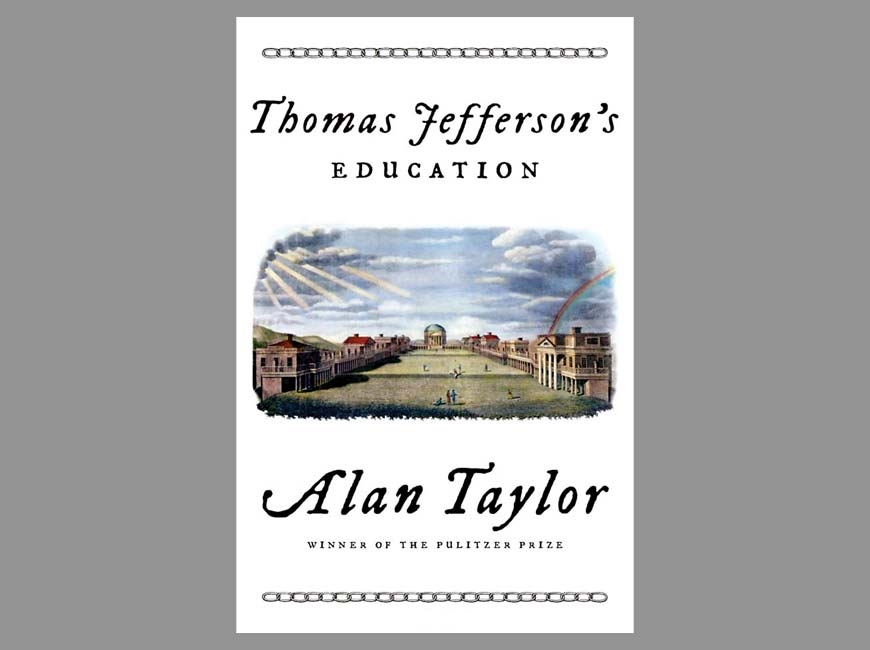 For five years, just after we were married, my wife and I were house parents for a sorority at the University of Virginia, responsible for the upkeep of the building and for the safety and behavior of the 20 young women who resided in the old brick home.
We sometimes faced mild disciplinary problems within the sorority, but the fraternities were by far our worst nemesis. The sorority house abutted an alleyway behind an Episcopalian church, and the alleyway led from the bars to fraternity row. On weekend nights that alley became a stream of drunken frat boys who often smashed bottles against the house, shouted obscenities, and relieved themselves by the fence. During my tenure there, I was spat upon, threatened, cursed too many times to count, and was once knocked unconscious.
Reading Alan Taylor's Thomas Jefferson's Education (W.W. Norton & Company, 2019, 426 pages) brought back memories, some painful, some humorous, of those long-ago days.
Here is just one of Taylor's many description of riotous students shortly after Jefferson founded the University of Virginia:
"In early 1826, students doubled down on their vices, for dissipation seemed more even more alluring than when it defied efforts to control them. Venturing into Charlottesville, they haunted taverns and confectionary shops (which served alcohol). A student noted, 'Here nothing is more common than to see students so drunk as to be unable to walk.' A visitor to Charlottesville reported awakening at 3 a.m. to rowdy students playing 'drum, fife, and clarions… aided by their Bachanalian clamours of applause.' Breaking into the courthouse, students 'rang the bell violently for 20 minutes as a solo.' Riding back to the University, they tore down a fence and rebuilt it to block the road."
The vast majority of these students were the sons of planters, young men whose wealth and position in Virginia society were surpassed only by their arrogance. Many of them scorned tradesmen as beneath them, brutalized the slaves employed by the University and in the town's hotels, displayed a fierce sense of personal honor, and saw no reason whatsoever for a "gentleman" to obey the regulations of the school.
In addition to this study of aristocracy, Taylor provides us with insights into Jefferson's personal education as an adolescent and as a student at William and Mary, gives numerous sketches of various family members and friends, examines the lives of the slaves at Monticello, discusses at length the role of the clergy in education, and looks at the rift that was already taking place between the New England states and the South.
As Taylor points out in his Introduction, because of its diversity today, "there is more to celebrate in what the University has become than in how it began. But we could benefit from cherished parts of Jefferson's legacy, including the pursuit of democracy, a devotion to rational inquiry, and a determination to pursue the truth wherever it leads. If that pursuit leads us to conclude that he fell short, the burden is on us to do better."
Thomas Jefferson's Education gives us a fascinating look into our colonial and post-revolutionary past as well as into the founding of the University of Virginia and the life of Jefferson himself.
•••
Since the theme here is education, and since our own system of education today is, to put it mildly, in a state of flux, I am including here some tips for parents, grandparents, and guardians on reading and books.
Whether your student is homeschooling, distance learning, or sitting in a classroom, try to set aside time each day for reading outside of your school schedule.
In no way should you associate this time for reading with school, but treat it instead as you might some special enjoyable activity like playing basketball, swimming, or dancing. All students have required reading for school, and you must see they do that reading, but because they associate literature with a classroom, some come to dislike reading.
So make this reading time outside the classroom a pleasure. Focus on the student's interest. If 8-year-old Johnny likes to create battles with his toy soldiers, go to the library and find him age-appropriate books on warfare. If 12-year-old Miranda loves basketball, softball and soccer, hit the library again, where she'll find both fiction and non-fiction sports books galore.
For teens, consider starting a book club. Teens feel the need for peer companionship more intensely than the younger set, and here is an ideal way to blend friends, books, literary discussion, and pleasure. You'll need an adult instructor to prompt discussions with questions and to keep those discussions on track. Throw in some popcorn and other snacks, and you're helping to forge friendships and create readers.
As for the pre-K crew, awaken their imaginations with the delights of nursery rhymes and fairy tales, reading aloud to them from books with colorful pictures. If there are older siblings in the home, get them into the act. Their participation will improve their reading and entertainment skills while helping educate the little ones.
Reading, author Kate DiCamillo once stated, "should not be presented to children as a chore, a duty. It should be offered as a gift."
Agreed.
(Jeff Minick is a writer and teacher. This email address is being protected from spambots. You need JavaScript enabled to view it.)