Archived Opinion
Craving a president who smiles with his eyes
Wednesday, August 26, 2020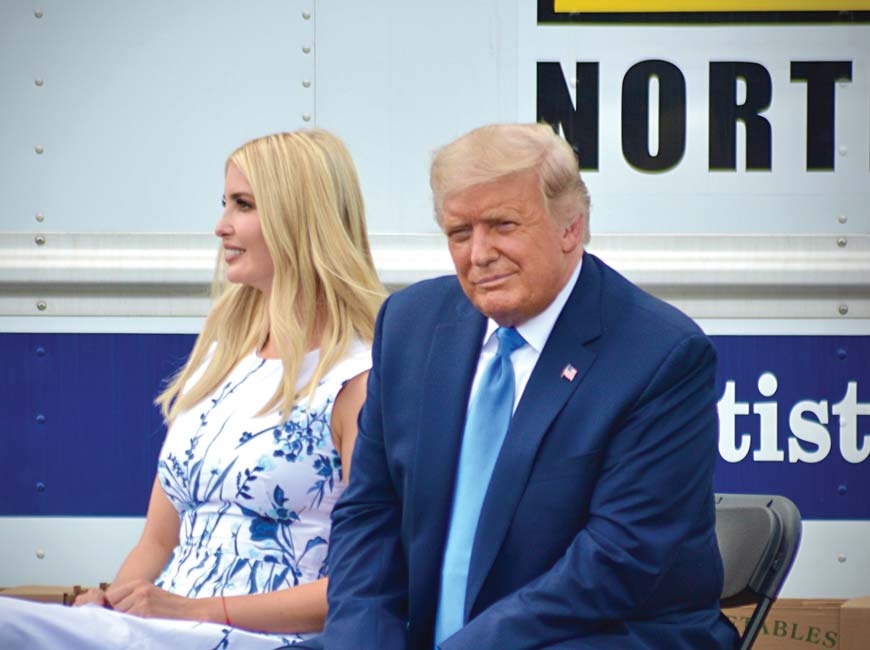 Cory Vaillancourt photo
A while back I noticed President Trump does not smile with his entire face. It struck me one day when I saw a photo of him with his signature closed-mouthed grin. The expression did not leave the jaw area. There was no twinkle in the eyes or lift of the cheekbones. I started watching more closely and yep, no smiles or laughs. I even Googled "pictures of President Trump smiling," and of many images, there was one photo where he sort of looked like he was truly smiling while walking hand in hand with Melania.
The 2020 election is clearly heated. I'm not typically outspoken about my views, but even quiet souls have a boiling point. At the very least, I would like a president who smiles in a way that appears decent and gracious, as opposed to indifferent and cunning.
When I watched the speeches at last week's Democratic National Convention, I felt inspired and hopeful, like something actually could change in this country—a bounty of Democratic and Republican powerhouses talking to the screen with conviction, yearning to make this country more kind, tolerant, healthy and innovative.
The montage on Jill Biden resonated with me. As they say, "Behind every great man is an even greater woman." When Joe routinely asked her to marry him, she kept stalling, wanting to ensure Joe's little boys, Beau and Hunter, were OK with her entering into their sweet trinity and becoming "Mom." That alone says so much about who she is as a person. When she was second lady, she continued teaching English and writing at Delaware Technical & Community College. She is thought to be the only second lady to hold a paying position while her husband served as vice president. Knowing she would be the first lady offers additional confidence in the Biden campaign.
I was impressed with former Vice President Biden's speech as well. I'll admit he wasn't my favorite primary nominee, but after watching him last week, my mind shifted.
In addition to his robust political experience, positive global reputation and ability to manage a team, the personal grief he's experienced is extraordinary—with the death of his first wife and baby daughter in a 1972 car accident, then the death of his son, Beau, in 2015 to brain cancer. It's challenging enough to lose one close family member, much less three. After his wife and daughter died, he was a single dad for five years, taking the nightly train from D.C. to Delaware to tuck his boys in at night.
Grief changes a person. I know because I lost my mom when I was too young. Her death changed me. Grief makes a person more aware of each day. It makes a person seek a greater purpose for being here on earth. It increases one's compassion, empathy and gratitude.
Aside from being a good guy, Biden is a great politician. He was the fifth youngest senator elected in the nation's history. In 1994, he cosponsored the Violence Against Women Act. After the devastating Sandy Hook Shooting in 2012, he helped craft 19 actions for reducing gun violence. Biden served as chairman of the Committee on Foreign Relations and nurtured relationships with other world leaders. He was vice president and confidante to President Barack Obama. While in this office, he used his Senate contacts to pass the New Strategic Arms Reduction Treaty between the United States and the Russian Federation. He engineered a bipartisan agreement on tax increases and spending cuts to avoid a fiscal cliff crisis. He oversaw the 2009 Recovery Act after the 2007-2008 recession. Biden was the first to introduce a climate change bill in the Senate, the Global Climate Protection Act of 1986. The Obama-Biden administration helped secure and deliver the Paris Agreement. That's just a snippet of Biden's career.
There were other great speeches at last week's Democratic convention. The Obamas never fail to encourage and move an audience with their intelligence and eloquence. Kamala Harris's speech proved she will be a true advocate for women and people of color. I always enjoy Governor Cuomo and the powerful, straightforward way he delivers a message. Bernie Sanders spoke directly to his supporters telling them to get out and vote, that Biden can bring about change and hope. Mike Bloomberg held nothing back as he communicated his thoughts, and so it was with all of the speakers. The theme of the convention was authenticity. Every speaker delivered an honest and articulate plea, saying, "Please, let's work together to save our nation."
If ever we need a person in the Oval Office experienced with global relations, domestic economic repair and climate change, it is now. Biden's personal characteristics and ability to smile genuinely are cherries on top. And let's briefly talk about faith, a sensitive topic that can greatly affect a person's vote. Biden is a lifelong devout Catholic whose philosophy of life comes from the church's teaching "we are our brothers' keeper." Meanwhile, President Trump used the Bible as a prop and acts in direct opposition to Jesus, who was drawn toward the weak, hungry, and the poor, who opposed violence and hatred. I realize people have differing opinions and that there will always be two sides of the aisle, but I hope that ultimately, good prevails over evil.
(Susanna Shetley is a writer, editor and digital media specialist. This email address is being protected from spambots. You need JavaScript enabled to view it.)