Archived News
Student videos with racist language spark anger at WCU
Wednesday, August 26, 2020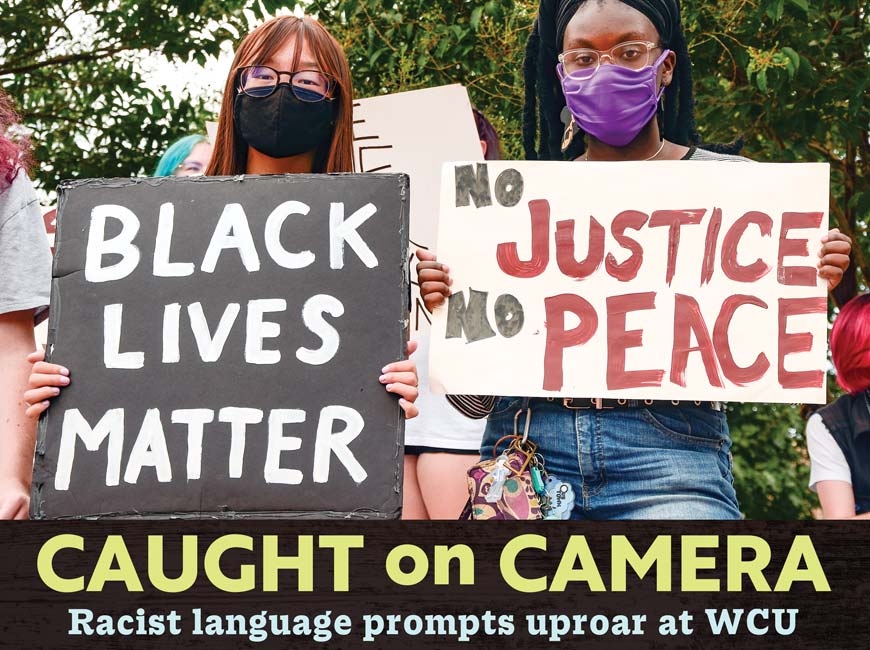 A pair of videos that appeared on social media over the weekend elicited strong reaction from many in the Western Carolina University community who decried their contents as racist.
"Over the weekend there have been several videos of students, Western Carolina University students, displaying behavior that is racist and bigoted," said Chancellor Kelli R. Brown in a video message published Sunday, Aug. 23. "This behavior disappoints, angers and frustrates me to no end."
By 7 p.m. Tuesday, Aug. 25, the university had announced that the students who appeared in the videos "are no longer enrolled at WCU and will not return."
Two videos
Statements issued by the university did not reference any specific video, but social media comments on those statements linked two such videos. The first features three white females and begins with one of them performing a rap that includes the 'n' word. It then cuts to a second person, who says that, '(if they can) call you a cracker, you're allowed to call them a n___." The third woman states that it's acceptable to use the word as long as you end it with an "a," not with an "er." According to the university's Aug. 25 statement, two of the women were WCU students and one was a non-student.
A second video shows two white male students explaining that when they use the OK symbol, all they mean is "damn, that's nice," and that they're not "being f*in racist" and using it as a symbol of white supremacy. However, they do this while making ample use of the 'n' word and conclude by saying "if you do know some n__ gals who want to come over and f**k man, let me know." The university's Aug. 25 statement said that both men were enrolled at WCU.
The videos appeared on the students' personal accounts, but they were later shared by others who tagged WCU on those posts. University officials have also received calls and emails from students, alumni and other members of the Catamount community about the issue, said WCU Chief Communications Officer Bill Studenc.
The university is investigating the matter as a possible violation of the Code of Student Conduct, which also includes a process for addressing prohibited conduct. University officials are considering a number of potential charges, Studenc said Aug. 25 prior to the announcement that the students were no longer enrolled.
"The timeline for reaching a resolution will depend upon how that process unfolds," said Studenc. "Students who are being investigated for possible violations of the Code of Student Conduct have the right of due process and can request an appeal of any sanctions that may be handed down as a result of an investigation."
In her statement on Sunday, Brown said that the university was "taking active steps" to address the incidents but is not able to disclose "specific actions taken against a specific student(s)."
"With that in mind, our inability to communicate specific actions should not be construed as inaction," she said.
However, many in the campus community demanded immediate action. Replies to WCU's Facebook posts on the matter are full of comments calling for the students' expulsion.
In response to follow-up questions from The Smoky Mountain News asking which specific aspects of the Student Code of Conduct the students violated, whether they appealed the decision and the dates of any hearings held in the matter, Studenc said that the university had no additional comments on the matter.
A freshman student takes the mic to share her thoughts on the recently posted videos with those attending an Aug. 24 Reconcile Sylva event at Western Carolina University. Holly Kays photos
Gathering on campus
In an event planned and advertised prior to the videos surfacing, the anti-racist group Reconcile Sylva came to campus Monday, Aug. 24, in order to reach out to college students who might be interested in joining the group's efforts. Unsurprisingly, the videos loomed large in the hour-long discussion.
"I think they should be expelled," said Kelly Brown, a leader in the group, during an interview. "It's hate speech."
The event drew about 200 people who stood spaced out around the fountain area behind the A.K. Hinds University Center on campus. Reconcile Sylva leaders started off by talking about the negative effects of racism and the organization's efforts to combat it. Leaders then offered the mic to anyone present who wanted to speak on the topic. A steady stream of students, as well as some faculty and staff members, took them up on that offer.
The first student to speak was a Black freshman woman who said it was "numbing" to see the videos and to think that people she has classes with and sees around campus are saying these kinds of things behind her back.
"It was a lot for my people," she said.
A Black male student said that the incidents showed that the community should be doing more to educate people about race issues.
"It's kind of like an oxymoron," he said. "You still have idiots on campus where we're doing education."
A Black woman who is a second-year graduate student pointed out that nobody would have seen the videos if someone hadn't seen them and saved them.
"White people, hold your friends accountable," she said.
About 200 people turn out for the event behind A.K. Hinds University Center.
About 200 people turn out for the event behind A.K. Hinds University Center.
Reaction from campus leaders
In response to the "reprehensible" videos, Head Football Coach Mark Speir announced that he would pause the team's athletic activities in order to focus exclusively on "creating change on our campus though the promotion of racial equality, awareness and respect." The football season has been postponed due to COVID-19, but the team is still practicing.
"The football program's culture is built on love and respect," Spier said in a statement posted on Twitter. "During this pivotal moment in time, we will devote our energy and effort to promote those same values throughout our entire campus community."
The Student Government Association, Faculty Senate and Staff Senate all released statements condemning the videos.
Faculty Senate Chair Kadie Otto said they revealed the students' "ignorance, immaturity and narrow-mindedness."
"As the Chair of the Faculty Senate, I would ask these students: Who are you? What can be said of your integrity? Who do you want to become? How can we assist you in developing character?" she wrote.
To those who were hurt by the videos, particularly Black students, Otto referred to a quote from civil rights activist and writer Maya Angelou: "You may not control all the events that happen to you, but you can decide not to be reduced by them."
In its statement, the Staff Senate condemned the "dehumanizing and unacceptable behavior" the videos displayed and called for decisive action from the university.
"The Staff Senate supports the WCU administration in taking the strongest possible action to maintain our campus and community as a place that is safe and welcoming to all people," the statement read. "WCU is a community of learners. We are a close-knit community of care. We are a community which lives through an articulated set of values which guide our interactions, including our commitment to inclusion and equity. What we have seen in these videos violates every tenant we proclaim."
In a letter issued Aug. 23, the Student Government Association pointed out recent changes in key leadership positions at the university and said that "the justifiable calls to action that have been heard across campus will be answered."
"We are disappointed to be communicating a message condemning remarks that should never be present in our community," the letter reads. "Yet, we recognize that a public acknowledgement to condemn this appalling language is needed for us to move forward. The words utilized in the videos cannot be reflective of our future."