Archived News
Heath Shuler previews tonight's Dem convention
Wednesday, August 19, 2020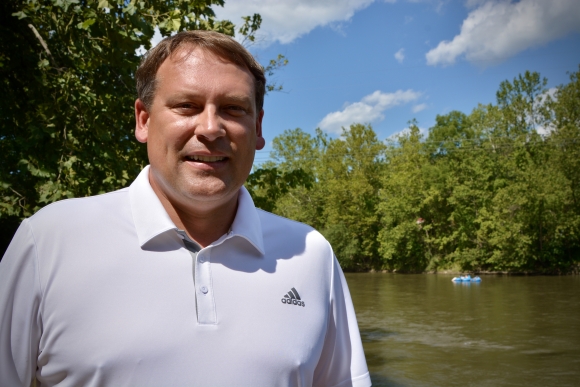 Swain County native and former NC11 Congressman Heath Shuler stands near the French Broad River in Asheville on Tuesday, Aug. 18.
Cory Vaillancourt photo
While the big news out of the Democratic National Convention thus far may be the formal nomination of Joe Biden last night, former NC11 Democratic Congressman Heath Shuler — who held the seat before Rep. Mark Meadows — wants Western North Carolina to know that there's big news coming tonight as well.
"One of the things that the convention tonight will really highlight is green energy," said Shuler, a Swain County native, University of Tennessee football standout and former NFL quarterback.
"If we look at what's happening in our country today, we have not seen expansion in green energy since president Trump has been in office," he said. "I mean, those things have really fallen by the wayside and with that comes infrastructure projects. With that comes a workforce. And if you look back during the Obama administration, you saw jobs even here in Western North Carolina — a significant amount of green energy jobs."
Shuler's endorsed Biden, and says Biden will roll out a trillion-dollar green infrastructure initiative as part of his presidential campaign.
For every dollar spent on green infrastructure, according to Shuler, a return of $7 can be expected, but economic development isn't the only positive aspect of going green.
"The most important thing is protecting our communities from pollution. Look what we have. I mean, certainly living in Western North Carolina, we realized pretty quickly that we are very blessed to be able to have the outdoor space that we do," he said. "If we're going to have pollution killing our trees and polluting our streams with this administration, we're going backwards. We need to move forward with better, greener energy policies."
Look for a longer conversation with former NC11 congressman Heath Shuler in the next issue of The Smoky Mountain News, available online and on newsstands on Wednesday, Aug. 26.