Archived Arts & Entertainment
David Joy releases latest novel 'When These Mountains Burn'
Wednesday, August 19, 2020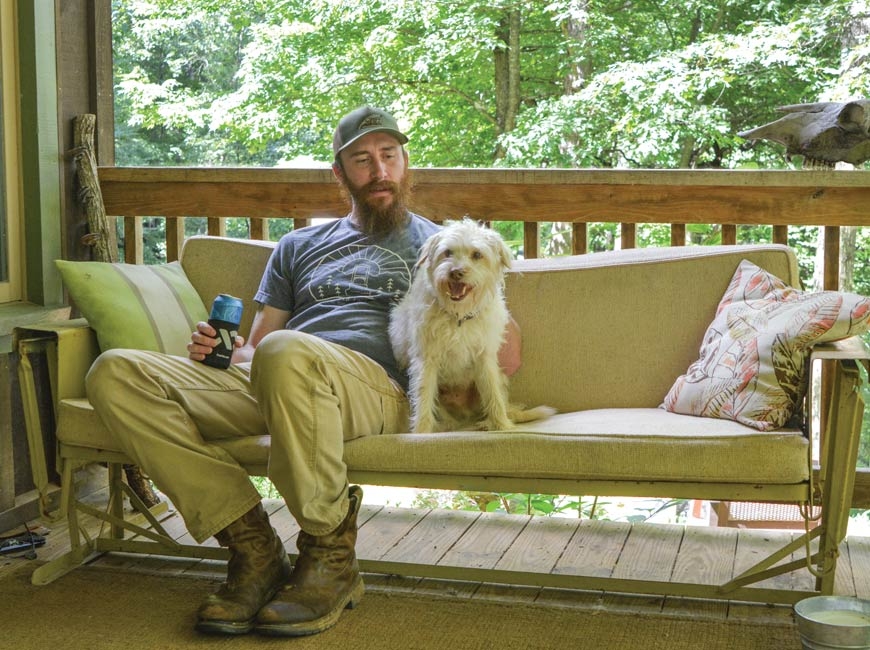 David Joy. (photo: Garret K. Woodward)
Situated at the corner of N.C. 107 and 281, in the Tuckasegee community of rural Jackson County, is a newly-built Dollar General. And sitting in his pickup truck in the convenience store parking lot one recent afternoon is acclaimed author David Joy.
Awaiting his interview with The Smoky Mountain News, Joy signals to follow him and to "make sure you put your truck into four-wheel drive when we hit the gravel" on the first of many roads, twists and turns it takes before we arrive at his humble, picturesque cabin — purposely isolated from the outside world on a ridge high up in the mountainous depths of Western North Carolina.
Unassuming in appearance, Joy sports his signature look: fishing cap, T-shirt, jeans and cowboy boots covered in patches of dried mud. It isn't an image. It's purely who Joy is, a person who lives simply and works simply, where anything else is either a minor detail or meaningless distraction.
In the last five years, Joy has written and released four novels, with the latest highly-anticipated work, When These Mountains Burn (Putnam), on bookshelves now. Each book is a dark dive into the harsh realities of everyday Appalachian people just trying to survive, even though — when all is said and done in life — nobody makes it out alive anyhow.
Now 36, Joy is regarded as one of the current torchbearers of the southern noir (aka: rural noir) novel, a form of literature that has spawned some of America's finest writers throughout the centuries. To which, the gritty, intricate literary style has caught wildfire in recent years, with readers (here and abroad) garnering a massive fascination with the history and culture of Southern Appalachia.
Perhaps the fascination from outsiders is a deep, primal yearning to return to nature, a back-to-the-basics of a less cluttered life in this era of digital technology and fast-paced priorities. Or maybe it's the notion that whatever is happening in Appalachia — for good or ill — is a symptom of a bigger issue in American society, in general.
Regardless, Joy observes his surroundings, constantly soaking up the hard truths and hardscrabble values of Jackson County, and of whoever and whatever lies just over the next ridge.
He distills what he sees, hears and feels into books aimed at finding their way into the hands of those looking to not only be captivated by Joy's words, but to also spark a sense of urgency and compassion towards his friends, neighbors and ancestors alike.
Smoky Mountain News: With the pandemic and shutdown, I was curious about how it affected you, being someone who takes his privacy very seriously and also pursues a life of solitude in a lot of ways.
David Joy: As far as affecting my day-to-day life, not that much. I don't go many places and typically stick right around the house. Don't travel. Hell, I got a year's worth of food [stored already]. [Laughs].
Where it did affect me, especially right when it hit, [was that] I had a pile of stuff going on in France — a book that was supposed to come out and a book tour. I had an essay coming out in the biggest magazine in France. I had an episode on the biggest book-related television show [there, too]. All of that was set to take place in about a week when all of this hit, and they shut everything down.
SMN: During "The Great Pause" right now, a lot of people are finally discovering the beauty of solitude. What is it about solitude that appeals to you? Why is that something you not only seek, but is a big part of who you are?
DJ: Well, I think I've always been that way. I'm better off inside of my head. I have a really hard time with information overload. I quit going to the brewery [in Sylva] when there started to be more than about 10 people [in] there. It's overly stimulating to me. I can't pay attention and it tires me out. I'm incredibly introverted.
As far as why the average people are doing it? I think part of it's that they're scared. When they see that type of chaos break loose on the streets in front of them, their first instinct is to run. And if you got money to do it, it makes it really easy to run. I think it's been particularly problematic for this place.
It's good for real estate people, I guess. But, it's problematic culturally and environmentally, in that a lot of these people who have money are looking for places to run now.
I mean, these houses ain't staying on the market around here. They're selling them as fast as they put them up. And it sure as hell ain't people that are from here or people that are finding affordable housing to live here — it's wealth coming in from the outside and buying this place up.
SMN: And that's one thing you touch upon a lot in your work — the disappearance of Appalachian culture, past and present. What do you see now when you look at the landscape?
DJ: I've said this over and over, but I think we're a generation to two generations away from full cultural extinction as far as what we typically consider mountain culture.
The story of [any] place is a story of displacement. It's a story of one people being displaced by another. And that continues to be the case here. I mean, the people whose names were on the land grants that made Jackson County? Those people are quickly disappearing, and I don't really see any way around that.
SMN: Do you have any hope that the culture can be saved?
DJ: I'm pretty pessimistic anyway. So, I don't necessarily see it as something that can be saved. I don't envision that happening. As far as what my role is in that, I think a lot of it is documentary, [where] you go 20 years into the future [and read about what] may not be here [anymore].
And, at the same time, that's not to say that everything that was here were good things. There was a lot of historic racism in this place. There are a whole lot of issues that really troubled this place that are being addressed by modernization and other people moving in.
So, I don't think it's fully necessarily a negative thing. It just is kind of what it is — it's not ever going to be the way that it was.
The average person around here, if you didn't inherit something or you don't come from money, you ain't got nowhere to buy anything. And it's getting harder and harder to find a place to rent. As that becomes more and more the norm, those people who were traditionally tied to this place are just leaving. They can't afford to stay here.
SMN: So, is it too late? Should we have paid more attention to what was, and is, going on?
DJ: The answer to everything is to listen. That's what I always go back to — we all needed to be listening a whole lot more than we were. So, with this book [When These Mountains Burn], I think a lot of what I was trying to do was this point/counterpoint juxtaposition, these two places where culture is disappearing. That's the reason part of it takes place on the [Qualla] Boundary and part of it takes place in Jackson County.
If you look at what's happening to mountain culture in Jackson County, it's being erased at an unfathomable rate. If you look at what's happening in Cherokee, it's a matter of cultural reclamation at an unprecedented scale. I mean, if you've been here very long at all, then you know very well that you had pre-casino Cherokee and post-casino Cherokee.
Pre-casino Cherokee was rubber tomahawks, fake arrowheads and dream catchers. Pedal the tourists to make money just so that they could survive. Post-casino Cherokee is not doing that anymore. It's, "We're going to invest in our communities. We're going to invest in community resources," whether that be addiction services, mental health services or education.
[The book is also] juxtaposing two different community responses to an opioid epidemic. The reality is that we haven't put anything into addiction services in [Jackson] County or mental health services, so everybody in this county is out of luck.
Meanwhile, the Eastern Band has done an incredible job of investing in [addiction and mental health services], though that's not to say that it's being fully utilized. And so, it was about juxtaposing the death of a culture versus the revitalization of a culture, and how those things are playing out by side-by-side.
You go back 25 years and you had a [Cherokee] language on the brink of extinction. And now you've got children being raised as native speakers. So, I find hope in things like that. But, when I looked to the other side [that is Jackson County], I don't know that any of that is going to be saved.
SMN: There's almost an irony to that, because originally it was Appalachian culture slowly phasing out Cherokee culture, and now the balance has tipped.
DJ: Yeah. And it may be in a good way. You know, if I can look at this place and see one group of people that I want to succeed more than anybody else that'd be the one, [the Cherokee].
But again, it goes back to that idea that the story of all places is a matter of displacement. And there will come a time where whatever this place becomes, that'll be gone and then it'll be something else. I think what makes it so personal, and what makes it so emotional, is when it's your [identity] that's being erased.
And right now, it's mine that's being erased — the rural identity. I value that attachment to land. You know, when we drove from the Dollar General to here, we passed a patch of land that's belonged to the Hooper [family] since this county was formed. And it's still Hoopers living down there. You know, there will come a time where that's not the case anymore. And that breaks my heart maybe more than anything.