Archived News
For the Cherokee, disenfranchisement was locally controlled
Wednesday, August 19, 2020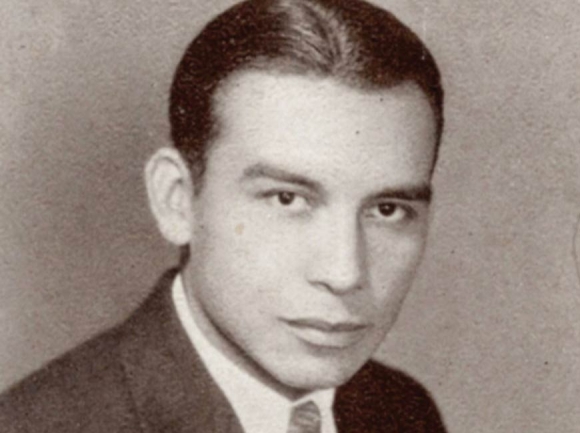 Henry Owl, as pictured in the Lenoir-Rhyne University yearbook from 1928, was the first Native American to graduate from a North Carolina college. North Carolina Collection, Wilson Library, UNC-Chapel Hill photo.
In 1930, a young man named Henry Owl traveled to the Ravensford election precinct in Swain County to register to vote.
Owl was a U.S. Army Veteran, and a college graduate. He held a master's degree, in fact, having finished the UNC Chapel Hill graduate program in history the previous year. At Lenoir College, where he began his undergraduate studies in 1925, he was elected "Most Popular Boy" and competed as a star athlete in football and baseball, earning posthumous induction to the Lenoir-Rhyne Sports Hall of Fame in 2012.
Owl was also Cherokee, a member of the Eastern Band of Cherokee Indians. He arrived at the election office with his master's thesis in hand — titled "The Eastern Band of Cherokee Indians before and after the removal" — to serve as proof, should it be required, that he was in fact literate.
But Henry Owl was turned away.
He was a ward of the federal government, not a U.S. citizen, he was told. He was not eligible to register.
A longstanding struggle
The question of Cherokee citizenship has a long and unsettled history that stretches back to the Civil War. When the 15th Amendment was ratified in 1870, Jackson County's population was 10 percent Cherokee, and local Democrats were concerned that the Cherokee vote would cause Republican candidates to get elected. The parties were more evenly divided in the mountains than in the rest of the state, where Democrats had a virtually uncontested majority.
To reduce the Cherokees' voting power, the county was divided in 1871 to create Swain County. In 1897, the U.S. First Circuit Court of Appeals ruled that Cherokee people were "wards of the state," not citizens with full voting rights.
When the 19th Amendment was ratified in 1920, the question received renewed scrutiny. By this time, many Cherokee women were able to read and write English well, and they passed the literacy tests, registered and cast their vote in the Jackson County elections of 1920. A good many Republican candidates won that election, angering Democrats who believed that the Cherokee votes were responsible for that outcome.
"Eventually, the Jackson County Board of Elections threw out around 80 Cherokee votes based on this argument that Cherokees couldn't be full North Carolina citizens," said Andrew Denson, professor of history at Western Carolina University. With the votes discarded, the Democrats were put back in office.
By the time Henry Owl attempted to register, federal law had pretty well clarified the issue. In 1924, Congress passed the Snyder Act, a law that plainly stated that all Native Americans born within the territorial limits of the U.S. were citizens. The 15th Amendment — ratified in 1870 — guarantees all citizens the right to vote regardless of race, and the 19th Amendment, ratified in 1920, includes women in that statement. One might think that by 1930, Henry Owl would have been able to register without any trouble. But such was not the case.
"There were a lot of English-speaking and reading Cherokee people, but the literacy test would keep primarily Cherokee-speaking people out," Denson said. "If that doesn't work, the answer would be, 'No, you can't register to vote because you're not a U.S. citizen. You're a ward of the U.S. government.'"
The Cherokee were not alone in their struggle. Despite the Snyder Act, Native Americans in many states had to wait years and even decades before they were allowed to cast a ballot in non-tribal elections. New Mexico and Utah were the last two states to grant voting rights to Native Americans — that happened in 1962.
"There's that gap between what the federal law and the Constitution says and how state governments and local offices are applying the law," said Denson. "Then it also sort of speaks to the political liability that Native Americans were experiencing. If you don't have access to formal political power, it can be difficult to force local elected officials to abide by federal laws and the spirit of the law."
For the average Cherokee person living in 1930, it must have seemed futile. If even an accomplished man like Henry Owl could be turned away, what chance did regular people have?
In the U.S. — and especially in the South — race issues have always had a heavy influence on law, policy and culture. But in most cases, 'race' is defined in terms of black and white.
"Native American communities had to negotiate this system that was designed around keeping African Americans out," said Denson, "and that yielded a very strange, complicated political process if you were talking about a community that was not white but not African American and that didn't have a lot of access to political power."
Voting rights at last
There is no landmark legislation or Supreme Court case that represented the start of permanent enfranchisement for Native Americans in North Carolina. Such legislation was on the books long before local registrars actually recognized and obeyed it.
Instead, the change came when Cherokee men returning from service in World War II began to demand that the country for which they had risked their lives recognize their right to vote. Led by the Steven Youngdeer American Legion Post 143, the Cherokee increased their protest efforts, and in 1946 the Boards of Election in Jackson and Swain counties finally allowed them to register — 22 years after federal law had required them to.
"It's a very odd situation that turns not so much on what's happening in Congress or with the 1924 law, but has a lot to do with the local power structures and how under Jim Crow, local power structures dealt with the presence of substantial Native American communities," said Denson.
Like the Snyder Act, tribal member Jeremiah Wolfe was also 22 in 1946 — he was born just under four months after the legislation was enacted. Wolfe joined the Navy on July 21, 1943, fighting in WWII and serving until his honorable discharge on Feb. 1, 1950. He was still deployed during the protests of 1946, and while his daughter Gerri Grady said he never talked about the disenfranchisement his tribe experienced during his younger years, she did say that voting was always important to both of her parents.
"They always went to vote together, but (my mother) never talked about any of that kind of stuff, about being turned away," she said. "It was embarrassing to her."
In a 1943 photo, Jerry Wolfe (second from right, bottom row) is pictured with some of his fellow Navy sailors. Donated photo
Her father, who died in 2018, was a well-known storyteller, but Grady said it's not surprising he didn't talk much about his struggles with discrimination.
"Even if he had been (turned away) I don't know that he would have ever said that to me, because he was never a negative person," she said. "Even when I would ask him things about how he was treated when he was in the military, even when he was treated poorly, he never said that. He was always very positive about his experiences in the Navy, and I know he has some really intense experiences with racism, but it never impacted how he viewed the world."
Wolfe did impact how his daughter viewed the world, though, especially as it relates to voting. Grady said she votes every chance she gets and often serves as a poll worker.
"It's hugely important to me," she said. "I think that we as Cherokee people cannot forget that we are not only citizens of our own community here on the Qualla Boundary. We're also citizens of the state of North Carolina and the United States. I think it's important to each and every one of the tribal members that are of voting age to participate on all levels of voting opportunities."
A place at the table
Ben Bushyhead, chairman of the Swain County Board of Commissioners, would agree with that statement.
In Swain County, about 30 percent of the 14,000 people who were estimated to live there in 2019 were Native American. In Jackson County, that number is 9 percent of 44,000 people. However, Native Americans make up only 15 percent of registered voters in Swain County and 4.9 percent in Jackson.
Additionally, Native Americans are barely represented in local government. Bushyhead, who was elected as chairman in 2018 after completing a four-year term as an at-large member beginning in 2014, is the first and only Cherokee person to have served on either the Swain or Jackson board.
Bushyhead said that he would like to see more tribal members seek election to local office. The tribe is a sovereign nation, but it exists within a context of federal, state and local jurisdictions — the actions those non-tribal governments take do have an impact on the EBCI and its citizens, he said.
"It's important," he said, "because if an individual is not at the table of government, then their issues and their concerns in 99 percent of the cases aren't even being brought to the table. You have to be at the table in order in order to make your concerns known."
It can be difficult to convince tribal members to get involved in off-boundary politics, said Bushyhead, because they think such doings don't affect them, or because those who are politically minded would rather focus their energies on tribal office instead. To many, those offices seem to more directly impact their lives, not to mention that they pay much more. A Tribal Council member makes about $80,000 per year, while a county commissioner in Swain County makes about $6,000. It's "absolutely an understandable situation" that the council positions seem more attractive, said Bushyhead.
But there are also people who simply are not clear on what their rights are.
"When I first ran for commissioner, I was out campaigning on the reservation, and I had one gentleman tell me, 'I would love to support you, but I can't.' And I said, 'Well, why not?' He said, 'I live on the reservation. I can't vote in Swain County,'" Bushyhead recalled. "And I said, 'Well, if you will allow me I will explain to you that yes, you can.'"
The history that leads to this present world is long and complicated. Things that happened 50, 100, 200 years ago still leave fingerprints on the attitudes and actions in place today. The right to vote was an important — if long overdue — win for the Cherokee people, but it didn't mark the end of the struggle for equal rights, representation and protection under the law. That continues today.
"There's so much history that goes into it, and people who say, 'Boy, I didn't pick that up in school — it's because it's not there,'" said Bushyhead. "It's not there. You understand it if you live it."