Archived News
Land deal could bolster Canton's Chestnut Mountain project
Wednesday, August 19, 2020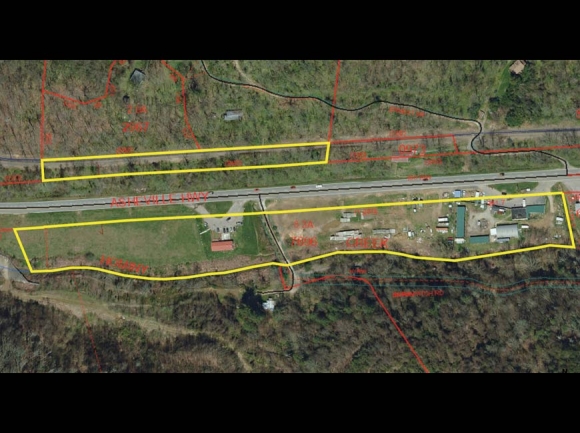 The Town of Canton has made an offer to purchase the west end of a parcel on the northern border of the Chestnut Mountain tract. Haywood GIS photo
A critical piece of the Chestnut Mountain puzzle could soon come under control of the Town of Canton after town officials voted to make an offer on a small tract of land adjacent to it.
"It's a good pickup for us," said Canton Mayor Zeb Smathers. "It has great commercial development potential, and there are many opportunities for businesses to be part of it. I think the most important issue is that this gives the Town of Canton control of the entrance not just to the Chestnut Mountain property, but to the town as well."
Back on June 5, the Southern Appalachian Highlands Conservancy purchased a substantial parcel located just east of Canton's town limits, on U.S. Route 19/23 near the Buncombe County line. Totaling almost 450 acres, it was originally planned as an 8,000-seat motorsports park, but that never came to fruition.
The parcel's acquisition by SAHC means it will be gifted to the Town of Canton, and soon become a substantial new addition to the list of regional recreational assets.
Some of the funding for SAHC's acquisition was provided by the Clean Water Management Trust fund, with the idea of protecting the forested tract and the nine miles of Hominy Creek that runs through it.
Several properties not part of the project remain under private ownership – mostly frontage along Route 19/23. One of those, owned by Stephen Westmoreland of Oxon Hill, Maryland, consists of 8.3 acres.
On Aug. 13, the Canton Board of Aldermen/women voted in closed session to make an offer of $15,000 for the westernmost 3.3 acres of Westmoreland's parcel.
An email from Assistant Town Manager Nick Scheuer says the parcel will be used "for the purposes of providing the front-country area of the park, including parking, creek access, potential event lawn and other amenities."
Scheuer also said that the space could serve as parking for the future share-used path project, as well as for potential development conducive to the project – outfitters, bike shops, coffee shops or even taprooms.
"Given the topographical constraints, this acquisition is incredibly important to the successful development of this amazing multi-use park," Scheuer said.