Archived News
Republicans campaign on support for law enforcement
Wednesday, August 19, 2020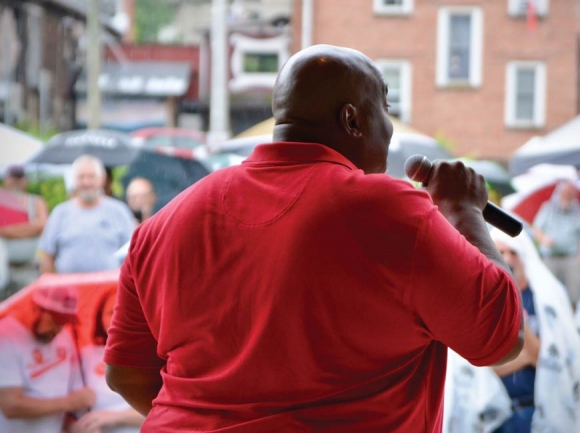 Mark Robinson, Republican candidate for lieutenant governor, speaks at a rally in Sylva on Aug. 15. Cory Vaillancourt photo
Rallies expressing support for law enforcement officers and agencies are starting to become commonplace in Western North Carolina, but as the election draws near, Republican candidates are asserting more and more ownership of the "back the badge" movement.
"It's just a matter of standing up and making sure that law enforcement knows the general population has their back and that we still support them," said Mark Robinson, Republican nominee for lieutenant governor.
Robinson, who is Black, delivered a fiery speech to a crowd of more than 200 people on a rainy Saturday at Sylva's Bridge Park. The event was co-billed as a demonstration of support for law enforcement as well as a rally for Robinson, who will face Raleigh Democrat and retired state employee Yvonne Holley in November.
"She's a far-left person who believes in defunding the police, who believes in all those radical crazy ideas that the left believes in," Robinson said. "We believe in conservative principles that build states and nations."
The Aug. 15 event drew strong support from Republican candidates and elected officials, including Rep. Kevin Corbin, former Rep. and current N.C. 119 candidate Mike Clampitt, Macon County Sheriff Robert Holland, Macon County Commissioner and House candidate Karl Gillespie, judicial candidate Kaleb Wingate and congressional candidate Madison Cawthorn.
"We can vote for the Democrats who want to defund our police, destroy our towns and dismantle our country and then we'll just be left to the ash heap of history," Cawthorn said. "That's why I'm out here supporting the police officers, because I believe they put their lives on the line every single day. You know, Kevin Corbin has said it really well — anybody that puts a bulletproof vest on my behalf deserves my respect."
Corbin, who's giving up his House seat to run for the Senate seat currently held by retiring Franklin Republican Jim Davis, doesn't think it's strictly a partisan issue.
"I wouldn't say all Democrats are wrong," he said. "I think more Democrats are probably opposed to rallies like this, but I will say honestly most of the Democrats support law enforcement, and support these 'back the blue' rallies, just like I do."
Robinson, however, had strong words for Democrats, as well as for the Black Lives Matter movement.
"They've made it plain that they're a Marxist organization, that's their roots. I don't think that agenda stands up for the American way of life at all," he said. "They've made it plain that they're an organization that's not about really truly helping Black people or standing up for Black lives."
During his speech, Robinson asked why BLM didn't instead target street gangs like Bloods and Crips, and drug dealers peddling their wares in America's inner cities.
"They ignore the murders that we see happing every night, night after night on streets across this nation," he said. "They just simply ignore those numbers and quite frankly those numbers are shocking. Somebody needs to stand up and say that and do something about it."
Although the lieutenant governor's office is largely symbolic and wields little actual power, Robinson said if elected he'd use it as a bully pulpit not only to advocate for his Second Amendment beliefs, but also to address issues facing the Black community.
"The main thing we can do is stand up with some truth and address the real problems that are going on in the Black community — address fatherlessness, address the problems we have with gangs and violence, address the problems that we have with drugs, and address the fact that Planned Parenthood has targeted our communities for many, many decades," he said. "I think once we realize those truths and bring those truths home, a lot of folks will join in with us and start fighting against those things."