Archived News
After Anthony: NC women still struggle for representation
Wednesday, August 12, 2020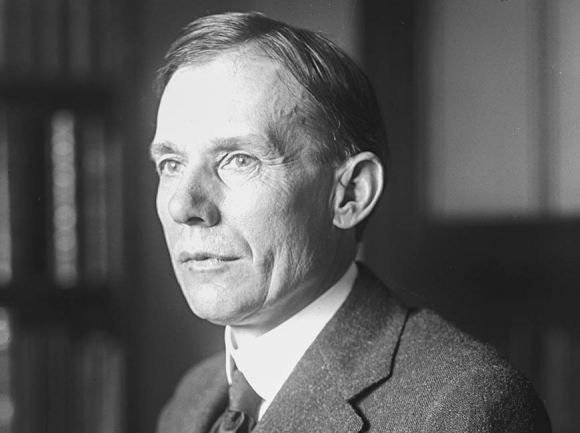 Zebulon Weaver was North Carolina's only congressman in support of universal women's suffrage. Wikimedia photo
It's been almost exactly 100 years since the 19th Amendment — often called the Anthony Amendment — was ratified on Aug. 18, 1920.
Despite comprising more than 50 percent of the population of North Carolina, the women of the Old North State continue to fight for some semblance of equal representation on the state's various governing bodies.
Voter registration statistics show they're actually losing ground.
"Maybe the perception that 'my vote doesn't matter' is still pretty strong, sadly," said Myrna Campbell, chair of the Haywood County Democratic Party. "Maybe it's that when they vote, they don't see anyone that looks like them. Certainly, that could be a factor."
To their credit, N.C.'s voters do have a history of putting women in high office. Republican Elizabeth Dole was elected to the U.S. Senate in 2003 but after one term was defeated by another woman, Democrat Kay Hagan.
N.C. is one of only 30 states to ever have a female governor, Democrat Bev Perdue from 2009 to 2013. Perdue also served as lieutenant governor from 2001 to 2009, breaking both glass ceilings in the process.
Most council of state offices have seen women elected as well, according to Dr. Michael Bitzer, a Catawba College professor and frequent contributor to preeminent NC political blog www.oldnorthstatepolitics.com.
"The attorney general and commissioner of insurance have not had women elected to those positions in the council of state, but everything else has," said Bitzer. "On the judicial side, we've got our first female chief justice in Cheri Beasley. On the legislative side, I can't recall a House speaker or president pro-temp of the Senate being a woman."
Although Perdue served as president of the Senate in her role as lieutenant governor, it's the president pro-temp — a senator from the majority party — that wields most of the power.
As of Jan. 1, 2020, there were just 43 women in the North Carolina General Assembly — 10 in the Senate, and 33 in the House. Compared to the 170 seats in both bodies, that's good for about 25.3 percent.
Across the country, 2,145 women currently serve as state legislators, making up 29 percent of all legislators, according to the National Conference of State Legislatures. Only one state, Nevada, has a female-majority legislature.
Although that 29 percent is up from 2018's average of 25.3 percent there's still a long way to go until those numbers begin to approach 50-50.
In the Western North Carolina counties of Cherokee, Clay, Graham, Haywood, Jackson, Macon and Swain, only two of a possible 35 county commission seats are held by women, including Connie Orr in Graham and Gayle Woody in Jackson.
In Haywood County, there hasn't been a female commissioner since two-term incumbent Mary Ann Enloe was defeated in 2008. Enloe, who was actually the second female Haywood commissioner, told The Smoky Mountain News back in 2018 that there are a number of reasons for the dearth of local women in politics.
"I think one thing, and I won't put them in order, is it's hard to put yourself out there when you realize that you're not entitled to one minute's privacy. You can find out and tell everything you can find out and tell about me," she said. "And of course, the bias against women anyway — we're at least a generation away, in my opinion, from fixing that, and I think that's what we're seeing nationally is that women have their place, and [politics] isn't their place. That's a generational thing, and it's wrong. It's as wrong as can be."
It's not as though women are competing en masse in Haywood County and experiencing defeat; in the five elections subsequent to Enloe's last term, only four women have run for commission seats.
Democrat Robin Greene Black finished fourth of four in the 2016 General Election. Libertarian Windy McKinney finished sixth of six in the 2014 General. Democrat Rhonda Cole Schandevel finished fourth of seven and Republican Jeanne Sturges Holbrook finished fourth out of five in their respective 2010 party primaries, with neither placing high enough to advance to the General.
"In 2016, I went to a conference where the speaker was a consultant working with female candidates. He said several things that struck me," Campbell said. "First of all, a lot of women don't feel qualified to run. It's a cultural thing. Women feel like before they do something, they need to have some knowledge about it, whereas men are willing to jump in and do 'on-the-job training.' Plus, according to the research he'd done, women have to be asked, or rather convinced to run. They will generally say no the first time they're asked. That has been my experience. One of my goals when I became party chair was get women elected to county commission. I know I've talked to at least a dozen women. The typical female paradigm is not viewing themselves as candidate material."
This November, Haywood County voters will have a chance to break that streak; uncontested in the March 3 Primary Election, Waynesville Democrat Leah Hampton will appear on ballots alongside fellow Democrat David Young and incumbent Republicans Kevin Ensley and Brandon Rogers. Only two of them will win.
"The vast majority of teachers, medical staff, and service industry workers are women, and those are huge employers in Haywood County, so it's crucial that they have representation on the county commission. That's why I'm running," said Hampton. "I hope voters will remember me and other women in November. Governments should reflect who the people really are, and right now Haywood County isn't hearing from half of us."
Across the state and the region, the playing field is clearly tilted against women running for office — from any political party — but if a disturbing trend in voter registration continues, the slant could become more severe.
Over the past 16 years, the percentage of the North Carolina electorate that is female has steadily diminished, according to voter registration statistics from the North Carolina State Board of Elections.
On Jan. 1, 2004, women made up 54.8 percent of the state's registered voters, but as of Aug. 8 of this year had dwindled to 51.2 percent.
North Carolina's 11th Congressional District has fared little better. In each of the 17 counties that make up the 11th (actually, 16 and half of Rutherford) the percentage of women in the electorate declined, with the biggest losses coming in Mitchell, Polk, Buncombe and Madison counties.
Over that 16-year period, the decline in Madison County means that today, women make up just 48.7 percent of registered voters — lowest in the 11th.
"We've got to do a better job of nurturing women, and encouraging them to vote and to run," Campbell said.