Archived News
Lassie Kelly: Franklin's most influential suffragette
Wednesday, August 12, 2020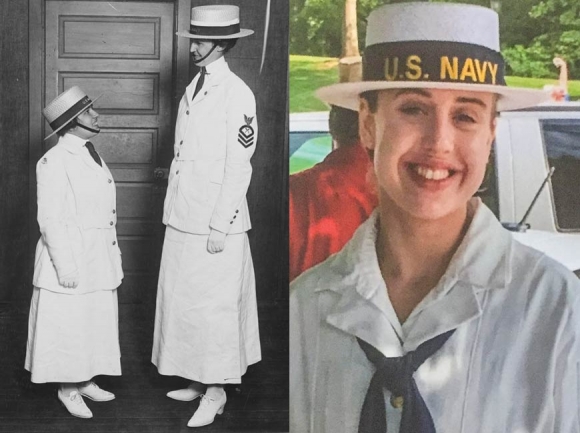 Left: Picture of Chief Yeoman Lassie Kelly (right) and Yeoman Eloise Fort in New York May 1919. They were part of a contingent of 250 Yeomen (F) who were sent to New York from Washington, D.C., to take part in the Victory Loan drive. U.S. Naval History and Heritage Command Photograph Right: Sydney Giaquinto portraying Lassie Kelly in 2019 during a Women's History Trail plaque dedication at American Legion Post 108. Donated photo
It's fun to imagine what the people of Macon County must have thought of Lassie Kelly. Born in 1881, she was regarded as a "vivid leader" in Franklin and an actively engaged community member until her death in 1963.
Kelly served in World War I, was one of the first women in North Carolina to pass the bar exam and practice law, the first women in the state to be appointed as a U.S. District Attorney and was the first woman in the nation to serve as commander over an American Legion Post.
Those are pretty hefty credentials for a woman living today in Western North Carolina, let alone during a time when women just gained the right to vote.
"I think probably it was kind of weird for some people at first who had never been exposed to that — a woman having a law license and serving in the Navy. Maybe some thought it's not her place, but at the same time other people probably looked up to her and took a lot of pride in her being local. She came from the mountains and did so much to help this area," said Sydney Giaquinto, a 2019 Franklin High School graduate.
Giaquinto had the opportunity to learn more about Lassie Kelly and even portray the historic figure when she became involved in the Macon County Women's History Trail project. A committee formed out of the Folk Heritage Association of Macon County, the Women's History Trail aims to bring more attention to the forgotten contributions of women.
Kelly's contributions are honored with a plaque placed at the American Legion Post 108 in Franklin — a post she helped organize and where she served as commander. During the plaque dedication ceremony in 2019, Giaquinto was the guest of honor dressed up as Lassie Kelly during WWI. The authentic Chief Yeoman uniform she donned was made by Women's History Trail member Kathryn Sellers.
"When I was asked to portray Lassie, it was fun doing the research and finding out more about her," she said. "She served in World War I as a Chief Yeoman — I didn't even know what that meant and had to go look it up."
Before WWI, women were not allowed to serve in the military — some dressed as men to serve while others served as nurses on the frontlines — but as progressive social movements moved women's rights forward, women had more opportunities to serve their country. Kelly enlisted as a female Yeoman in the U.S. Navy in April 1918.
"Yeomanettes" helped the Navy meet a severe clerical shortage and primarily did secretarial duties — translating, fingerprinting, recruiting and drafting. Kelly served in prominent roles in the offices of Secretary of the Navy Josephus Daniels, Assistant Secretary Franklin D. Roosevelt and Admiral William Sims.
"I felt so much pride wearing that uniform and being saluted by veterans at the American Legion," Giaquinto said. "I was treated like a celebrity even though I'm only 5'4" and Lassie was over 6 feet tall. Everyone wanted to take a picture with her."
Kelly's contributions did not end after the war; she came back home to Macon County and helped form the American Legion and represented the Franklin post at the Legion's national convention held in New Orleans in 1922.
In August 1917, Kelly was one of two women licensed to practice law in the state out of a group of 40 successful applicants. According to a December 1918 announcement in The Mountaineer, Kelly was appointed as an Assistant U.S. District Attorney at a salary of $2,000 a year — adjusted for inflation that would be about $38,000 in 2020.
"She left Saturday to take up her duties and her headquarters will possibly be in Asheboro, N.C. This is the first woman we have any knowledge of being appointed to a position of this kind, which speaks well for Miss Kelly," the announcement read.
She also opened Kelly's Tea Room on Main Street in Franklin in 1929. Looking through newspaper announcements from that time, it's clear the tea room was well utilized in the community for meetings, speakers and other special events. She also served as a court reporter in the western district for 45 years.
As a writer and an avid reader, Giaquinto said she was also impressed with Kelly's efforts as a teenager to get a library started in Macon County. Then in 1955, she raised $10,000 to build a new Franklin Library on Phillips Street.
"She was very instrumental in getting the library started here and expanding reading opportunities to mountain people," she said. "As a writer myself, I appreciate that, knowing it was a huge problem that she stood up for at the time."
As for her direct participation in the Women's Suffrage Movement, Kelly was a charter member and the recording secretary for the N.C. League of Women Voters.
When she passed away in 1963, the tribute to her in The Franklin Press called her "honest and fiercely loyal; her faults were exaggerations of her virtues."
Meanwhile, a young Giaquinto, who is now a sophomore at Western Carolina University, is excited about casting her first ballot in a presidential election this fall.
"The upcoming election will be the first presidential election I've been able to vote in, and I'm excited. The 19th Amendment for me, personally, it means women finally had a voice," she said. "I was talking to my mom recently and wondering if I'd been born in the 18th century and if I'd wanted to speak before Congress or do the things I've already done at this point in my life, would I have been able to. Unfortunately, I wouldn't have been able to do that."