Archived News
In narrow vote, WCU Faculty Senate opposes reopening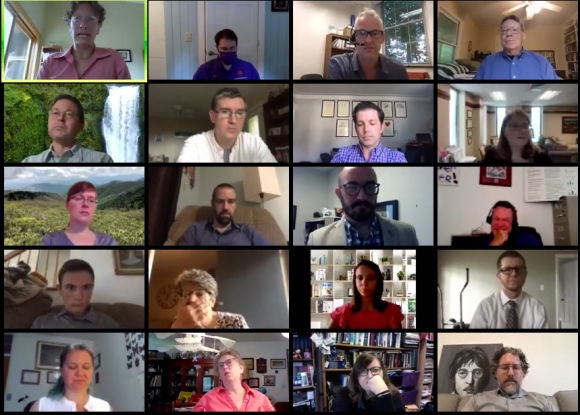 Members of the Faculty Senate convene via Zoom for a special-called meeting Aug. 10.
In a nearly split vote held during a special-called meeting Aug. 10, the Western Carolina University Faculty Senate passed a resolution opposing a residential opening for fall 2020 and calling on the state to guarantee funding for the university system should future outbreaks force its institutions to return to online-only instruction.
The resolution ultimately passed by a narrow margin, with 15 people voting in favor and 13 opposed, with one abstention.
"Western Carolina University values the voice of its faculty and the role of shared governance," said Chancellor Kelli R. Brown and Interim Provost Richard Starnes in a joint statement following the meeting. "The vote today during a special-called Faculty Senate meeting to discuss a resolution related to the residential opening of the fall semester reflects the complexity of the effects of the COVID-19 pandemic on higher education."
WCU, like other UNC institutions, is preparing to deliver a hybrid form of instruction aimed at maximizing online learning opportunities while still offering residential living and in-person instruction, with classes beginning Monday, Aug. 17. This year, students will not have a fall break, and in-person instruction will end on Nov. 20, with final exams held online after Thanksgiving.
Reasons for a resolution
"After 20 years in the academy serving as an administrator, as a staff member, as a faculty and certainly as a student, those voices are all important to what we do," said Associate Professor in the College of Education and Allied Professions Yancey Gulley, who introduced the resolution. "I did feel that our voice was missing a bit in this conversation from this standpoint, so thank you all for taking the time to give that voice that you have to the bigger conversation of higher education to the state of North Carolina and to our own institution."
The decision to return to in-person instruction this fall unduly prioritizes the institution's financial concerns and personal liberties for students over the collective good, Gulley said. While WCU and the UNC system ostensibly operate under a shared governance model, he said, none of the meetings and discussions he'd been part of asked faculty members to weigh in on the basic question of whether or not it's a good idea to reopen the campus at this time.
"It is a dangerous thing to open WCU and other institutions in the UNC system amid the current pandemic, as there is currently no vaccine and positive cases continue to appear," he said, with the resolution adding that Jackson County's health care systems could be easily overrun by a spike in cases originating from WCU students arriving from other areas of the state and country.
However, other Faculty Senate members were concerned about both the timing and content of the resolution.
"I commend any thoughtful attempt to improve societal wellbeing, which I am sure is the goal of Yancey (Gulley) and everyone else who is supporting this resolution," said Assistant Professor of Psychology David de Jong. "I also take it as a given that the issue of residential opening is a ship that has sailed. Students have already moved to campus. They have already paid their fees. Those fees are nonrefundable."
Classes don't start until Monday, Aug. 17, but move-in started Saturday, Aug. 1. Tuition and fees are charged at the beginning of the semester, and students will not receive any refunds due to changes in instructional format as the semester continues unless the UNC System receives financial relief from the state or federal government, according to information on the university website. Should the need arise, campus officials will make decisions about refunds for housing and dining services consistent with UNC System guidance. The "optics" of calling for a reversal of the decision to begin in-person instruction this late in the game are "just terrible," said de Jong.
"This resolution conveys a sense of privilege and entitlement," he said. "Consider the people that I interact with on a regular basis who are not going to be as fortunate as many of us in terms of exposure to the coronavirus — healthcare workers, the person at the grocery store who's checking out my groceries. Those people do not have a lot of flexibility."
de Jong said that the resolution could be "greatly improved" to "flesh out what our moral imperatives are," focus on empirical data and the collective wellbeing, and call for transparency in decision-making surrounding any criteria developed for switching back to remote learning. He moved that it be deferred to a smaller group for discussion so that the entire body could vote on a revised version during its next meeting Aug. 26. That motion failed, with about three-quarters of the body opposed.
"I'm not sure why we need to table it, particularly when it is a fluid situation," said Professor of English Laura Wright. "It's going to be changing constantly, but we have this point before us now."
The original resolution Gulley introduced did not include the clause calling on the General Assembly to guarantee funding for UNC schools, and stated that in opposing residential opening, the Faculty Senate "stand(s) in solidarity with School Systems, Faculty Senates, County Health Departments and The Governor of North Carolina."
Associate Professor of World Languages Will Lehman introduced an amendment that added the call for state funding and amended the final sentence of the resolution, taking out the reference to the governor — there is no evidence the governor would support the ideas contained in the resolution, said Lehman — and adjusting the remaining portion of the sentence to remove the implication that all school systems, faculty senates and health departments are opposed to face-to-face instruction. Gulley agreed to absorb those amendments into his proposed resolution.
A mixed response
Faculty Senate members were forthright about their concerns regarding the semester ahead, but they were also far from unified in their opposition to opening the campus.
Associate Professor of History Vicki Szabo said she plans to vote against the resolution but thanked Gulley for bringing it forward. With the first day of classes just a week away, Szabo said, university buildings lack many of the basic safety measures that most grocery stores have had for months; cleaning supplies have yet to arrive in the classrooms.
"I want this discussion raised simply to highlight the practical aspects of what we're about to do next week," she said. "I want to be in the classroom, and I think everybody else here does too, but we want to do so safely. And with months of planning behind us, it's unnerving that we don't yet have those basic safety measures in place."
Leigh Odom, who is an associate professor of communication sciences and disorders as well as a practicing speech pathologist, reminded the body that not all classes are adaptable to an online format. In health care disciplines especially, hands-on clinical skills are just as important as academic knowledge.
"If we don't have (clinical opportunities), there are students who will not graduate," she said. "They cannot move forward in their programs. They are lacking in what they need for certification, licensure. There's accreditation stuff we have to think about. That's a big thing for us to think about in our college. Really it's not feasible to just put everything online."
Staff Senate President Ben Pendry, who works as executive director of advancement services, told the Faculty Senate that staff are in favor of the residential opening.
"In many cases we believe and what we are hearing from our constituents is that our staff are ready to get to work and they're ready to be here," he said. "One of the things that obviously is under consideration is the employment and the economic impact of what a residential opening or non-opening means to those staff members, so that becomes part of the arithmetic in a very real way."
"We're dealing with a lot of unknowns," added Assistant Professor of Integrated Health Sciences Patrick Baron. "The health and safety concerns are certainly real. I think that we need to be able to be flexible and adaptable, and I think we've come up with a plan that is as good as it can be in the face of so much uncertainty."
Student Government Association President Dawson Spencer, meanwhile, said he was hard-pressed to deliver an opinion on behalf of the student body. Responses to a survey released last month were split down the middle, he said, with 156 students saying they did not wish to return to campus and 159 saying they did — anything he would say could speak only to about half of the student population.
"Most of them are eager to return to normalcy at campus and want to have whatever they can have as consistent as it was last semester, but they also are still concerned, and rightfully so," he said.
WCU is posting updates to operations and procedures for the semester ahead at www.wcu.edu/operations-procedures.