Archived Outdoors
Bringing backcountry to the back door: Early plans unveiled for Chestnut Mountain park
Wednesday, August 05, 2020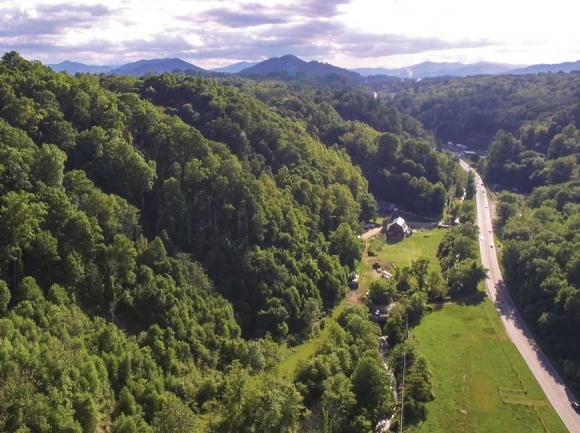 The newly conserved Chestnut Mountain property sits alongside U.S. 19/23, shown in this photo to the left of the road. Adam Wood photo
The project may still be in its early stages, but plans are beginning to take shape for the 448-acre park that will soon occupy the Chestnut Mountain property just outside of Canton.
"We're looking forward to building an amazing place that really helps merge conservation and recreation and just something we can make for future generations," said Assistant Town Manager Nick Scheuer during a public meeting on the project held July 29 via Zoom. "This is a big idea and a huge project and something that really has the potential to impact our region for not just our lifetime but for our kids and our grandkids."
While behind-the-scenes planning to secure the property has been ongoing since 2018, it's been less than a year since the Southern Appalachian Highlands Conservancy publicly announced its intentions for the land it was then in the process of purchasing from Canton Motorsports, LLC. After confirming a package of grants and private donations, SAHC closed on the property June 5, planning to transfer it to the Town of Canton within a year. The town will then develop it as a recreation park featuring a variety of outdoor activities, with Haywood County partnering in the effort.
On July 29, the town and its consultant, Asheville-based Equinox Environmental, gave the public its first look at what that park might entail once completed, though stressing that all plans are still preliminary and subject to change based on funding and public input.
Preliminary plans announced
Initial concepts include site access from U.S. 19/23, where there's already a big, flat lawn and open space alongside Hominy Creek. This area would host frontcountry recreation amenities such as a pavilion and picnic area, restroom, outdoor classroom, event space and stage, kids bike area and creek access. A trailhead and parking area would also be located there.
The back part of the property would host more primitive types recreation, accommodating both hikers and mountain bikers with a total of about 18 miles of single-use and multi-use trail. This would include a 1.4-mile bike skills course, 6 miles of hiking-only trail, 6 miles of biking-only trail and 4.5 miles of multi-use trail, as well as backcountry campsites and an overlook tower or viewing platform. The park would likely allow dogs, but not horses.
In addition, the park will connect to the planned Hellbender Trail, an effort spearheaded by the Land of Sky Regional Council to connect local trails, greenways, multiuse paths and other bicycle and pedestrian infrastructure into one 150-mile trail system touching Haywood, Buncombe, Madison, Transylvania and Henderson counties.
The long-term plan for the Hellbender Trail includes a connection along U.S. 19/23 between Wiggins Road and Chestnut Mountain Road — the Chestnut Mountain property sits right off the highway between these two intersections — where the N.C. Department of Transportation is planning a modernization project that will include bike and pedestrian facilities. The original schedule had called for right-of-way acquisition to begin last month with construction starting in July 2023, but the project was placed on hold in December due to financial constraints, so no definitive timeline is now in place.
"Our goal and one of the drivers behind this project was having that shared-use path along there," said Scheuer. "Actually, the park and park amenities right there will serve as a great parking location for people who are wanting to come walk that greenway once it's built."
Work is already underway to get the park funded and built, with work likely to start in 2021. Scheuer hopes to see the plan fully implemented within the next five years, though that all depends on the size and timing of grant awards. If the money were to materialize immediately, the park could be built in the next two years. The Dogwood Health Trust is funding grant writers to help the town apply for money from the Recreational Trails Program and the Parks and Recreation Trust Fund.
"The award period for RTP will be late fall 2020 and would represent the bulk of the funding for what we are tentatively calling Phase 1," said Scheuer. "This would get us the backbone of trails: a shared-used climbing trail, backcountry hiking-only loops that would access proposed backcountry campsites/platforms as well as at least one single direction biking-only trail. In addition, this phase would include temporary parking as well as trailhead signage and wayfinding for the property."
The PARTF award wouldn't come until fall 2021 and would fund Phase 2 of the project, including permanent infrastructure such as parking, picnic areas, additional trails and an ADA-accessible walking path.
Grants money doesn't come for free — most grants require that applicants show they're serious by matching a certain percentage of the grant award. However, SAHC's decision to gift the land to Canton will lift that burden from the small town's shoulders. The land trust paid $3 million for the property, and the town can count that value as the required match against any grants it applies for.
"The town and (Haywood) county are incredibly grateful for our partner SAHC," said Scheuer. "None of this amazing conservation/recreation opportunity would be happening without them."
Preliminary documents from Equinox Environmental sketch out plans for developing Chestnut Mountain as a recreation park. Donated graphic
Anticipating economic benefit
Canton's leaders believe that the park will offer an economic shot in the arm to the town and to the county as a whole, capitalizing on its proximity to Asheville and on the general enthusiasm surrounding the outdoor recreation industry.
"It is our hope that by building a multiuse park that draws people in from our town and county and region as well as the state and beyond, that those kinds of forces will attract outfitters and bike shops and things like that that go hand-in-hand with a big multi-use park," said Scheuer.
During the July 29 meeting, Kim Williams of Equinox told attendees that in North Carolina, outdoor recreation contributes more to the economy than the entire financial services sector, with more than $28 billion annually compared to $24.9 billion from financial services. The industry also has significant importance to the real estate industry. According to a survey from the National Realtor's Association, said Williams, home buyers are willing to pay 10 percent more for a home near a park or open space with 85 percent of people saying they would buy property closer to a place with outdoor recreation opportunities.
Williams also highlighted the results of economic impact studies conducted locally. A 2017 study from The Outdoor Alliance showed that the Pisgah National Forest receives 843,000 mountain biking visitors each year, and that those visitors spend $30.2 million annually. A state study in nearby Brevard showed that the town's greenway attracts 76,000 visitors and $1.6 million in revenue.
Robust survey response
Throughout the process, the town has made it clear that public input is both welcome and vital to executing the project successfully. A poll conducted this summer garnered 4,152 responses to questions aimed at determining the public's top priorities for recreation opportunities and amenities.
"This is the best survey response I've had for any planning project in the last 10 years, which is very exciting and lets us know that we are working on something that will serve generations to come," said Scheuer.
Of the responses, 1,261 — or 30 percent — came from Western North Carolina, with the remaining submissions originating from other parts of North Carolina, other states and even other countries. The geographical spread was exciting to see, said Scheuer, but the town's main focus will be meeting the needs and desires of Canton, Haywood County and the region as a whole.
When looking at those more local responses, survey results showed an obvious demand for places to hike, trail run and mountain bike. Residents of Canton and Haywood County also listed picnicking and community/group gatherings among their top five desired activities, while respondents from other places in Western North Carolina and beyond instead wanted more places to camp, both backcountry and frontcountry.
Canton and Haywood County residents had similar top five lists of desired amenities, with those lists including restrooms, ADA walking paths, trailhead parking, hiking and biking paths for beginning and intermediate skill levels, picnic pavilions and a bike park suitable for all skill levels. Likewise, respondents from Western North Carolina listed similar desires as those living even further away, with those groups listing mountain bike trails, a bike park for all ages, easy hiking and biking trails, a core central trailhead, trailhead parking and restrooms as their top desires.
Turning those wishes into reality won't be an easy task, but Mayor Zeb Smathers said the work will be more than worth the result.
"There are challenges with this, but to me personally and for the board, we're not afraid of this project," he said. "We're not shy. There will be challenges, but we feel that we can overcome those because this is a tremendous opportunity and gift for the Town of Canton and Haywood County."