Archived Arts & Entertainment
This must be the place: Your neighbor isn't out to get you, nor is your local newspaper
Wednesday, August 05, 2020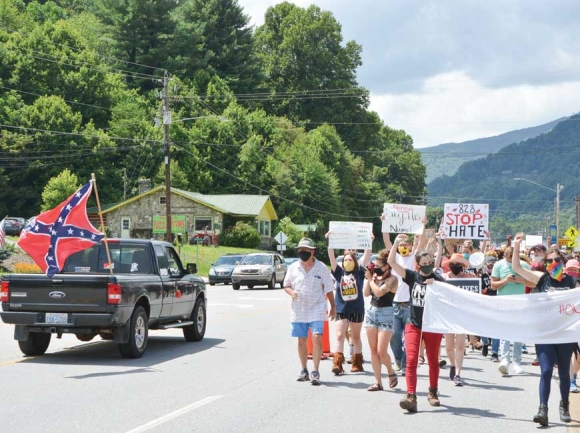 The Black Lives Matter march in Maggie Valley. (photo: Garret K. Woodward)
Stepping out of my pickup truck this past Saturday afternoon, I stood in the parking lot of the Maggie Valley Town Hall.
In the front entrance of the building were an array of local law enforcement agencies from around Haywood County. Underneath the big trees in the front yard were Black Lives Matter protesters. On the lawn next door, with eyes aimed at those under the big trees, were the counter protesters.
With all the emotional lead-up to the BLM march on Aug. 1 seen online, I honestly didn't know what to expect: as a journalist and as a proud resident of Haywood County and greater Western North Carolina.
Over 100 folks marched along Soco Road from town hall to the fire department (a mile or so each way in the hot sun). With one lane of the road marked off for the march, a few hundred counter protesters were scattered along the sidewalk for the entire route through the heart of Maggie, with innumerable vehicles passing by either honking for or against the march.
Safety was the main concern and was upheld by the local law enforcement agencies onsite to walk with and protect the protesters. Hats off to those town and county officers who, in full uniform and gear belts, strolled alongside the protesters to ensure everything went smoothly, which it did.
Both sides were mostly peaceful and respectful, truth be told. Yes, I heard some vile things shouted at the protesters here and there. And yes, there were countless motorcycles revving their engines to drown out the protest chants. But, I also witnessed incredible compassion and unity among those marching, many of which are folks who live in Haywood County and who I've called friends for several years.
While I observed and photographed those familiar faces in the march, I didn't see or experience people trying to upend their own backyard. Nobody was there to physically destroy local businesses in a riot-like scenario. Nobody was there to fight and disrupt peace. If anything, it was a display of courage and personal conviction to seek out a better tomorrow, perhaps today.
At one point, I wandered across Soco Road to snap a few photos of the counter protesters. An older lady in the crowd saw my media badge dangling from my neck and called me out on it.
"You with Smoky Mountain News?" she shouted at me. "Yes ma'am." "Well, I heard y'all are a bunch of Communists." "Well, ma'am, I'm sorry to disappoint you, but that isn't true." "Y'all are a bunch of fuckin' Communists." Cue my exit from that interaction.
Sorry lady, I don't have time to deal with the constant barrage of insults hurled at my newsroom on a daily basis. For the thousandth time: your local newspaper isn't out to get you.
We are journalists, editors and publishers who live in your communities. We choose to live and work here. This is our home. And with that, we work hard day in and day out to accurately cover and properly interpret the issues that are affecting all of us in these ancient mountains.
To that point, I did find many folks within the counter protesters that weren't angry or pissed off. These are folks that sincerely believe in their side of the issue, who stood firmly and in silence with their signs or just mere presence in solidarity for their cause.
Meandering around, I kept noticing the invisible line between the protesters and counter protesters. Though the BLM marchers did make it clear beforehand to not engage with irate counter protesters, there was not one person who stepped over the invisible line with a welcoming gesture to find common ground or understanding.
In my 14-year career as a journalist, and one mainly working in Small Town USA, I find most folks — regardless of political persuasion, religion, etc. — want a lot of the same things, either simply for themselves or their families, or for their community, too. Your neighbor isn't your enemy. Your neighbor is an often-missed opportunity to find common ground and to work together.
So, can't we just tone down the yelling a few notches to what my mother called "an indoor voice"? Can we actually stop, listen and hear what the other person has to say? When will we stop pointing fingers and offer a helping hand instead? When will the anger and division be turned into a place where actual positive, tangible change can occur?
The march ended with an eight-minute and 46-second moment of silence in front of town hall for the late George Floyd (the exact amount of time he had a knee pressed into his neck by a Minneapolis police officer). It was a genuinely powerful thing to stand there amid the protesters, the only sound being a slight afternoon breeze of a bird chipping nearby.
I must say, I will never be the same after attending that march. I'm still trying to digest and process what I saw and heard, for good or ill. If anything, I remain optimistic for the future of our society and this country, in general. I do.
And I will continue to wake up each day and aim to bridge this great divide that only seems to get bigger as we push into the unknowns and uncertainty of this era in American and world history.
Life is beautiful, grasp for it, y'all.