Archived News
Franklin's female employees making more on average
Wednesday, August 05, 2020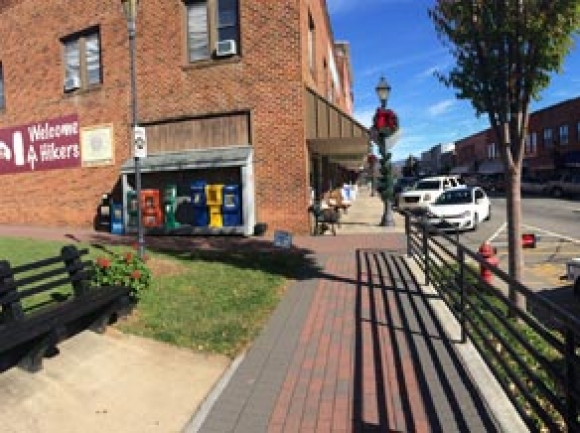 The town of Franklin may employ a majority of men, but the women are making more on average than their male co-workers.
The town employs 55 people — 10 females and 45 males — but the average salary for the 10 women is $46,180 compared to the average pay for men, which is $42,180. However, that disparity can be attributed to which positions these employees hold within the town government.
The top earner in Franklin is Town Manager Summer Woodard, who has served in that position since May 2014. She was first appointed as interim manager after Manager Warren Cabe resigned and then took the permanent position in July 2014. Even before that, the Franklin native — who earned her master's degree in public administration at Western Carolina University — worked as an assistant under three town managers and interned for the town while she was a student.
At the time, Woodard was offered the same contract Cabe had making $85,000 a year. She currently makes just over $90,000 a year. Mayor Bob Scott supported the hire at the time and to this day, still says it's one of the best personnel decisions the town board has made during his tenure.
In addition to Woodard's leadership, the town's finance department is also held by a woman and the tax collector is a woman — both of those positions are well-paid positions as they require a higher education and plenty of experience.
For many of the town officials, examining their employees' pay and positions in this manner was a good exercise showing them how they are doing compared to other town and county governments.
"The figures you sent me are interesting. Obviously, men outnumber women, I think because most town jobs are traditionally 'male' — water and sewer plants, street crews, police and fire," said Barbara McRae, Franklin's vice mayor and one of two females serving on the Town Council. "Women hold some important jobs, but mostly in admin roles. Here they have clearly excelled, as you point out. Perhaps we should encourage young women to think in terms of less traditional careers. I think we (the Council and town management) are intent on having a workplace in which everyone has an equal chance to succeed and everyone is treated well."
While it's true the police department, water and sewer, planning and maintenance are still run by men, it's worth noting that the last two town clerks — a traditional female role — have been held by men. The last Franklin Town Clerk Chad Simons went on to serve as the town manager for Bryson City and now Murphy, and the current clerk is Travis Tallent. He makes about $62,000 a year.
It's also worth noting that Franklin's police department has two female officers on staff — a fulltime sergeant and a fulltime patrol officer. The police department also has a female administrative assistant making $28,000 a year. The female sergeant has worked for the town since 1994 and makes $46,000 a year while a male sergeant on staff since 1993 makes just over $49,000. The female patrol officer has worked for the town since 2002 and makes $40,000 while there is a male patrol officer hired in 1998 who makes nearly $40,000 a year.
According to the town's pay plan, police officers start out at a minimum of $33,521 and a maximum of $49,482. McRae said the town is currently looking at updating the pay scale for the police department.
Other than reviewing those pay plans regularly, she said the town hasn't specifically made diversity hiring a focus.
"Other than a commitment to be fair, I don't know that we have a focus on diversity hiring. I think we probably should. It is challenging, as our minority population is small. Also, turnover is small, so there aren't a lot of hiring opportunities. But we should have this as a goal," she said.