Archived News
Jackson to discuss Confederate monument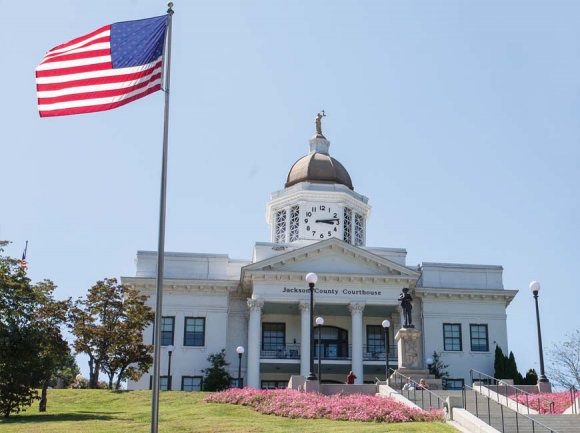 An agenda for the Jackson County Commission meeting slated for 6 p.m. Tuesday, Aug. 4, shows that the board will discuss a resolution forwarded from the Town of Sylva asking them to remove the Confederate solider monument currently residing on the steps of the historic courthouse.
During a meeting held Monday, July 27, the town board voted 3-2 to approve the resolution, which asks the county — the owner of the property in question — to remove the monument from town limits.
The statue depicting an unnamed Confederate solider was erected in 1915 to honor those who fought in and supported the war effort. It sits midway up the prominent staircase connecting Main Street and the historic courthouse. While it's a fixture of the often-photographed downtown Sylva scene, the county — not the town — owns that property.
The July 27 vote occurred after a summer full of vigorous debate over the issue, including lively public comment sessions at both town and county meetings and demonstrations both for and against the statue held Saturday, July 11.
However, the county's power to move the statue is unclear. A 2015 state law provides that "an object of remembrance located on public property may not be permanently removed and may only be relocated … An object of remembrance that is permanently relocated shall be relocated to a site of similar prominence, honor, visibility, availability and access that are within the boundaries of the jurisdiction from which it was relocated."
The public can attend the meeting via Zoom or by watching a livestream set up in the Jackson County Justice and Administration Building. The agenda includes a public comment section. To sign up to comment or to request the Zoom link, call 828.631.2207 by 4:30 p.m. Aug. 4.