Archived Outdoors
National forests welcome new leadership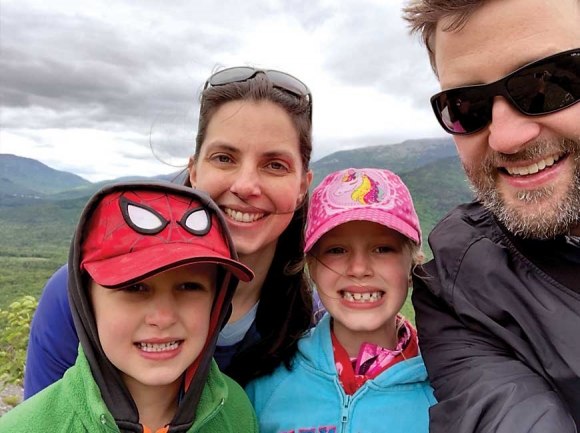 Jennifer Barnhart enjoys an outdoor adventure with her husband and two children. Donated photo
In the midst of a summer characterized by coronavirus-related disruptions on top of the closing of the public comment phase for the Pisgah-Nantahala National Forest's much-awaited forest management plan, two new hires have taken the reins in key leadership positions overseeing management of these public lands.
Troy Waskey's first day of work as the new district ranger for the Nantahala Ranger District of The Nantahala National Forest was July 8, and on July 20 Jen Barnhart took on the district ranger role for the Appalachian Ranger District in the Pisgah National Forest.
Waskey replaces Mike Wilkins, who retired last year after 40 years with the Forest Service, including 29 years as district ranger on the Nantahala National Forest. Barnhart, meanwhile, will replace Richard Thornburgh, who held the post from January 2018 until January 2020, when he left for a job in the Forest Service's legislative affairs office in Washington, D.C.
Waskey and Barnhart have taken different paths toward their eventual arrival in Western North Carolina, but those routes have intersected and paralleled each other along the way. The two new hires knew each other long before taking on their current roles, having both earned degrees in natural resources recreation with a minor in forestry from Virginia Tech, which is also Wilkins' alma mater. They graduated just one year apart and occasionally found themselves in the same classrooms on their way through the program. Both are now 40 years old and coming to WNC for their second district ranger position.
Troy Waskey
When Waskey first enrolled at Virginia Tech, it was to pursue an education in architectural engineering, but halfway through his college experience the former Boy Scout switched to the natural resources program.
"I realized very early on that the Forest Service was the right niche for me, just because it had the balance of the full spectrum of natural resources management all the way from wilderness management to active forest management, so the diversity of what the Forest Service has to offer really appealed to me," said Waskey, a native of Richmond, Virginia.
A program of the U.S. Department of Agriculture, the Forest Service is tasked with embracing a philosophy of multiple use, meaning that it must manage its lands to allow for everything from mining and timber harvest to biking and hiking to protection of sensitive ecosystems. That wide array of focuses and priorities means Forest Service managers inevitably find themselves working with a diversity of visitors and stakeholders.
While Waskey knew even as a student that he wanted to pursue a career in the Forest Service, he also knew those careers were difficult to launch, so he worked to gather every bit of experience possible. While in school, he spent a couple summers with the Student Conservation Association, leading trail crews of high school students on public lands in Pennsylvania and California. Right out of college he got picked up by the Appalachian Trail Conservancy, where he worked for about three months before a former professor who had left for a Forest Service job on the White Mountain National Forest hired Waskey as a seasonal forestry technician.
"I think those early experiences just showed me people's love and dedication for these public spaces," said Waskey. "To me now as a manager, I don't take lightly the public trust that is vested in me to manage these lands for public benefit."
The White Mountain job was his first "big break" in pursuit of a Forest Service career, and the experience "really sealed the deal" in his resolve to make it in that field. But Waskey knew that landing a permanent position with the Forest Service was a difficult proposition, so he decided to improve his chances by going back to school, earning a master's degree in outdoor recreation management from Arizona State University.
After graduation, Waskey got a job in the recreation and lands program on the Carson National Forest in New Mexico. In 2013, he achieved his longtime dream of sitting in the district ranger's seat when he was hired to the Monongahala National Forest in West Virginia.
Troy Waskey and his family get acquainted with the Nantahala National Forest.
"I would sum it up in one word: relationships," Waskey said when asked about the lessons he'd learned from his time in West Virginia. "It's not enough to manage for output. It's much more about managing for relationships and positive outcomes. You're not going to please everybody all the time — you're foolish to think that. But I was able in West Virginia to bring a lot of diverse stakeholders to the table, and by communicating often and candidly I felt like it helped me as a ranger become more well-rounded and allow equal opportunity for various perspectives."
Those seven years in West Virginia allowed Waskey to refine his leadership skills, but eventually he wanted a change of venue. The Nantahala job was an "amazing opportunity" to manage a busy ranger district with a robust array of recreation offerings, he said.
Things are starting off kind of slowly due to the pandemic, but Waskey said he looks forward to getting to know his district, and the people in it. In the meantime, he's spending plenty of time exploring the mountains with his wife and 13-year-old daughter, with a baby boy joining the family soon.
"I'm coming in on the heels of a previous ranger who was here for 29 years, so I was 11 years old when he took the job," said Waskey. "Right now I'm really happy to kind of observe and really get to know the area and the district staff. That's a big focus for me."
Jen Barnhart
Barnhart's love of the outdoors began at a young age. She grew up in rural south-central Pennsylvania close to the Appalachian Trail and numerous state lands, and at 16 she began working at one of her local state parks. That's when she knew that she wanted to be a land manager someday.
However, Barnhart quickly learned that a career in natural resources would always come with a heavy human element.
"My professors there (at Virginia Tech) said right off the bat if you're going to be in the field of natural resources because you think that you'll be out in the woods and not communicating and connecting with people, then you're wrong," she recalled.
Throughout her career, that advice has rung true. Human dynamics is "a big component" of any land management task, she said.
Like Waskey, Barnhart left college desiring a career with the Forest Service but knowing that such positions are often hard to come by — in fact, the process would take her 10 years. She earned a master's degree in natural resources and science management at the University of Minnesota and then began working in the nonprofit sector.
"For me, probably one of my strengths is I do have the perspective of nonprofit conservation organization rather than just a federal government employee," she said.
Such organizations play an important role in land management decisions, and having a firsthand understanding of their goals and perspectives has gone a long way to make her a better manager, said Barnhart.
After finishing grad school, Barnhart went to work as a backcountry caretaker for the Green Mountain Club in Vermont, from there taking a district resource specialist position with Virginia State Parks, where she found herself in charge of resource-related issues throughout the south-central portion of the state. She then moved back to Pennsylvania for a job as outdoor recreation planner for the Appalachian Mountain Club, where she worked with local governments and members of the public on a trail planning project affecting 13 Pennsylvania counties.
That's when Barnhart finally got picked up by the Forest Service.
"It took a while," she said. "You apply anywhere you can, and I was really fortunate and got to go to the Kisatchie (National Forest) in Louisiana."
Barnhart spent four years down there, in her capacity as district recreation program manager dealing with everything from OHV trails to hunting to mountain biking.
"I'm always a big proponent of everyone's got their niche of what recreation needs they love to do, and one is not better than the other," she said. "I think everyone should have that avenue of distressing from regular life and getting out to their national forests to enjoy their public land."
Barnhart's next post was on the Sumter National Forest in South Carolina, where she experienced the complications of managing a wilderness area straddling three different states. She stayed there until 2016, when she got her first chance to serve as a district ranger after being hired to the White Mountain National Forest in Maine and New Hampshire. She saw Pisgah as a positive move professionally, but also viewed WNC as good place to raise her two young children and for her husband to advance his career.
The White Mountains are in some ways a "sister forest" to the Pisgah, she said. They're both astoundingly beautiful, and they both draw high levels of diverse use. She comes to WNC with the lessons learned in New England fresh on her mind, and those lessons can be boiled down to a single-sentence guiding principal that can be traced back to her earliest days at Virginia Tech.
"Relationships with people are key to success in being able to manage the land to meet our mission for the Forest Service," she said. "My top priority is building relationships and making those connections."