Archived Opinion
Look to the stars and beyond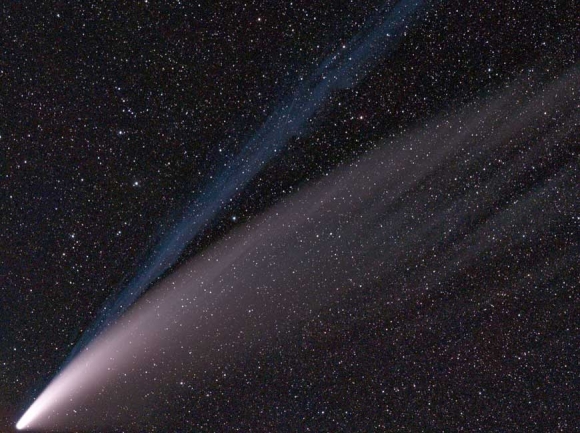 Comet 2020 F3 (NEOWISE) on Jul 14 2020. SimgDe/Wikimedia Commons
I've been looking at the stars a lot lately. It started several weeks ago.
It was 10:18 p.m. on a Sunday. We were driving the parkway, windows rolled down, Van Morrison on the radio. My boyfriend, Matthew, looked over and squeezed my knee.
"We're going to find it," he said.
A goose chase then ensued as we searched for the comet, Neowise. Matthew likes astronomy. He took a course in college and was hooked. In contrast, my eyes tend to be fixed straight ahead or downward in a book or journal. Stargazing is a pastime toward which I've traditionally felt indifference. I can find the Big and Little dippers, but that's about it.
Like most people these days, I'm sure you've been watching the news. Among pandemic information, political banter and speculation over the state of our economy, you may have heard a short blip about the comet Neowise.
Astronomers discovered the comet, formally known as C2020 F3 NEOWISE, this March. The acronym stands for the NASA mission that spotted it, for the Near-Earth Object Wide-field Infrared Survey Explorer. The goal of the mission was to find as many near-Earth asteroids as possible, especially ones that could be hazardous to our planet. This is when they spotted Neowise.
On July 3, the comet was closer to the sun than the orbit of Mercury and close to breaking apart. The sun heated up much of the comet's icy makeup, erupting in a large debris trail of dust and gas.
At three miles across, Neowise is fairly large in size and made up of material 4.6 billion years old, from the origins of the solar system. According to NASA, it takes about 6,800 years to complete its path around the sun. Seeing this unique comet is a once-in-a-lifetime opportunity, but only if you're in a good spot and it's the right time of day. The location of the comet is between the horizon and the lower right of the Big Dipper.
This is what spawned our weekend goose chase.
Once Matthew told me about Neowise, I wanted to see it. Heck, I'd never even seen a shooting star, much less a comet. I was willing to get up early, stay up late, whatever it took to catch a glimpse of a giant dusty snowball.
One Sunday morning, we awoke 80 minutes before sunrise and drove to the Junaluska overlook on the Blue Ridge Parkway. We waited and waited. And while we saw a stunning sunrise and observed the birds arising for the day, we did not see Neowise. It could have been the haze or maybe we should have gotten there earlier. Nonetheless, we didn't see it.
We tried again that night. Even though it was Sunday and we both had to work Monday morning, we drove to the parkway well after 10 p.m. to ensure it was dark enough. At the Waterrock Knob parking lot, we settled on the ground and observed the sky.
Millions of stars pierced the black night, resulting in a beautiful light show. I felt small compared to the galaxy before me. We still didn't see Neowise due to its position on the horizon, but I saw a shooting star and felt an overwhelming sense of calm. It won't be the last time I look to the night sky as a reminder we're all part of a bigger story.
Matthew and I have five kids between us. About a week after our initial attempt, four of the kids wanted to join us on another quest to find the comet. The six of us again drove to Waterrock Knob parking lot, put blankets on the ground and looked as hard as we could. Although we still didn't see Neowise, we had fun giggling and pointing out other constellations, stars and planets.
The following day a friend told us about his experience viewing the comet. He suggested 9:50 p.m., after sunset but before total darkness. We were looking for it too late in the evening. He also recommended binoculars. That night, we loaded up and went to a peak out in Jonathan Creek. It took some searching and the use of binoculars, but guess what? There it was, an actual comet blazing across the sky. It was far and it was faint, but we all saw it, even my eight-year old. It was well worth the two-week wild goose chase.
We're currently on vacation at Ocean Isle, and I've been looking at the stars each night. There is something breathtaking about the night sky above the sea. Probably for the rest of my life, I'll look to the Big Dipper and smile thinking of all the nights we hunted for Neowise and finally found it.
In life, it's often other people who pick us up when we're down or teach us something new. There's a lot I love about Matthew, but his curiosity about the solar system is toward the top of my list. As someone who can easily fall into melancholy, it's nice to have a mate in life who gently lifts my chin and says, "Look at the stars."
(Susanna Shetley is a writer, editor and digital media specialist for The Smoky Mountain News, Smoky Mountain Living and Mountain South Media. This email address is being protected from spambots. You need JavaScript enabled to view it.)