Archived News
Special meeting called in Maggie Valley for protest ordinance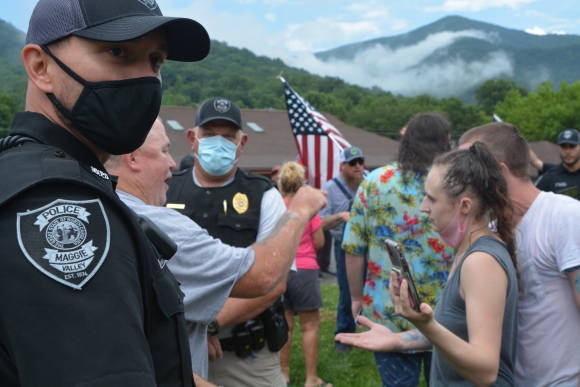 Demonstrators and counterdemonstrators argue under the watchful eye of the Maggie Valley Police Department on July 18
Cory Vaillancourt photo
In response to an adversarial demonstration that took place on July 18 and in anticipation of a repeat on Aug. 1, the Town of Maggie Valley has scheduled a special called meeting for July 30 to discuss a newly-proposed protest ordinance.
The ordinance lists several protocols that, according to Town Manager Nathan Clark, are meant to "establish some ground rules" that would enhance public safety while ensuring the constitutional right to protest.
Among them are a requirement that persons or groups wishing to picket must serve notice on the chief of police no less than 72 hours prior to any planned activity. If adopted, that provision would not apply to the Communities for Change event slated for Aug. 1, but would apply to all activity after that.
Other provisions that would apply to the Aug. 1 event if the ordinance is adopted on Thursday include regulating the size and length of poles or staffs used to display banners or flags – they must be no longer than 36 inches and made of "corrugated material, plastic or wood … and shall not be made of metal alloy." Staffs made of wood can be no thicker than three-fourths of an inch and must be blunt at both ends.
Another public safety issue that was apparent during the July 18 march was the proximity of demonstrators and counterdemonstrators.
The proposed ordinance permits picketing "on public sidewalks, at Town Hall, Town Hall Park, Parham Park, Mary Rathbone Rich Park, McCracken Corner Park, or any other town-controlled park or other town-owned areas normally used or reserved for pedestrian movement …"
That would appear to prohibit protestors from in front of the Fair Grounds, where a number of ugly engagements between the two groups took place on July 18. The proposed ordinance also gives law enforcement the right to separate groups by 25 feet of more, "in order to preserve the public peace."
Presented on the morning of July 28, the ordinance remains only a proposal and must be approved by the Maggie Valley Town Board. It will be considered at a meeting to be held on Thursday, July 30 at 9:30 a.m. in the Town Hall Pavilion. The meeting is open to the public.