Archived Reading Room
A feast for readers: A Poor Man's Supper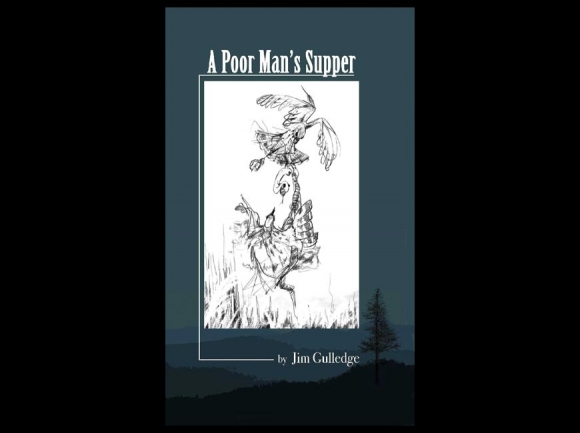 The years following the Civil War brought great changes to Western North Carolina. The railroads penetrated these coves and mountains, carrying tourists, flat-landers and goods to small towns previously isolated by their forbidding terrain. Following the railroads were the timber barons, eager to harvest the ancient forests and able now to move and sell the lumber to outside buyers. Though many of those native to the region remained in poverty, others were able to make their fortunes in the mountains.
It is against this background that Jim Gulledge has set his novel, A Poor Man's Supper (Deer Hawk Publications, 2017, 140 pages), a love story involving a young woman, the boy she loves and the man she marries.
Vancie Keller lives on a hardscrabble farm in the hills, along with her mother and two African Americans who fled the to the mountains after the war. Her father, wounded in both body and soul during the fighting, has died, leaving them struggling to eke out a living as best they can. Vancie has her mother's beauty, is quick-witted and prefers britches and exploring the woods to the stiff dresses she must wear to church.
The orphaned teenager Josiah Buckland walks out of the hills to Tugaloo, a town within a day's journey of Asheville. The hungry boy finds work in a livery stable, where the owner, Phineus Coble, soon treats Josiah as the son he never had. The grateful Josiah mucks out stables, hauls buckets of water from the town's well and performs all the other tasks required of him, returning the affection Coble has bestowed on him.
Jagger Hill is also newly arrived in Tugaloo. Unlike Josiah, Hill arrives with money and gold, a fortune he has stolen from the family of a man he befriended in the army. Hill has chosen Tugaloo, a run-down dirty town but with train service, as the place to invest his wealth. He intends to buy up a number of the businesses, refurbish them and so control the town and its people.
The lives of these three people become entangled when Vancie and Josiah fall in love with each other, smitten from the moment they meet in the livery stable where the sassy Vancie pokes fun at Josiah for "trying to bury yourself in a pile of hay with a pitchfork." When Phineus Coble learns of Josiah's love for the girl, he gives him a gold watch once owned by his mother engraved now with the initials V.K and J.B. The watch acts throughout the novel as a bond between Vancie and Josiah, and plays a key role in their story.
When Vancie becomes pregnant with Josiah's child, her mother Lois, determined that her daughter should avoid the hardships of her own life, approaches Jagger Hill and offers him her daughter in marriage. He accepts, mostly because of her beauty, believing that she'll act as eye candy, one more sign of his rise in the world.
Hill treats his wife as brutally as he does his whores, his animals, and eventually, the boy James, whom he believes to be his son but whom he despises for his kindness and weakness. When Josiah learns of this marriage, but not of the circumstances surrounding it, he is broken-hearted. He says goodbye to Coble and the livery stable and returns to the mountains to carve out a life for himself there.
To tell more of this story would spoil its ending.
In addition to its dramatic romance, A Poor Man's Supper offers readers several other gifts. First, some of the minor characters — Mattie, the former slave who becomes a second mother to Vancie, Big John during the chapter in which he digs a grave, the crippled and good-hearted Phineus Coble, Delilah Hart, the town's madam — are as finely drawn and real as the main actors on this stage of love, hope and sadness.
Impressive as well is the amount of action and emotion Gulledge manages to condense in this short novel. He cuts from scene to scene and from character to character with expert ease, telling us the story of these people without wasting a word or making a misstep. Here, for example, he paints this portrait of James and his grandmother, Mama Lois:
Their days were spent in endless hours of barnyard tales, gliding on the front porch swing, and singing silly songs that Mama Lois had been taught as a child in Ireland. Mattie did all of the cooking now, and Big John kept up the garden. Mama Lois was free all day long to lighten James's heart and cure him of the endless melancholy of life with his mother and father back at Orchard Cove. Wednesdays at Mama Lois's were days to breathe deeply and freely, to be silly, loud and juvenile, all things that were banned at his father's house.
Finally, unlike so many modern novelists who write about the nineteenth century, Gulledge gives religious faith a place in the lives of many of his characters. From the memoirs, letters and diaries of that time, we know faith was a cornerstone of life for many people, and when Gulledge describes the reactions of Vancie, Mama Lois, James and Mattie, he allows them to express their Biblical beliefs that were as natural and common to these men, women and children as the stars in the sky or the mountain air they breathed.
Read A Poor Man's Supper, and you'll enjoy a feast.
(Jeff Minick is a writer and teacher. This email address is being protected from spambots. You need JavaScript enabled to view it.)