Archived Arts & Entertainment
This must be the place: Not where but what you think that really matters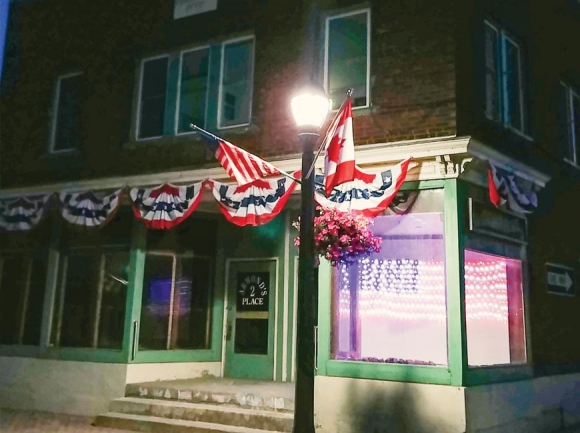 Armond's Place in Rouses Point, New York. (photo: Garret K. Woodward)
Stepping out of the pickup truck in my little sister's driveway last Saturday, I was immediately greeted with the sounds of children laughing and splashing around in the backyard. It was my niece's sixth birthday party in my hometown of Rouses Point, New York, a tiny village on the Canadian and Vermont borders.
The backyard was organized chaos. More than a dozen kids running amuck in the inflatable pool and bouncy house. Parents all milling about on the edge of the yard, as if spectators at a wrestling match. Some of the adult faces were familiar, these folks I remember fondly from my adolescent days — not seen in years, only to catch up over some small talk.
I left this town when I was 18 for college in Connecticut, some 300 miles away. From there, it's been an ongoing, rollicking odyssey across America and beyond. And it's rare for me to find myself back in Rouses Point — not by choice, just by circumstance. Since I graduated high school, I've kept wandering and pondering, pushing ahead and rarely looking over my shoulder at the past.
And these last two months spent in the North Country (in the midst of the pandemic and shutdown) have brought a lot of things in my life full circle, personally and professionally. I've never forgotten the starting line of my hometown. It's always been the line by which I've measured a life well-lived, all while chasing long held dreams in real time.
It's this place, this tiny dot often forgotten on the map, that's remained an anchor in my thoughts and actions. It's a location that no matter how tough the going gets, I always know that it's still up there somewhere, tucked in this corner along Lake Champlain, hidden from the madness of the outside world.
During the birthday party, I laced up my running shoes and snuck away to go for a jog around the town. With a slew of emotions and memories flooding my field-of-vision, I figured it'd do me some good to sweat it out amid a landscape that I once knew on a daily basis, now somewhat a foggy image in memory.
Exiting the driveway, it was a right down Pearl Street to Lake Street. With the seemingly endless Lake Champlain in front of me, I took a right down Lake Street heading south in the hot sun of the early afternoon.
Jogging by The Anchorage motel with the big front yard where The Anchorage restaurant once stood, a North Country staple of family gatherings and late-night shenanigans for decades before it burned down. It's also where my best friend and I took our prom dates for dinner before the big dance.
Down Lake Street and a left on Stony Point Road. S-curve pavement towards the breakwater barrier. Local anglers hoping to catch that one elusive fish. The nearby boat ramp is used as an entry point for the shanty town once the lake freezes over in winter and a small community appears atop it, as if a scene directly from the film "Grumpy Old Men."
The s-curve pavement soon turns to dirt, with several camps (or "summer homes") appearing. Eventually, my late grandfather's camp came into view. It looked the same as I remembered: black with blue trim, the old shack for his fishing and hunting gear still standing, too.
I hadn't seen the camp since it was sold years ago, not long after his funeral. In the distance was the deck overlooking the lake where we'd sit and chat over a beer about how college was going, what the plan was after graduation, only to head down to the dock and jump off it to cool off in the ancient waters.
Returning to Lake Street, my legs started to get tired, but my mind was restless as I made my way to Montgomery Street. Push past Sportsmen's Pier (aka: the local rod and gun club swimming area) and all those summer barbecues and family get-togethers, now only dusty photos in albums taken out at Christmas parties.
From Montgomery, I hopped on the walking trail that leads up to the Rouses Point Rec Center. With the enormous old hockey rink in the distance, I made my way by the soccer and baseball fields, these green spaces where as a kid I kicked the ball past the goalie or caught the pop fly in left field.
The last stretch back to my little sister's house and seeing my reflection in the windows of Armond's Place on Lake Street — the now-defunct dive bar that was the social hub of the community. There were countless Fourth of July celebrations where I ended up in there following the fireworks, catching up with my old high school buddies as some local band was rocking through a Tragically Hip song, most likely "New Orleans is Sinking."
Drenched in sweat, I finished at the corner of Lake and Pearl. Grabbing a towel from my truck, I took a moment to collect myself before reentering the birthday party. In that hour-long jog, I passed by people, places and things forever cherished and carefully placed on the shelves of my mind.
I passed by abandoned buildings, renovated buildings and buildings long gone where I spent many days and nights growing and blossoming as a human being in the greater universe. And I thought of all those familiar faces I dearly miss, either many miles away or six feet under. Rouses Point was the starting line, and I've never taken that for granted.
Life is beautiful, grasp for it, y'all.