Archived News
Macon sheriff pleads for law enforcement pay increases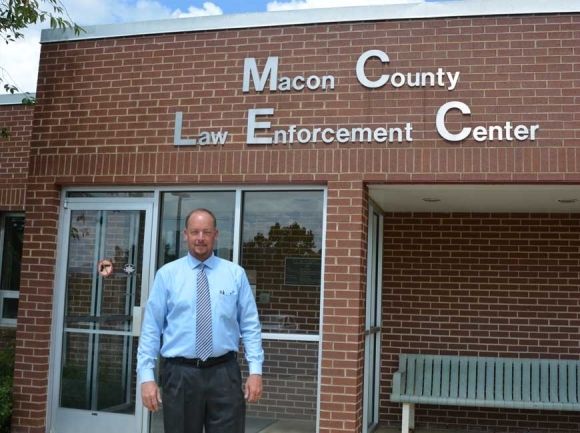 Macon County Sheriff Robbie Holland stood before county commissioners Tuesday night with a heartfelt plea for better pay for his law enforcement officers who are going above and beyond during the COVID-19 Pandemic and ongoing civil rights protests.
After years of talking about pay increases for law enforcement and other underpaid county employees, Holland said it's time to finally take action.
"The last few years have been discouraging for me. I'm supposed to keep my people boosted but I'm at a point in my career where I'm discouraged now," he told the board. "We know where there's a problem and it needs to be addressed — the purse strings stop with y'all."
With everything going on in the world right now, Holland said it's never been more difficult to be in law enforcement. For perhaps the first time in the county's history, Holland said his department has 11 vacancies and he's only received two qualified applicants. Some have retired, some have moved on to better paying departments and others have gotten out of the profession all together for more lucrative opportunities.
"Just in the last month my officers were put in the position of standing and protecting people who asked us to be there and said 'all cops are bastards,'" he said, referring to the Black Lives Matter protest held in Downtown Franklin several weeks ago in response to George Floyd's death by an officer. "The Franklin mayor and a teacher get up and supports that group lifting them up, and that's what our country is all about, but I had tons of officers there keeping all those people straight."
For officers who have to strap on a bulletproof vest, a gun and put their lives on the line everyday, Holland said, they are worth more than $15 an hour. He said there are school resource officers with five or more years of experience making $34,000 a year when the starting pay for a deputy is now $32,000. He has officers who've completed degrees and gone to additional training and certification with no additional income to show for it.
"I'm discouraged and I'm asking you to fix it. We've talked about this long enough — my guys deserve better," he said. "None of the other (county) departments are expected to lay their lives down for their fellow man like my officers are."
Commissioner Ronnie Beale, who served as liaison for the sheriff's department said he agreed that something needs to be done, but also agreed that this year's budget recently passed presented the county with never seen before challenges associated with COVID-19 costs, which was why pay increases weren't included.
"This year is the best excuse you've ever had but every year there's an excuse," Holland said, adding that he feels inept as he watches other LEO agencies improve their pay scale. "But I can't seem to get it done."