Archived Arts & Entertainment
The abstract beauty of humanity: A conversation with painter Avery Rowan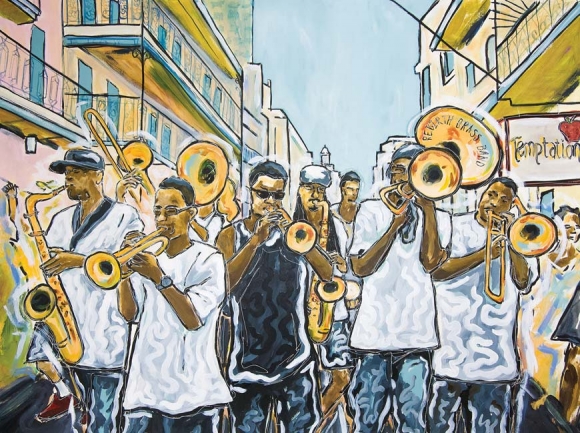 'The Rebirth Jazz Band' by Avery Rowan
If you've ever spent time in New Orleans, Louisiana, you know all too well the grandiose nature and immense splendor of the rollicking metropolis.
It's a place where you can experience the organized chaos of the French Quarter, and yet also find yourself amid a serene silence along the Mississippi River or down some side street of breathtaking architecture where history comes alive right before your eyes.
At the core of this wondrous city remains its essence — its people. Wandering through the rich and vibrant culture of New Orleans, one finds a variety of personalities and happenstances that is unmatched anywhere on the planet. Whether it be music, art or culinary delights, the surprises around every corner remain a whimsical whirlwind for any who simply let go and fall gracefully into the arms of "The Big Easy."
And capturing those moments of humanity with each brush stroke is Avery Rowan. A native of New Orleans, her paintings are as bright and engaging as the city itself, something not lost on the talented and perceptive artist. Every work is a love letter to New Orleans, this inspirational pool of unknown depths that Rowan happily dives into with each blank canvas in front of her.
Avery Rowan.
Smoky Mountain News: What is it about the physical and cultural landscape of New Orleans that really appeals to you and draws you in as an artist?
Avery Rowan: I'm kind of a person that's naturally drawn to excitement and activity, and especially community. And I think something I've noticed about New Orleans, more than anywhere else, is this big sense of community. So, I find myself naturally painting about things I love and things that other people love.
And in a way, I almost feel more creative [in New Orleans] because there's also a lot of support for the art community. I feel like ever since I started out when I was young, I've had a lot of support and people very interested in it. What makes me proud of what I do is [painting] the city that I love and what other people love [about it], and it is through my eyes. I feel a lot of people can kind of relate to those serene, subtle moments that [are in the city].
SMN: And with a place like New Orleans, it's hard to not be inspired by all of the beauty that's coming from seemingly every direction.
AR: I totally agree. And it's empowering when people reach out [and connect through] my art. I'm always trying to find a way to help contribute back to the community. At the beginning of COVID, I kind of made my own little fundraiser [through my art] to raise money for the [Greater New Orleans Foundation], which is helping provide money to people [in the restaurant and hospitality industry] that were laid off.
It's just a way to give back to the community, since I feel like I've benefited so much from this place — [it's about] the bigger picture of things. It means a lot to me and I hope it means a lot to others.
'Flamingos' by Avery Rowan.
SMN: When I look at your paintings, you have such a variety in them. And that's kind of what really was captivating to me was, that your style is whatever you want it to be.
AR: Definitely. I'm interested in a lot of different things. I guess I consider myself a person of variety. I'm very open to new ideas and decisions. So, I would feel limited if I had to make my art [one particular] way. You want to keep things interesting. And, honestly, I find that keeping it [fresh and] interesting for myself is just as important, if not more.
SMN: In a lot of your works, you focus on people. What is it about humanity that fascinates you?
AR: It's the variety of the kind of people in the aesthetic that those paintings give off, the meaning behind them. I don't like to go as deep in the meanings behind my paintings, because I'm more about kind of that subtle, instant appreciation, not something to ponder over or think too much about.
I think the world is already busy enough as it is, and to kind of have a moment to like slow down and appreciate just something you can enjoy or relate with is the main goal of it. When I was beginning my art career, I was so driven to doing realism and making all my paintings look exactly like the person.
And I think by doing people, it kind of brings me back to that and reminds me, "Oh, I can get very detailed if I want to." But then, as I make it more detailed, I get to where I'm comfortable with the painting, and I go back in and kind of make it a little more abstract. I feel like it makes me grow every time I do another person or another phase — that's what I enjoy about it.
Want to go?
Avery Rowan will one of the featured artists at the Cashiers Plein Air Festival, which will be held July 15-19.
Aside from several artists that will be painting in and around the community throughout the week, there will also be special virtual art demonstrations and a gallery showcase.
For more information on the featured artists and a full schedule of events, visit www.cashierspleinairfestival.com.