Archived News
Protests were peaceful, but traffic caused problems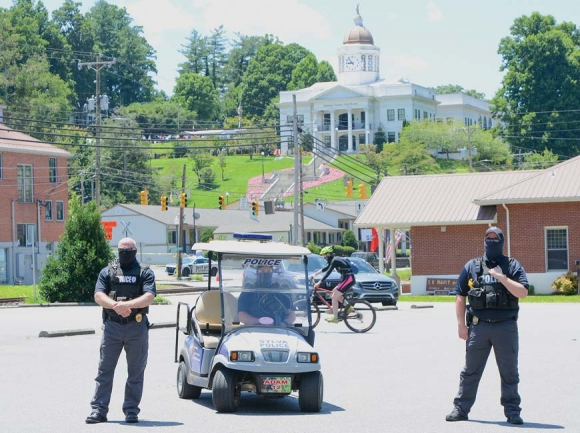 Masked police officers monitor the protest event at Bridge Park. Holly Kays photo
It was a long day, but July 11 was a success from the perspective of law enforcement, said Police Chief Chris Hatton.
"Our plan was solid, and it kept people safe, and that's the main thing," said Hatton.
There were no arrests resulting from the event, and no protesters on either side were found to be carrying weapons, which under state law is illegal to do during a parade or protest.
However, Reconcile Sylva leader Kelly Brown strongly criticized the way police implemented road closures that day. Barricades went up too early and traffic was backed up for blocks trying to find parking, he said, likely diminishing attendance.
"Reconcile Sylva was notified that the street would be closed during our march, but no sooner or later. The police also requested that we cut our march short, as it would be 'unreasonable' to hold traffic from downtown for that long. Our group agreed that we did not want businesses in downtown to suffer and shortened our march by two blocks," reads a post on the group's Facebook page. "Organizers arrived around noon to start setting up. We began to receive text messages from medics, legal observers and hopeful attendees that they could not access downtown. Traffic was blocked at every entrance, many car lengths back. Medics trying to bring water to the event, even just to unload, were denied access to enter and park."
Ben Scales, an Asheville attorney who attended the event as a legal observer (see LEGAL, page 10), said the closure infringed on participants' right to protest.
"They've closed off the streets an hour or more in advance of the actual march," said Scales. "So people are frustrated in their ability to express their First Amendment rights. And it's that type of thing that we'll observe and report on, and hopefully avoid something like this happening in the future."
Hatton acknowledged that the road closure caused problems but said his department fixed the issue as soon as possible after becoming aware of it. The department used the same traffic plan it employs for other large events but didn't foresee the impact that the temporary closure of U.S. 23 at Dillsboro Bridge would have on mobility. It seems that GPS apps preferred to route travelers through Exit 83 rather than sending them through the detour at Yellow Bird Branch.
"We anticipated that causing more problems down around the Yellow Bird Branch area (around the closure), which in fact we didn't," he said. "We got flooded with traffic coming on Exit 83 and so it jammed up the area of the Municipal Road."
The delays forced Reconcile Sylva to shorten the march and push its program back by about half an hour in order to wait for those stuck in traffic, said Brown.
Hatton said he started his day around 7 a.m. Saturday and worked until after 6 p.m., with the 60 officers working the event attending their first briefing at 9 a.m. The official protest events ran from 1 to 3 p.m.
In addition to his 14 officers, officers from the Jackson County Sheriff's Department, Macon County Sheriff's Department, Franklin Police Department, N.C. Highway Patrol and Bryson City Police Department were on the scene. Also assisting were the Sylva Fire Department, Harris EMS, Jackson County Emergency Management and town staff. Sylva did not have to pay for help from other departments but will be expected to reciprocate by deploying officers when those towns have large events.
"These are pretty expensive weekends for us," Hatton told the town board July 9. "Pretty much every officer here will be working on overtime for the most part except for the two or three that were supposed to be here already."
Staff writer Cory Vaillancourt contributed to this report.