Archived News
NC schools to reopen Aug. 17 as state remains in Phase 2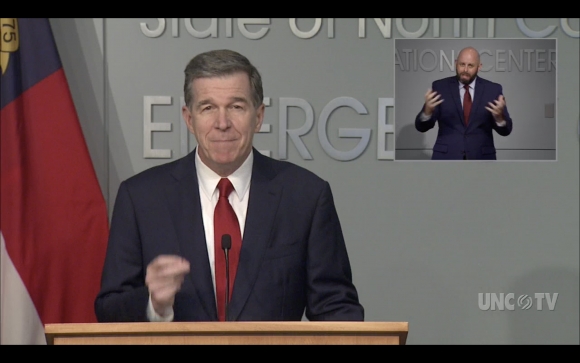 Gov. Roy Cooper announces his plan to reopen schools safely.
UNC-TV screenshot
After weeks of speculation, Gov. Roy Cooper announced July 14 that North Carolina would again remain in Phase 2 of his three-phase reopening plan and that schools would reopen as scheduled on Aug. 17, albeit with important caveats.
"We know schools will look a lot different this year," Cooper said. "They have to, to be safe and effective."
Three separate school plans had been floated over the past few weeks – Plan A, a fully in-person arrangement; Plan B, a hybrid version of Plan A and Plan C; and Plan C, fully remote learning.
The state's "baseline" plan, according to Cooper, will be Plan B. That includes fewer children in the classrooms, and a remote option for any student who wants it.
State-provided reusable face coverings for every student, staff and teacher will be mandatory, and frequent COVID screenings, along with aggressive sanitation practices, will also be implemented.
Local school districts, however, may also choose to follow Plan C. Cooper reserved the right to mandate Plan C should caseloads worsen.
Senate Republicans declined to consider a bill July 7 giving flexibility to local school boards on how to conduct the first week of school, so for at least the first five days, students must attend in person.
Cooper had initially closed schools for two weeks on March 14. At that time, North Carolina had seen only 29 cases, and the seven-day rolling average of new cases was about seven per day.
At the time of Cooper's July 14 announcement, the state had seen almost 90,000 cases as well as more than 1,500 deaths and a seven-day rolling average of more than 1,800 cases per day.
Cooper's announcement came as The Smoky Mountain News was going to print; look for more on this developing story in the next issue of SMN, on newsstands and online on Wednesday, July 22.