Archived News
Economic development boom in Maggie Valley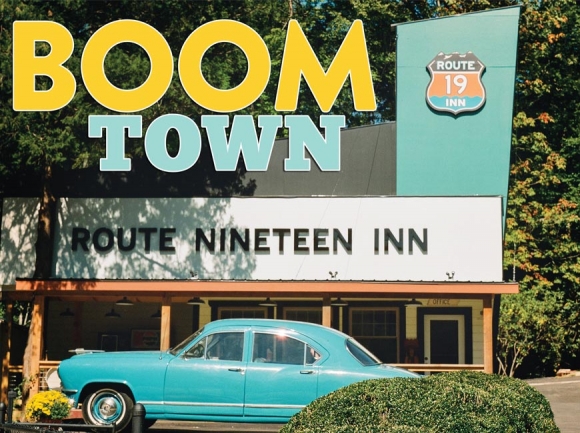 After years of languishing in the shadows of a shuttered amusement park, Maggie Valley's west end is now seeing substantial commercial development resulting in several major new or renovated businesses.
If all goes well, the former Ghost Town in the Sky could soon join them.
"Maggie Valley is a great place to come build your business," said Nathan Clark, Maggie Valley's town manager. "We focus on eclectic development and have a great tourism base that will support your business. Inventory has recently been made available, and people are jumping on it. It's an exciting time in Maggie Valley."
Less than 4 years ago Maggie Valley was slowly becoming a literal ghost town, much like the failing Ghost Town amusement park located high up on Buck Mountain since the early 1960s.
As the park sputtered along, a number of mom-and-pop businesses located on Soco Road — the town's main commercial artery — that had for years depended on the hundreds of thousands of visitors coming each year began to close.
That all started to change once Dave and Sue Angel opened Elevated Mountain Distilling Company back in 2017. Formerly a disused dinner theater, the distillery now features a full bar and indoor and outdoor live music space and has become one of the most-visited attractions in the region by producing a line of award-winning spirits.
The Angels may have been the modern pioneers of Maggie Valley, but since then, others have joined them in renovating existing enterprises, or starting their own.
This past April, the 700-acre Cataloochee Ranch changed hands for the first time since 1933, purchased by a partnership consisting of Ron and Camelia Ray and David and Annie Colquitt. The Colquitts also purchased luxury mountaintop resort The Swag in 2018.
Clark said that renovations are underway at Cataloochee Ranch as well as at one of Maggie Valley's most distinctive properties, Smoky Falls Lodge, to include a new sports bar where Willie Brooks BBQ was once located.
Then, there's BearWaters Brewing. One of Waynesville's first breweries moved to Canton in June 2017, becoming Canton's first brew pub and serving more than 90,000 patrons a year in the process.
After winning a few medals at the Great American Beer Festival, BearWaters established a second location in Maggie Valley, in a distinctive stone building that was most recently home to The Garrett House restaurant.
The creekside digs — spacious, with an outdoor deck and a taqueria created by Asheville mainstay The Grey Eagle — opened this past May, only a month behind schedule due to delays caused by the Coronavirus Pandemic.
Further on down the road lies the iconic Joey's Pancake House, founded by Joey and Brenda O'Keefe in 1966. Joey passed away in 2001, and Brenda made the difficult decision to close the landmark in June 2016. Less than two years later, Joey's was purchased by Kentucky restauranteurs Roy and Sandra Milling and reopened in May 2018.
Just past Joey's sits what used to be the Rocky Waters Motel, a run-down resort built in 1948 that had been closed since 2009. On June 24, the ribbon was cut on what's now called the Route 19 Inn.
The former Rocky Waters Motel in Maggie Valley has been renovated by new owners and renamed Route 19 Inn. Donated photos
The ownership and management group consists of former Disney marketing exec Matt Ferguson and well-known local businesspeople Mark and Beth Craft as well as Robert Verakirk, a long-time resort developer who's owned and operated properties in the Caribbean as well as Florida.
In line with the nostalgic look and feel of the town itself, the Route 19 Inn has been totally renovated to ensure that guests of the hotel who've traveled to Maggie Valley will also be traveling back in time to a historic motor lodge with a vintage 1950s look and feel.
"It needed a lot of work," Ferguson said. "Mark Craft is a former major in the U.S. Army and was one of the leaders at a military base, so he has a really strong construction background and he really did all the heavy lifting in terms of remodeling everything."
Craft's wife Beth, owner of upscale Maggie Valley gallery Crafted in Carolina, utilized her relationships with local artists to create all the eye candy that now occupies the site.
"The idea is to kind of bring that retro road trip feel with modern amenities," Ferguson said. "You'll notice when you go into a room, there are USB outlets right next to the beds and everything's fresh and brand new inside, but we've also created these Instagrammable moments around the property, like the teepee and the totem pole and the Tail of the Dragon mural, because that's a big part of people's vacations — sharing imagery from their trips."
Ferguson said they chose the property because of the general business climate in Maggie Valley as well as the unique location; Route 19 Inn is just a short trip from the Harrah's Cherokee Hotel and Casino, is now the closest hotel to Cataloochee Ranch, and likewise isn't far from Ghost Town.
"We were looking at Ghost Town and thinking if anybody ever brought that back to life, that would be amazing," he said.
Ferguson — and thousands of others across the state, the region and the nation who have hoped for Ghost Town's revitalization — may soon get his wish.
The hotel now offers pieces of nostalgia that beg visitors to stop and take a few pictures. Cory Vaillancourt photos

Back in October 2019, the $6 million parcel that is home to Ghost Town went under contract again.
At that time, the developer spoke exclusively with The Smoky Mountain News on condition of anonymity and revealed grand plans for the mountaintop. Last week, the developer again spoke with SMN and indicated no deviation from the plans delineated in October.
SMN has agreed not to reveal details of the plan until the property officially changes hands, but they currently include substantial investment and some very well-known names and brands who've jumped on board.
While a closing date for the transaction was originally planned for early spring, it's been extended a few times but could happen soon, according to the developer.
There's no indication that the pandemic or the technical challenges involved with updating the park's infrastructure will stop the park's impending sale.
Work continues on the site, and Maggie Valley Town Manager Nathan Clark says the town's been involved in discussions with the developer as well as contractors who will be engaged in work once it commences.
"We've met with an engineering firm and a construction company and about their potential roles in the project," Clark said. "We haven't seen any plans or any specifics, we've just been answering their basic questions about utilities and GIS data."
That may not comfort local naysayers who've become used to all manner of failed Ghost Town development schemes in the past. However, given the developer's experience, resources and partnerships — as well as their motivation — this latest effort might finally be the one to get it right.
"We've enjoyed talking to the developer," Clark said. "The people he's surrounding himself with seem to be top-notch. We're very hopeful for some kind of Ghost Town product, hopefully in the next year."
Leave a comment
1

comment
Thank you for the very detailed information. My family and I are moving to Maggie Valley from Panama City Beach FL in three weeks. We could not possibly be more excited. We all have fallen in love with the town and people. We are looking very hard for a business and though that door is still wide open we know we have found our tomorrow land.

Saturday, 08/07/2021