Archived News
COVID-19 cases curving up again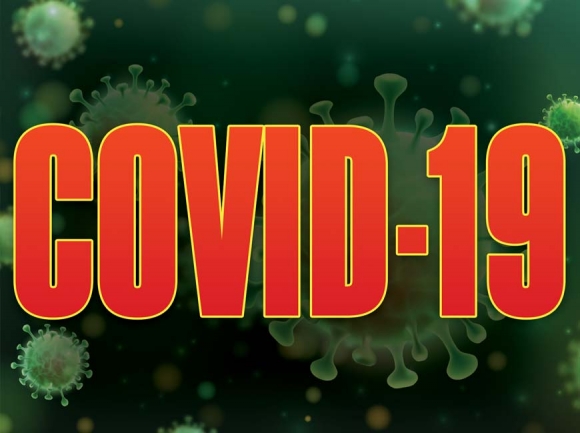 Haywood County Medical Director Dr. Mark Jaben has been keeping residents updated through the COVID-19 Pandemic with weekly video messages that offer hope and guidance for the future.
In one of his latest updates, Jaben said the health department was noticing a "disturbing trend" as staff continues to conduct more testing throughout the community.
"Increasingly people are developing symptoms and not honoring those symptoms for what they might be. More and more people are continuing to go out — even with symptoms — to bars, restaurants, to work or vacation and fostering the spread that we're seeing," he said.
For example, Jaben said the county recently had one case where a person traveled out of state and met friends at a bar. A few days later the person developed symptoms but continued to go to work for several days. It wasn't until the person lost his or her sense of smell and taste they decided to go get tested.
"Everyone they met at that bar tested positive. We don't know yet about the customers or staff exposed," he said. "This is why we're seeing such a ramp-up in cases not only here but in much of the South and West — fueled by people dismissing or ignoring what's right in front of their face."
While people want to believe they are only putting themselves at risk by going out, Jaben said the truth is that it puts many people's lives at risk, especially those working who have little choice but to be out in public. Younger people still think COVID-19 is still something only older people need to worry about, but Jaben pointed out that the number of people under the age of 24 with the virus is now double the number of people over the age of 65 with the virus.
Haywood County saw a 23 percent increase in cases just last week with 7 percent of test results coming back positive. Jaben said Jackson County saw a 40 percent increase in cases just last week. Meanwhile, Sevier County in nearby Tennessee has 266 active cases and has been declared one of the newest hotspots in the region.
"We've seen people from Haywood County who visited there and come back infected," Jaben said, referring to many locals who frequently travel to Pigeon Forge and Gatlinburg. Dollywood theme park has also been open to guests for the last several weeks.
A graph showing predictions of new cases for Haywood is now predicting 160 cases by the end of July when just a month ago it was predicting 90 cases by the end of the month. As of July 7, Haywood County had a total of 105 positive COVID-19 cases, 82 of which were considered recovered.
Jaben said hospitalizations in North Carolina continue to rise, but the good news is the number of COVID-related deaths has not spiked in WNC. Even though there are still few deaths, he reminded people that younger people with the virus have been experiencing illness for several weeks and may experience long-term medical issues, including shortness of breath, fatigue and even organ failure.
"I'm not sure how many more of these stories we need to hear before people listen," he said. "If you want it to go away, we all have to do our part. We don't have to agree on everything to agree on some things."
He encouraged people to wear masks in public, get tested and stay home if they are feeling ill and steer clear from high-risk situations.
Jaben said other countries that chose to buckle down for a few months before trying to safely reopen their economies were more successful at flattening the curve and returning to somewhat normal, but the recent spikes show the U.S. reopened too quickly.
"The experiment to reopen didn't work out as planned. Early on people took the recommendations to heart and kept the lid on it, but now it's clear we reopened too much too soon," he said. "The danger isn't the virus — the danger is not enough people doing their part."
Haywood County Public Health received notice of 13 new cases of COVID-19 on July 6, bringing the total number of cases to 105. The individuals are in isolation at home.
Eleven of these individuals reside in Haywood County. Two are part-time residents. Two have recent out-of-state travel history. Two have unknown exposure. Seven were identified through contact tracing to two previous cases.
As of 4 p.m. July 6, 82 cases of the total cases are categorized as recovered while the other 23 remain in isolation. Fifty-four people are in quarantine because they have been identified as close contacts of known cases during contact tracing efforts.
Jackson County identified a new cluster on July 7 at a local medical provider's office — Current Dermatology. The state defines a cluster as five cases or more identified at a workplace, educational, and other community settings within a 14-day period. All positive employees are following isolation orders and other employees were tested and received negative results.
Current Dermatology's Sylva and Clyde locations have been closed since June 26 and will reopen on July 13 to allow time for employees to be tested, for their symptoms to resolve, and to have both locations cleaned using a third-party cleaning service. All patients seen during the time period of June 15 to June 26 have been notified.
In Jackson County, there are 141 total cases as of July 6 compared to 107 cases last week. There's been one COVID-related death and 67 people are currently in isolation.
Swain County had 67 confirmed cases as of July 6 and 185 tests were pending result. Swain County has also had one death.
Macon County's cases continue to be one of the highest in the region with 290 total confirmed cases as of July 6 — 175 cases are considered recovered, 114 active and one death. Another 281 tests are still pending.
According to the state's website, North Carolina had 74,529 total cases July 6; 1,398 deaths and 982 current hospitalizations related to the virus. For more information, visit https://covid19.ncdhhs.gov/dashboard.