Archived News
Pandemic changes WNC's Independence Day tourism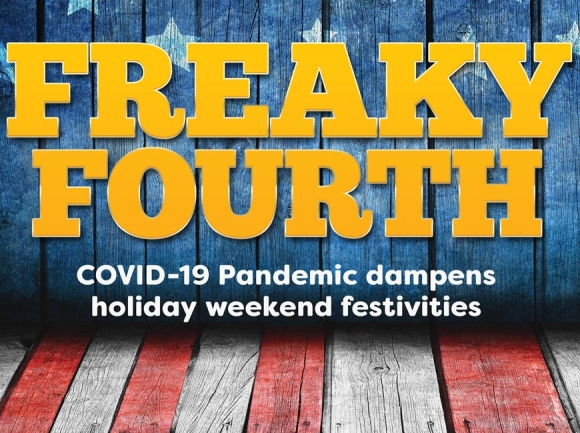 By Boyd Allsbrook • Contributing writer | In the past, the Fourth of July holiday has been counted on to draw visitors from across the country to Western North Carolina — and with them, a large portion of the tourist-dependent area's revenue. This year, many are worried that the Coronavirus pandemic might take a toll on those traditionally high visitation numbers.
This fear is not without reason. Haywood County's room tax revenue in March was down by 57 percent compared with the previous year. Gov. Roy Cooper's Stay at Home order more or less ground the regional tourism industry to a dead halt. Moreover, many events planned for the holiday weekend, like fireworks and festivals, have been canceled to promote social distancing.
However, officials with the Swain, Jackson and Haywood County Tourism Development Authorities are hopeful that a blend of COVID-safe outdoor events, cabin fever and eased restrictions will result in a higher-than-expected influx of July 4 tourists.
SEE ALSO: Fourth of July events information
Haywood County
The TDA has decreased its budget for July in anticipation of the pandemic's toll on visitation. "There seems to be pent-up demand right now [for travel to the mountains] and we have had a couple of good weekends recently," said TDA Executive Director Lynn Collins. "We are fortunate that we are a drive market for leisure travel and the mountains are a popular destination right now."
While Lake Junaluska has postponed its fireworks display indefinitely, Maggie Valley and Canton will press on. In accordance with the governor's orders against mass gatherings, no special events will be held associated with the fireworks. Viewers are encouraged to watch displays from their cars or the sidewalk, practicing social distancing.
Though the county generally relies heavily on special events like fireworks and festivals to draw in visitors, Collins is nevertheless optimistic about July 4 tourist numbers.
"Bookings for vacation rentals appear to be strong for the July 4 time period. I have heard from some of the hoteliers that they are having more walk-ins than normal, and we are seeing people here from different markets than normal," she said.
Jackson County
The Fireworks on the Green event in Cashiers has been canceled, as have all events associated with Sylva's fireworks display. Sylva will still launch fireworks at dark, but there will be no formal gathering, food trucks or concert.
Nick Breedlove, director of the Jackson County TDA, is uncertain about how many tourists this year's July 4 will draw.
"We've seen our occupancy hover around 50-percent for the past few weeks, and we may see larger crowds this weekend. It's difficult to say what effect COVID-19 will have on this weekend's visitation," he said, adding one caveat. "We are seeing increased phone calls and inquiries about outdoor activities, so people are looking to getaway to the great outdoors, which is viewed as a safer activity."
Swain County
Bryson City's annual Freedom Fest has been canceled to maintain social distancing. There will be a fireworks display, however, at 10 p.m. on the July 4. Best locations for viewing the fireworks include all throughout downtown, the Ingle's parking lot, the high school football field parking lot, the post office, United Community Bank and Railroad Square. In expectation of more visitors to downtown Bryson City, several businesses are hosting food trucks. A few small vendors will also set up in Railroad Square. In anticipation of these activities, the TDA will provide handwashing stations and portable restrooms.
Though the early months of the pandemic were rough, May's occupancy tax revenue was only 7 percent down from the previous year. Swain TDA Director Mary Anne Baker is very optimistic about tourist turnout.
"Word from lodging owners indicates that the holiday weekend bookings are strong. We think that there is still a considerable amount of pent-up demand resulting from COVID-19 Stay Home orders, as well as the fact that our destination has many options for outdoor adventure where visitors can easily social distance while hiking, tubing, rafting, fishing and boating," she said.
Why are so many coming to the mountains in a time of pandemic? Baker believes it's because many view the area as secluded and safe.
"Early trends indicate that as visitors return after the Stay Home order was lifted, many travelers are choosing cabin rentals over traditional hotels. This is likely because of the visitor's presumption that a remote cabin in the mountains will allow them to more easily social distance," Baker said. "Our drive market is strong; for most of the eastern half of the country, visitors can reach the Great Smoky Mountains and Bryson City within a one-day drive. This drive market potential encourages visitors to travel when flying is not an option for them due to COVID-19 concerns."