Archived News
Customer service should be a powerful connection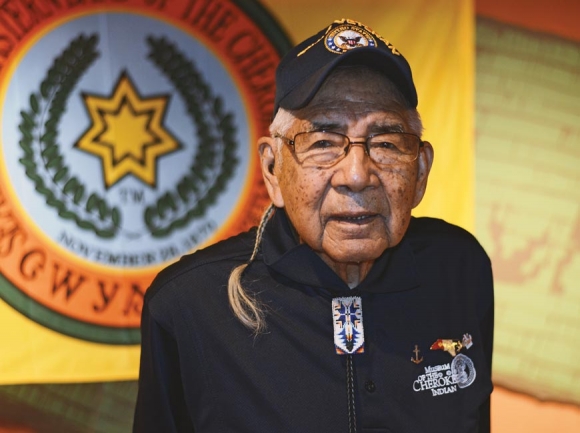 For 22 years, Cherokee Beloved Man Jerry Wolfe was a cornerstone of visitor experience at the Museum of the Cherokee Indian. Holly Kays photo
By Gerri Wolfe Grady • Special to SMN | Customer service is an important commodity for any business and particularly to those locations reliant on tourism. This is an area that isn't necessarily taught or trained with new employees, often because of time constraints or because the business owner hasn't given it any thought. This essay was developed to provide a different view of customer service and how it was conveyed for 20 years by my father, Jerry Wolfe, greeter at the Museum of the Cherokee Indian.
Jerry was born in a log cabin and grew up on the side of Sherrill Cove Mountain in Cherokee, North Carolina, as the only son of a farmer and homemaker. When he was born, his parents could not know where their son's life would lead. He traveled the Southeast as a laborer and mason; he traveled the world as a member of the United States Navy; and he traveled throughout the United States as a Native Elder for environmental policy.
Throughout his travels and other experiences, he talked to people, listened to their stories, and asked them questions about themselves. He held onto these stories throughout his life. He and my mother raised seven children while he worked for Oconaluftee Job Corps in the Great Smoky Mountains National Park where he retired in the mid-1980s. In the late-1990s, he started a new career with the Museum of the Cherokee Indian where he worked as a greeter until he died in 2018. He was 93 years old.
The museum was built in the early 1970s and was, at the time, a very modern design that was meant to bring the Cherokee people's history to visitors in a visual way with interactive media. Between the time it was built and the mid-1990s, the approach had become as dusty as some of the exhibits, so the director and board decided it was time for an overhaul. The renovation resulted in an approach that takes the visitor on a journey starting with the creation story through the history of the tribe. The first time I experienced the new museum, I was completely engaged and became reacquainted with my own history in a new way. My husband and I loved it and shared the "rebirth" with family and friends.
When my father-in-law, Ed, and his wife came for a visit, we insisted they visit the museum, and they did. I was excited to learn how they felt when they finished the tour (I had cried during my visit). Their experience on the tour was positive. However, they were disappointed overall with the experience. While they were on the tour, they had questions that they saved to ask museum staff when the tour was complete. As they approached staff with their questions, the response of the staff was non-smiling and perfunctory. It ruined their overall experience. Staff were not available on the walking tour; they were only available either at the ticket office or the gift shop. I was embarrassed and surprised as Ed recounted their experience to my dad. He listened carefully to their story and his reaction was reflected in his facial expression as he rose and said, "I'm going to just go on down and talk to them about this," which he did. An hour or so later when he arrived home, he said, "I talked to Kenny [the museum director] about it, and he said, 'Well, Jerry, why don't you come to work for us and show us how it's done?'" From that time until he got sick in late January 2018, he worked as a greeter/ambassador/storyteller, meeting people from all over the country (and sometimes the world) and introducing them to the Cherokee people.
During the 22 years of his time with the museum, he enjoyed himself so much. He dedicated himself to meeting everyone he could. He always talked to people as though their story was the most important story in the world; the best one he had ever heard. He, himself, was a particularly good storyteller but it was his ability to engage others that made his brand of customer service so successful. If we genuinely want our story to be heard by our visiting public, we must be able to link ourselves to them and providing the bridge through personal interaction is the best way.
He developed lasting friendships with some of the museum's visitors, and one couple would drive from Wisconsin just to spend time with him. He received mail from all over the country, and he spoke to groups at the museum as well as in various locations around the country. During one Christmas shopping excursion, I left him looking at new shoes while I quickly selected a few gifts for family. When I returned about 10 minutes later, he was surrounded by a group of people who were listening to stories.
He tried always to be dependable, flexible and available as well as present a professional appearance to the public. Even when he wasn't feeling tip-top, he tried to ensure that the visitors had a great time during their stay at the museum. Making use of his life experiences and his impressive memory came in handy more than once. For instance, a couple was visiting one day while I was there and he asked them where they were from and the husband said, "…from a place in New Orleans that you've probably never heard of." Upon hearing the street name, Jerry said, "Years ago, when I was in the Navy, some buddies and I spent some time in a bar on that street…" For the next several minutes they talked about New Orleans and he told them a few stories about his time there.
When the museum was being updated, several members of the community were used to create life size figures from Cherokee history. He was selected as a medicine man figure. This figure appears on a museum brochure. When greeting visitors, he opened the conversation by asking if they would like an autograph and he'd sign the brochure for them. He did not consider himself a celebrity in any way — it was the best first way for him to connect and open a conversation. Robin Swayney, genealogist for the museum, said, "Jerry took all questions seriously no matter how odd. He might study the question for a few moments before giving the visitor his answer. No one ever walked away from Jerry puzzled or dissatisfied. Jerry always made sure that the visitor left happy."
We could learn a lot from Jerry, and we should be teaching good customer service to our young workers. When I visit faraway places or historic sites, I want to learn the history of the area and its people. I enjoy taking tours from people that like what they do — they are always the best storytellers and they usually are proud of what they do. When visitors leave, they should have a good sense of the area they visited and the people that live there. It is our job (and happiness) to provide.