Archived News
Lake Junaluska opens new restaurant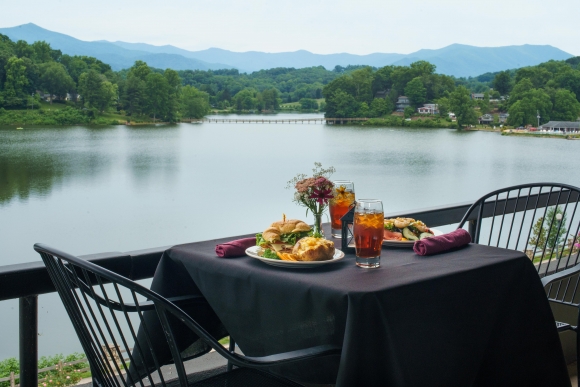 The Terrace Bistro has opened at the Lake Junaluska Conference and Retreat Center, offering a rare lakeside dining option in Haywood County. Located on the third floor of The Terrace Hotel, the restaurant has both indoor and outdoor dining options.
The Terrace allows for a panoramic view of the 200-acre lake and surrounding Great Smoky Mountains. It is open Wednesday-Sunday for lunch and dinner from 11:30 a.m. to 7 p.m.
The menu at The Terrace Bistro includes salads, soups, sandwiches, stuffed potatoes, homemade desserts and a daily special featuring Southern cuisine. With dishes such as the Stuart Stuffed Potato and the Junaluska Salad, the chef takes classic dishes and adds a southern twist. "Whim of the Day" soups include favorites such as homemade vegetable or fresh broccoli and cheese.
"We are very excited to open The Terrace Bistro not only to hotel guests but also to community locals and visitors," says Derrick Robinson, Director of Food Service. "The community is like an extension of our family. Over the past few months, I have missed visiting with everyone. So as we open The Terrace Bistro, it's almost like a reunion as family members drop by to dine with us."
Before or after a meal, guests are invited to stroll the lakeside Rose Walk, explore Lake Junaluska's many gardens or enjoy views from Inspiration Point. Free parking is available along North Lakeshore Drive and at the top of Terrace Drive.
With plenty of room for social distancing, The Terrace Bistro is taking many extra precautions and following all CDC guidelines to ensure the safety and comfort of guests.
To make optional reservations or to place an order-to-go, call 828.454.6662. The address is 689 N Lakeshore Dr., Lake Junaluska. See the full menu at www.lakejunaluska.com/bistro.