Archived News
No Phase 3 for NC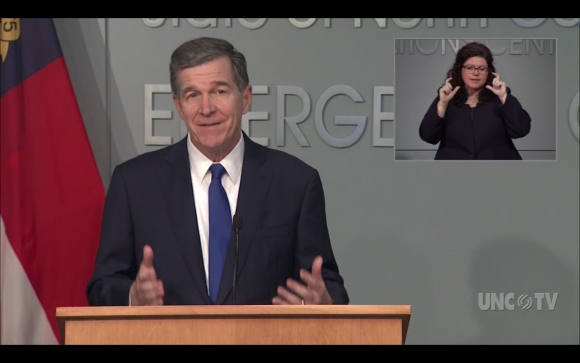 Gov. Roy Cooper discusses the status of COVID-19 reopening plans on June 24.
UNC-TV screenshot
North Carolina's graduated three-phase COVID-19 reopening plan was set to cruise into Phase 3 on June 26, but due to growing community spread, increasing daily case counts, a high percentage of positive tests and rising hospitalizations, Gov. Roy Cooper has hit the brakes.
"The numbers we see are a stark warning, and we must pay attention," Cooper said.
Cooper made the announcement in a 3 p.m. press conference on June 24, just as the state had reported 1,721 news cases and 906 hospitalizations — both the second-highest totals since the pandemic began. To date, there have been 1,271 deaths attributed to COVID-19 in North Carolina.
Cooper called North Carolina's approach to reopening more of a dimmer switch than an on/off button. He also said the state's response would be guided by science and data, and that current caseloads warrant a "pause" in the "safer at home" Phase 2 until July 17.
By far the biggest news put forth by Cooper was that the use of face coverings would become compulsory, but there are many caveats.
"We're adding this new require because we don't want to go backward," he said.
Face coverings must be worn in public and in private by all people over the age of 11 where six feet of social distancing is not possible.
All employees and customers of retail businesses must wear them, as must employees and customers of several other industries, including restaurants, personal care and grooming or tattoo businesses.
Persons present at child care facilities, day and overnight camps, state government agencies, public transportation, meat or poultry processing plants, long-term care facilities or other health care settings must also wear face coverings.
Those who have underlying medical conditions, are exercising, or are associating with members of their own household don't need to wear them, nor do people actively eating or drinking, giving speeches, in a personal vehicle in the home.
Cooper's executive order #147 says that the failure to wear required face coverings won't be enforced criminally by police, but persons refusing to wear masks could be cited for trespassing if they're asked to leave a business but refuse. Wearing a mask slows the spread of COVID-19, Cooper said, and doesn't hurt the economy. In fact, it does the opposite.
"Slowing the spread helps our economy, and these face coverings do that," said Cooper.
Read the full text of Gov. Cooper's Executive Order #147 here.