Archived Arts & Entertainment
Nurturing the creative flame: Haywood County Arts Council holds steady during pandemic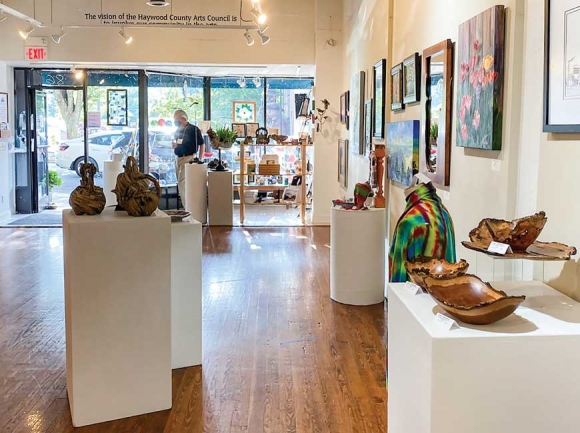 The Haywood County Arts Council in Waynesville.
Back in January, the Haywood County Arts Council was setting itself up for another year of growth, creatively and financially. With artisan membership numbers on the rise, the nonprofit organization had high hopes for its May 24 Americana concert featuring Balsam Range & The Atlanta Pops Orchestra.
"We were hoping the concert would be a fundraiser that would bring in somewhere around $18,000. But, having to cancel it due to the pandemic has really left a huge hole in our budget," said Leigh Forrester, executive director of the HCAC. "And with our gallery sales extremely low because of the shutdown, it's difficult to go forward and make plans for the future when you're not quite sure what the future holds."
Located at 86 North Main Street in Waynesville, the HCAC headquarters and Gallery & Gifts showroom remains a cultural beehive for the community and greater Western North Carolina. With around 125 members in its wheelhouse, the council is trying to keep a balance in finding ways for its artists to sell their wares and be able to keep the gallery open.
"It's been bittersweet for our artists because they were able to have all this time to create during the shelter-in-place order, but they also weren't able to sell their work in our gallery," Forrester said. "But, we've learned to evolve in our practices, where we have included an extensive online store on our website, which is now filled with new works from our members."
For 2020, the HCAC was also gearing up to make big strides in hosting more onsite workshops, gallery opening receptions and live demonstrations. But, with the current protocols for social distancing and sanitization in public spaces, the HCAC has to limit the number of class attendees and people allowed into the showroom at a given time.
A marquee event for the HCAC, the Art After Dark gathering has also had to shift with the times. Featuring an array of downtown Waynesville art galleries, restaurants, cafes and breweries, the businesses are opened later for locals and visitors alike.
Normally, Art After Dark would be held on the first Friday of every month from May through December. But, due to the pandemic, the HCAC held its first one this month, with the rest of the scheduled events up in the air at the moment.
"Usually during Art After Dark, our gallery would host around 200 people passing through to listen to some live music, have some wine or appetizers, maybe purchase a work on the wall," Forrester said. "But, it's been a real challenge right now with having to limit the number of people we let in and what the we could actually do in our space. We're going ahead with the July After After Dark, but it's a whole new ballgame moving forward."
Aside from its regular events and extensive youth programs, the HCAC is also a vital resource for artist grants that extend into seemingly every aspect of the community. Through its Grassroots Grant Program, the HCAC is able to provide financial support to other local organizations that aim to promote and perpetuate the arts in Haywood County.
"There are all kinds of things behind the scenes that we're involved in. We provide grants to the Haywood Arts Regional Theatre, Haywood Community Band and Voices in the Laurel, to name a few," Forrester said. "And we also administer several regional artist grants each year, where an artist can use the money to purchase a loom, pay for supplies or take a workshop in their specific art medium."
And though the HCAC is still navigating choppy financial waters, Forrester remains hopeful and optimistic in the recovery and long-term vision of the organization.
"With all of our inexpensive art classes and with Art After Dark being free and open to the public, we're trying to reach as many people and as many ages as possible," Forrester said. "An active arts community is what makes Waynesville and Haywood County a much more attractive place to not only live, but move to — an investment in the arts council is an investment in our community."
Want to go?
The Haywood County Arts Council in Waynesville will be hosting a wide range of upcoming art classes, workshops and demonstrations, which include the following:
• 6 to 8 p.m. June 26 – "Auction for the Arts!" reception at Cedar Hill Gallery.
• July 3 – Opening day of the exhibition "Glass, Light & the Works of Jo Ridge Kelley."
• 10:30 a.m. to 2:30 p.m. July 4 – Artist demonstration with Jo Ridge Kelley.
• 2 to 4 p.m. July 11 – Comic book class with James Lyle.
• 1 to 4 p.m. Aug. 12 – "Critters, Creatures & Creativity in Class" with Jan Kolenda.
As well, the next installment of Art After Dark will be held from 6 to 9 p.m. Friday, July 3, in downtown Waynesville.