Archived News
Gateway to recreation: Canton begins planning for 448-acre outdoor park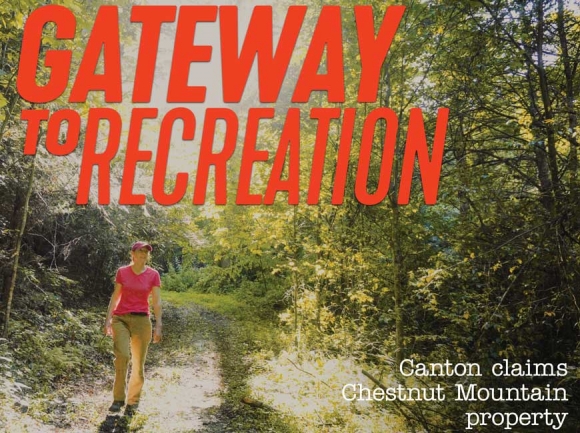 The 448-acre woodland property sitting right off U.S. 23/19 and Interstate 40 near Canton was almost a speedway. Then, it was almost an indoor ski resort. It was almost a lot of things over the years, but now it will be a public park and conservation area.
"It could have been everything from housing to a rock quarry, and now we are preserving the beauty and the environmental importance of this property," said Canton Mayor Zeb Smathers.
The Southern Appalachian Highlands Conservancy closed on the Chestnut Mountain tract — better known as the Canton Motorsports property — on June 5, and after the organization raises the $300,000 needed to repay a bridge loan from The Conservation Fund used to complete the purchase, it will gift the property to the town of Canton. Before the transfer, SAHC must also finish placing conservation easements on the property, which will outline restrictions to protect the property's natural values while also allowing for recreational use. The organization expects this process to take less than a year.
An aerial shot shows the area's proximity to the Town of Canton. An aerial shot shows the area's proximity to the Town of Canton. Adam Wood photos
"This is the kind of opportunity that comes maybe once in a lifetime," Smathers said. "We are ecstatic about using this gift of land worth more than $3 million to leverage additional grants and funding sources to create a very special, easily accessible park for Canton, Haywood County and all of Western North Carolina. This substantial gift presents a unique opportunity to help bring resources into the region. With potential for a new gateway to outdoor recreation, economic development and continued conservation of our natural landscape, this project is truly a win-win for everyone."
The SAHC has been investigating the option of purchasing the land since 2018, when it expressed interest to the owner, Canton Motorsports LLC. After spending some time examining the property as well as funding options, the land trust entered into an option agreement that converted into an actual contract in October 2019.
The timing was fortuitous for both SAHC and for the LLC that owned the land. LLC co-owner Les Gooding had been involved with the property since 1998, when he first began working with his current business partner Don Smolenski and with Steve Westmoreland — whose family had owned the land for decades — on the possibility of building a motor sports complex there. The group secured all the necessary permits, hired consultants, completed a business plan and collected letters of support from various people in the industry but sidelined the idea after hearing an interesting proposal to build an indoor ski resort there instead. After working on that plan for a couple of years, it became apparent that there was no way to raise the large amount of capital such a complex would require, and the partners decided to sell the land and focus on other projects instead. Then SAHC came forward with its proposal.
"They're a good organization," Gooding said of SAHC. "They were wonderful to work with once we got started. We all really worked together. Sometimes when you're selling something and an issue comes up, it's 'get that taken care of and if you don't we won't buy it.' That wasn't the case here."
SAHC ended up purchasing the property for $3 million, with the LLC donating several hundred thousand dollars to the effort by selling it for less than its appraised value. Gooding said he doesn't yet have an exact value for the donation, as final appraisals are still being completed.
"This property is one of the remaining larger undeveloped tracts in an important area for conservation, and we are extremely excited the landowner wanted to sell the tract for a conservation outcome," said Hanni Muerdter, conservation director for SAHC. "This project presents inspiring potential for a public park — a vision of recreation and conservation working together."
Fire pink blooms on the Chestnut Mountain property.
The property ranges from 2,360 feet in elevation at U.S. 19/23 and then rises to 3,400 feet at the peak of Chestnut Mountain. It serves as an important corridor for wildlife, containing pockets of gentle mature hardwood forest with laurel and rhododendron, forested slopes facing a variety of directions, and an open field and early successional edge area beneficial for birds.
As of yet, there is no set-in-stone plan for how the property will be developed. Generally speaking, the town is looking at opportunities to build hiking, walking and mountain biking trails, with an emphasis on accessibility for all ages and skill levels. However, a survey that will remain open through Friday, June 26, at www.cantonnc.com is seeking public input into the direction those plans should take.
"It's a Haywood County-located recreation project, but we're all aware this is going to draw people in from all across the region, if not hopefully from some other states," said Smathers. "This is the opportunity for people to chime in. This is not one of those projects where we say, 'This is what we're doing,' and it comes down from the Town of Canton or Haywood County government. It is going to be from the bottom up what people want to see in this project."
While Smathers is loathe to put an exact timeline on the property's overall development, he said that he expects the town to release an initial plan sometime in the next few months, with the caveat that issues associated with the coronavirus always have the potential to shift timelines.
"I don't want to put an opening date on it, but I do want to see something where we are constantly making strides to get it where it needs to be," he said.
Light filters through the forest at dusk.
Despite the $3 million price tag, very few local tax dollars have gone into the project thus far. Canton and Haywood County, which are partnering in the effort, each put $25,000 in toward planning efforts, with an additional $25,000 from the Cruso Endowment. To purchase the property, SAHC used $1.2 million from the N.C. Clean Water Management Trust Fund, $150,000 from a N.C. Department of Justice Environmental Enhancement Grant, $25,000 from the Pigeon River Fund of the Community Foundation of Western North Carolina and a private donation from Brad and Shelli Stanback, as well as the bridge loan from The Conservation Fund.
Smathers is hopeful that the development process itself will also benefit from grants and donations. The town will look at the N.C. Parks and Recreation Trust Fund grant as well as other state grants, and Smathers expects to see a fair amount of donations from environmental and recreation groups, as well as corporate sponsors.
SAHC's gift will make it even easier to secure grants than it otherwise would have been, said David Francis, administrator for the Haywood Recreation and Economic Development.
"We are particularly excited about the opportunity to leverage this gift for additional funding for park design," he said. "The very generous donation of the protected lands by SAHC along with the access to the site from Highway 19/23 means that we can concentrate our resources on the infrastructure for an outdoor recreation park for our citizens and visitors alike."
Smathers expects the park to provide a substantial boost to Canton's economy, perhaps even before it's completed. When prospective business owners read news stories about the burgeoning effort, he said, hopefully they will see the opportunity that's coming to Canton and position themselves accordingly.
"My hope is that we will see the economic impact even before we see the maximum recreation output, because people will want to be there when it opens up," he said.
Help and be heard
A survey seeking input on how the 448 property at Chestnut Mountain should be developed is available online through Friday, June 26, at www.cantonnc.com. The town hopes to receive input from Canton locals and out-of-county residents alike.
Additionally, SAHC is still working to raise $300,000 to repay a bridge loan from The Conservation Trust that was used to purchase the property from Canton Motorsports LLC, and it must repay the loan before transferring the property to Canton. Donate at www.appalachian.org.