Archived News
Macon approves loan fund for small businesses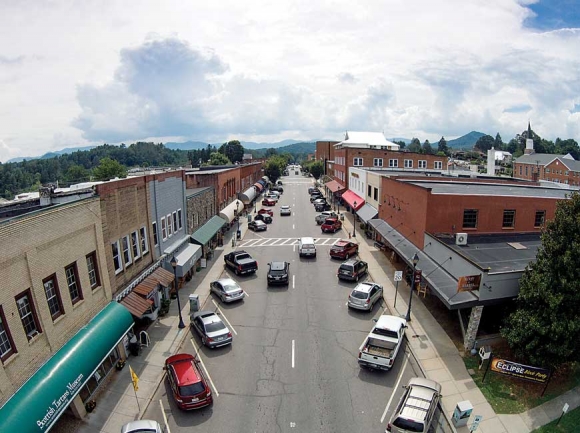 Downtown Franklin.
In response to the COVID-19 pandemic, the Macon County Economic Development Commission has established the Reopening Macon Fund. The program, funded by a $257,500 appropriation from the Macon County Board of Commissioners, will provide low-interest loans to severely impacted small businesses in Macon County, helping them to remain open.
Commissioners held a public hearing to gather public input before allocating the $257,000 from the EDC reserve fund. Several small business owners spoke in favor of the measure, saying a quick, small loan would help them during this difficult time.
Cory McCall, co-owner of Outdoor 76 in Franklin, encouraged the board to adopt the program. "We've been in business for 10 years and have never experienced something like this — to be faced with such dire circumstances during our busiest time of year with the AT thru hikers," he said. "This will be really good for businesses that need an extra boost of money. It's clear with PPP (Payroll Protection Program funds) there's a disconnect to what local Main Street businesses need right now."
Tim Crabtree, owner of Motor Company Grill and Crabtree General Store, agreed that the PPP didn't take into account what small businesses needed. While it provides businesses money to bring back their staff, many small businesses don't need all their staff back right now. With the restaurant closing in March, he said they lost thousands of dollars in fresh food that had been ordered and no way to recoup those costs.
"There's too many stipulations of how it had to be used," he said of the PPP.
Linda Harbuck, director of the Franklin Chamber of Commerce, said a majority of the chamber's 400 members are small business owners. Together, they represent a large percentage of the workforce in the county and are struggling to stay open right now.
"I've been with the chamber for 50 years and I've never seen anything like this. The number of small businesses not able to pay their $200 annual membership — it breaks my heart," she said. "I think without small businesses this county and community wouldn't be the same. We need to help them."
Commissioner Karl Gillespie said he wished there was a way to make the fund a grant program instead of a loan program.
Commissioner Ronnie Beale said the EDC did consider that but felt like since the requirements for the small loans were so minimal that really any small business could qualify, but the purpose is to reach the businesses truly in need in order to reopen or stay open,
"So instead of giving them the money, this might motivate them to keep their business going. They just have to show hardship in making a payment. I've always felt like having skin in the game is a motivator," he said.
Repayment is expected either from more permanent funding sources or from future cash flow of the business. Loan amounts range from $2,500 to $10,000 and are available to businesses located, or based, in Macon County, have between 1 and 49 employees, been in business at least 12 months and have suffered a loss of revenue of 25% or more due to COVID-19.
"COVID-19 has greatly impacted Macon County's economy and the recovery will take time," said Jim Tate, Chairman of the Macon County Board of Commissioners. "Providing financial resources for local businesses will play an essential part in reopening our economy."
Additional partners supporting the fund include the Franklin Area Chamber of Commerce, the Highlands Chamber of Commerce, Southwestern Community College's Small Business Center and Western Carolina University's Small Business and Technology Development Center.
"The Reopening Macon Fund will provide much needed assistance to our small business community. Many do not have the resources to weather a long-term recovery. A loan of $2500 or $5000 could make the difference in surviving or being forced to close," Beale said.
Mountain BizWorks, a nonprofit community financial institution based out of Asheville, will be the administrator of the Reopening Fund, providing loan processing and underwriting services. Local businesses can apply online at mountainbizworks.org/reopeningmaconfund or contact the Macon County Economic Development Commission at 828.369.2306 for further information.