Archived News
NC11 candidate Lynda Bennett, WLOS-TV violate state election law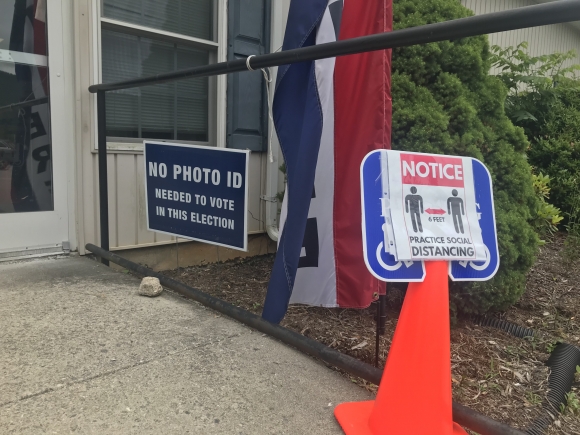 A short video segment featuring NC11 congressional candidate Lynda Bennett that was produced by Asheville-based WLOS-TV at Haywood County's early voting location violates state election law, according to North Carolina's top elections official.
"The interview with one of the candidates [Bennett] should have been conducted outside of the polling place," said Karen Brinson Bell, NC elections director. "Our law is pretty specific that the only people who are to be inside the voting enclosure are election officials and those in the act of voting."
On June 4, WLOS aired a 77-second report focusing on the start of the early voting period. It featured a video montage of polling places, campaign signs and candidates – Bennett and her Second Primary opponent, Madison Cawthorn – talking about their Republican primary campaigns for the seat formerly held by President Trump's Chief of Staff, Mark Meadows.
Bennett is shown at a voting machine, followed by an on-camera interview just a few feet from other voting machines.
"At that point, she had completed her active voting and should have left the polling place or left the voting enclosure, as should the media," said Bell. "The media is allowed in to photograph, but the interviews are to be conducted outside."
Certainly, election coverage by all forms of media – print, radio and television – takes place in and around polling locations both on and before any election day, however there are strict rules for journalists to be aware of when operating in such circumstances.
"To an extent, I would say actually the media was probably more at fault than the candidate," Bell said. "You're able to enter the polling place. You have to notify the chief judge that you're present and that you're part of the media, the press corps. But when you do, you're there to do your shot. You can't photograph a ballot, and you do your interviews and so forth outside of the buffer zone."
Haywood Board of Elections Director Robbie Inman, however, stressed that candidates are just as responsible as the media in terms of conducting themselves lawfully in and around the polls when campaigning or interacting with the media, because they're provided guidance.
"Each candidate at the time of filing receives a packet of information that is quite extensive. That is in their candidate guide, and candidate materials. It is all published on every website. Those documents are produced for a reason," said Inman. "If we all understand the same language, then there should be no question because I'm not saying the same thing to 12 different people on 12 different occasions and worried about whether or not I enunciated properly. It's all there, written down for each of us to understand and acknowledge."
Early voting in the NC11 Second Primary ends this Saturday, June 20. Election Day is Tuesday, June 23.
Watch the video here. https://wlos.com/news/local/in-person-voting-begins-for-nc-congress-nomination-runoff