Archived News
Confederate memorials still a monumental issue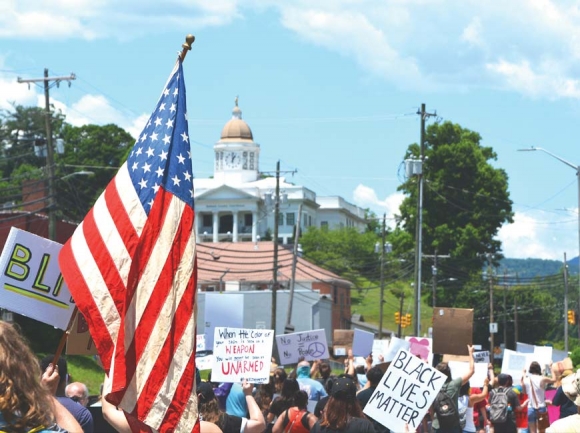 Around 400 people took to the streets of Sylva (population 2,724) to protest systemic injustice on June 13. Cory Vaillancourt photo
For the second week in a row, many small Western North Carolina communities have seen demonstrations in response to the killing of North Carolina-born Minneapolis resident George Floyd at the hands of the city's police force.
Those locally organized demonstrations have thus far concluded peacefully, in sharp contrast to the violence and mayhem still occurring in larger cities across the state and the country.
One thing all the demonstrations do have in common, however, is that they've all evolved into a complex amalgam of issues not strictly related to police brutality — now, they're also about larger systemic issues like economic justice, social justice and racial justice.
As those demonstrations begin to take root outside the big northern and eastern cities, down in the shadow of Confederate monuments that dot Southern Appalachia, demonstrators are once again raising questions about whether or not such imagery reinforces the racial discrimination that leads to killings like Floyd's, and what, exactly, the role of that imagery should be in modern-day, multicultural America.
In August 2017, white supremacist groups gathered together from across the country at the "Unite the Right" rally in Charlottesville, Virginia, to demonstrate against the proposed removal of a statue of Confederate General Robert E. Lee.
Scenes from the demonstration shocked the nation, especially when 20-year-old self-identified white supremacist James Alex Fields, Jr., who'd come from Ohio, drove his car through a crowd of counterdemonstrators, killing one and injuring 28.
A few hours later, President Trump addressed the nation, condemning the bigotry, hatred and violence he decided came from "both sides." Two days later, Trump said there were some "very fine people" on both sides.
The "Unite the Right" rally reignited discussions over Confederate imagery that flared up on June 17, 2015, after 21-year-old neo-Nazi Dylann Roof walked into one of the nation's oldest black churches in Charleston, South Carolina, briefly prayed with a Bible study group and then gunned down nine of them as they closed their eyes in prayer.
Roof told police he intended to start a race war. What Roof actually started was a long-neglected discussion over Confederate imagery that resulted in retailers like Walmart, Amazon, Sears and eBay halting the sales of Confederate memorabilia.
All Fields accomplished was earning himself 419 years in jail and prompting further backlash against Confederate monuments.
At the time of Fields' actions, there were still more than 1,500 Confederate monuments in public spaces in the U.S., not only in the form of statues and plaques, but also in the form of street and school and county names, even a Confederate Memorial Day in some states.
That number is a bit lower now, but not by much — the Southern Poverty Law Center said that as of June 2019, more than 110 Confederate monuments had been removed from public spaces since Roof's 2015 massacre in Charleston.
After the May 25 killing of George Floyd — Memorial Day, in the United States — the pace of removal has accelerated and doesn't appear to be slowing down.
On June 5, U.S. Marine Corps Commandant Gen. David Berger issued an administrative message ordering the removal of the Confederate flag from workplaces, common access areas and public areas on Marine installations "in order to support our core values, ensure unit cohesion and security, and preserve good order and discipline." The U.S. Navy has since announced comparable plans.
Secretary of the Army Ryan McCarthy told Politico on June 8 that he and Defense Secretary Mark Esper were "open to a bi-partisan discussion" on the topic of renaming some or all major military installations — including North Carolina's Ft. Bragg — that are currently named after Confederates.
Trump tweeted June 10 that he would " … not even consider the renaming of these Magnificent and Fabled Military Installations."
That same day, NASCAR banned Confederate flags at all events and properties, saying in a statement that the flag "runs contrary to our commitment to providing a welcoming and inclusive environment for all fans, our competitors and our industry."
Also on that same day, House Speaker Nancy Pelosi sent a letter to the committee responsible for the National Statuary Hall, asking for the removal of 11 Confederates.
Each state contributes two statues to the Hall, which is actually 35 statues in a rotunda and 65 others placed about the corridors of the U.S. Capitol building; one of North Carolina's is white supremacist governor Charles Aycock, and the other is of Confederate officer/U.S. Senator/two-time N.C. Gov. Zebulon Vance.
Since May 30, monuments in at least 27 U.S. cities have either been torn down by demonstrators or designated for removal by elected officials, with more to come.
On June 9, the Asheville City Council voted unanimously to form a study group to determine the future of the towering Zebulon Vance monument, locus of vandalism and violent George Floyd demonstrations in downtown Asheville.
Council also voted to remove two Confederate monuments, the Robert E. Lee Dixie Highway/Col. John Connally marker, as well as a Battle of Chickamauga monument.
The Buncombe County Commission was to consider a similar resolution on June 16.
It was on this stage that back-to-back demonstrations supported by the Black Lives Matter movement intended to bring awareness of the systemic inequalities exposed in the graphic video of George Floyd's death played out in Franklin and in Sylva last Friday and Saturday.
Both towns are small. Both are somewhat isolated. Both have relatively high white populations, both have already seen at least one demonstration, and both have prominent Confederate monuments, right in the middle of downtown.
A demonstrator holds a sign (top) not far from the Confederate monument in Franklin on June 12. Cory Vaillancourt photo
The demonstrations in Franklin and Sylva weren't the first in Western North Carolina but as they were the most recent, they were the most evolved. Previous marches in Waynesville, Murphy, Canton and Bryson City all took place before the dialogue about Confederate imagery had really become part of the George Floyd protests.
Murphy, Canton and Bryson City don't have any Confederate monuments, but Waynesville does — on county-owned property just off Main Street. Indeed, on June 1 and June 12, demonstrators marched right past the small, nondescript plaque mounted on a rock in front of the Historic Haywood Courthouse. Organizers Zach Bach and Dylan Davis didn't even mention it in their statements about the demonstration.
But in downtown Franklin, in a small park on county-owned land, there stands an anonymous Confederate soldier atop a pedestal, the plinth beneath dedicating him to the memory of "the sons of Macon County who served in the Confederate Army."
The statue has been the center of demonstrations before — in the wake of the "Unite the Right" rally back in 2017, a small group of people waving Confederate flags gathered several nights in a row to protect the statue from purported threats that never materialized.
On June 12, a solidarity march organized by Franklin residents Molly Haithcock and Erykah Lasha, both of whom are black, took place at the gazebo across the street, cattycorner to the statue.
"I was talking to my fiancé and I felt compelled to do something," Haithcock said. "Growing up in Franklin, there is a very small population of black people here and the majority of them are older than I am, so I didn't really have any ties with them. So I was like, I need to bring this to my hometown."
Haithcock and Lasha's event drew more than 250 people, including Miami resident Eitan Pearl and his mom, Rebecca Horowitz, a Franklin native.
"It's my hometown, and I retired back up here a few years ago," Horowitz said. "I thought, you know, I just need to be involved. I wanted to show solidarity with the peaceful protests Franklin is known for."
Pearl, a veteran who is also Jewish, said he was upset to learn of a one-handed shirtless man with Nazi "SS" thunderbolts tattooed on his stomach cracking a bullwhip beneath a Trump flag at a previous Franklin demonstration.
"Confederate monuments are never important at heart to those that fall under that particular flag until the other side of the aisle brings it to the surface," he said. "I served in the military and it's a similar question there — overcome, adapt. Become progressive. If you don't move forward, you wither and die."
Horowitz said she had mixed feelings about Confederate monuments in general.
"I understand the local heritage and the families that have been here for generations," she said. "We were on the other side of that, um, you know, occurrence."
Horowitz's ancestors fought for the Union.
"Well, I did grow up here. I went to Cullasaja School and have a lot of friends here still," she said. "I do believe that on a larger scale, having generals that fought against the United States, they shouldn't be glorified."
Demonstrators waved signs and chanted as speakers used a bullhorn to talk about racial justice while a group of around 50 counterdemonstrators that showed up to "protect" the statue looked on from across the street, mostly silent.
Many of them were there in response to persistent and unsupported rumors that were somehow incredibly specific — liberal billionaire George Soros was paying 500 rioters to board busses in Atlanta, drive up to Franklin, and destroy the town and the statue.
There was little reaction from counterdemonstrators when Franklin High School history teacher John deVille took the bullhorn to address them directly, at the conclusion of his fiery speech.
"If we will lift up our African American brothers and sisters, if we will lift up all people of color in this country, then guess who also we're lifting up? We're lifting up every single life. If you really believe," deVille said, as he pointed toward the crowd across the street, "if you really believe that 'all lives matter,' then you lift up your brothers and sisters of color."
Franklin High School history teacher John deVille addresses demonstrators — and counterdemonstrators — at the June 12 event in Franklin. Cory Vaillancourt photo
The issue of Confederate imagery was not one Haithcock wanted to address during the demonstration, but the Franklin statue's presence was hard to ignore.
"I think that people definitely want the monuments removed. There have been a lot of petitions, but I don't imagine people are going to physically remove them themselves," she said. "Everybody wants to go the appropriate route to remove the monument. Nobody wants to do it in a violent way."
Removing monuments is only a start, Haithcock said. Street and school names and county names, Confederate Memorial Day — all of it has to go.
"I think if it goes back, as far as racial discrimination and actions on the black community or the Native American community or the Hispanic community, absolutely," she said. "I don't think it's fair for people to live in the United States and still feel unwelcome. We're the United States of America, but right now we're not very united."
A few hours after the Franklin demonstration ended, and a few hours before the Sylva demonstration was to begin, in the dead of night, vandals defaced the veterans monument at the base of the Jackson County library stairs — not 60 yards from the town's police department — with red spray paint.
On the left side was written, "Blank [sic?] lives matter," and on the right, "Floyd was a thug."
Sylva resident Anthony Earl, along with friends Colton Wilford and Robbie Crist, headed down to the monument about 5 a.m. with paint thinner and scrub brushes after Crist received a text about the vandalism.
"Seeing that on a veterans monument, that's pretty fucked up when you think about it," said Earl, who is black and is also a veteran. "This shows no respect for our town and community. Vandalism should never be respected, on any side."
Earl also decried the disrespect shown to Smoky Mountain High School's class of 2020; bright blue yard signs lined the grassy green hillside above the graffiti, commemorating their coronavirus-impacted graduation.
As the noon rally in Bridge Park drew near, faded smears of red paint were still visible at the monument where Waynesville resident Dan Reid stood, ready to protect the Confederate statue at the top of the library stairs, which had been closed by police.
Reid, like those in Franklin the day before, had come in response to rumors.
"The protest is supposed to be coming in here to tear this statue down and me and several of my biker buddies, if everybody shows up, we'll have about 400 to stop it," he said. "This group is not the group that's been out here regularly protesting. This is a different group. My information, which is coming through the American Legion, is that this group is being bussed here from Atlanta."
Waynesville resident Dan Reid stands before the Jackson County Library on June 13. Cory Vaillancourt photo
While there weren't quite 400, there were several dozen observers perched high above town in the library's parking lot, watching demonstrators assemble.
When the march through downtown Sylva began — which numbered roughly 400 demonstrators — it was steered well away from the defaced veterans memorial and library steps.
"I personally think they should be removed, but that's an issue that we can't deal with today," said Lasha. "We'll do the best we can to deal with it when the time comes, but today we just fight for Black Lives Matter and hope that we can stop police brutality against people of color and our brothers and sisters."
Lasha did say that when that time comes, it won't be solely about statues; Sylva lies within Jackson County, which is named for President Andrew Jackson — a Tennessee slave owner who was also the architect of the Cherokee removal, considered by most people to be genocide. He's also on the U.S. $20 bill.
"I would want him removed off the dollar bill too," she said. "I would want it removed from everything, but until we can get that to happen, we've just got to keep fighting for what's right and do it with love and peace and no violence. We draw our line at violence."
Munene Mwaniki, 35, was also present at the Sylva demonstration and has a unique personal and professional perspective. Son of a black Kenyan father and a white American mother — both academics — Mwaniki has lived in Jackson County since the age of 6, and currently serves as an assistant professor of anthropology and sociology at Western Carolina University.
"They need to all come down," Mwaniki said. "I mean, this was literally a war that was a traitorous war on the United States. We have numerous statues, we have military bases, we have paraphernalia, flags, belt buckles, vanity plates. I think that shows we still have a long way to go in terms of reckoning with white supremacy in the United States."
Standing at the base of the library stairs with the Confederate monument towering almost 100 feet above him, Dan Reid was in complete disagreement.
"It's part of my national heritage and my Southern history," Reid said. "I don't have anything that supports slavery, ever. Period. I'm against it completely. I played high school football on two state championship football teams and I played with many, many black people. I've got nothing against black people. As far as I'm concerned, it's not a black thing or a white thing, it's an American heritage thing."
Despite the racial implications of the 2015 Charleston massacre and the 2017 "Unite the Right" rally in Charlottesville, Confederate imagery remains unchanged in places like Franklin and Sylva.
But with more and more people demanding the removal of such displays — and almost no one advocating that people simply rise up and tear them down — it won't be long until local elected officials are called upon to support or oppose those systemic demands.
"No, I do not believe that we should remove the confederate statue/monument at the Jackson County Library complex," said Brian McMahan, a Democratic chairman of the Jackson County Board of Commissioners. "It is an historical component of that property. As a community, our focus needs to be on lifting people up, not tearing things down."
That's not to say McMahan doesn't think some improvements could be made, perhaps contextualizing the Confederate statue at the library.
"I am in favor of using the monument as a teaching tool to educate current and future generations about where we came from and help guide us to where we need to be," he said. "I am definitely in favor of adding other monuments that recognize other people/events in our history. History has its ugly moments that hopefully we can learn from so that we can truly make those moments history, and not current reality."
Jackson County Commissioner Ron Mau, a Republican who lost an election to McMahan for the chairmanship in 2018, asked the county to appropriate $50,000 in its next budget to study what, if anything, should be done about the statue.
"I have been made aware of both a petition to remove the statue and to keep the statue," said Mau. "These petitions provide a peaceful way for citizens to come together and present a common view on a given issue en masse. In this case, there are passionate views on each side of the conversation."
If approved, the money could be used to pay for additional monuments or educational materials, but Mau said he also thought that contracting a facilitator to help move the discussion along would be helpful as well.
Although the monument sits on county-owned land, it occupies a conspicuous location visible throughout downtown Sylva and is one of the most-photographed places in all of Southern Appalachia. Last year's Super Bowl introduction video, "Ragged old flag," gave the Jackson County landmark national recognition.
"This needs to be done in the right way without violence and it needs a place to go to put it in its proper context and away from the tourist cameras," said Greg McPherson, an unaffiliated Town of Sylva commissioner. "The soldier is not only offensive, it is also bad for business."
McPherson said that the status quo ignores both the people of Jackson County who fought for the Union — Western North Carolina was deeply divided over the Civil War — as well as the Cherokee people, from whom the land was originally taken.
"These monuments that stretch across the vanquished South are propaganda for an antiquated mindset and should be removed," he said. "This tin soldier is as hollow as the Jim Crow ideas he represents."
David Nestler, also a Town of Sylva commissioner, was in agreement with McPherson on removing the statue.
"I think it is long past time that this statue gets relocated," said Nestler, a Democrat. "There should always be memorials to victims of any war; however, the statue on top of the courthouse steps is not a memorial. It is a monument. Memorials are somber reminders of history and that is an appropriate way to approach the topic of a civil war. Monuments, on the other hand, are put on high pedestals to glorify something and that is not how this part of history should be remembered."
SEE ALSO: WNC elected officials reluctant to speak on monuments
For 105 years, an anonymous Confederate infantryman has stood guard over what was Jackson County's courthouse until 1994. It is now the public library. Cory Vaillancourt photo
The Town of Franklin will likely see similar debate; the Confederate statue there is on county-owned land that sits squarely within town limits.
"I would not advocate removing any monuments or markers that provide us a glimpse into the history of the United States of America," said Karl Gillespie, a Republican Macon County commissioner who is also running for the N.C. House seat currently occupied by Franklin Republican Rep. Kevin Corbin. "It is my understanding that this monument was dedicated on September 30, 1909. There are seven units memorialized on this monument. These monuments are not to glorify any wrongs that have been done, they represent part of the history of the United States of America."
Democratic Franklin Mayor Bob Scott agrees with Gillespie, but for slightly different reasons.
"I am a very liberal mayor, but I will do everything to keep our statue in place. I see our statue not so much as a Confederate monument but as a statement to the poor men (and women) who have had to fight all wars," said Scott, a veteran himself and former law enforcement officer. "It represents the average, not rich, people who have done their duty. It does not glorify any one individual. If anything, it honors a composite person, the 'average Joe' who had to fight a rich man's war, not knowing for sure what they were fighting for."
Further complicating the issue is a 2015 state law that prevents the removal, relocation or alteration of any "monument, memorial, or work of art owned by the State."
None of the monuments mentioned in this story — in Franklin, Sylva or Waynesville — are state owned, but that doesn't mean the local government units that own them are free to do as they please with them.
The 2015 law also prohibits permanent removal of "an object of remembrance located on public property" unless it's owned by a private party, it's deemed a threat to public safety by a building inspector or it's a highway marker set up by NCDOT.
The law does, however, allow for temporary relocation of these objects for preservation, or for construction projects that might endanger the object.
"The genesis of this law had to do with the Secretary of State not sharing info with the Department of Cultural Resources," said Franklin Republican Sen. Jim Davis, a primary sponsor of the bill that ended up as NCGS 100-2.1. "I signed on to the bill because I thought it important we remember these things with historical significance. The Civil War and slavery had nothing to do with this. It passed the Senate 49 to zero, but it's taken on a life of its own since then."
Davis said he's not enamored with the way the law now takes local decisions out of local hands, and that he would be open to letting communities decide for themselves if they want to contextualize the monuments.
Removing them should be the result of a countywide ballot referendum, Davis said, adding that he still opposes removal personally.
"I think it's part of history, and so many of these removal advocates are not considering the complete history. Our history is complex, not simple, I think if we forget it we're doomed to repeat it," Davis said. "Slavery was a blight and a wrong, but right now, arguments are being driven by emotion, not reason."
Rep. Corbin, who is currently seeking the N.C. Senate seat occupied by the retiring Davis, is in alignment with Davis on removal, as well as on the local control thereof.
"Slavery and discrimination are despicable and should have never happened, but they did," Corbin said. "We cannot erase history, only learn from it."