Archived News
QuickDraw fundraiser goes viral to support arts education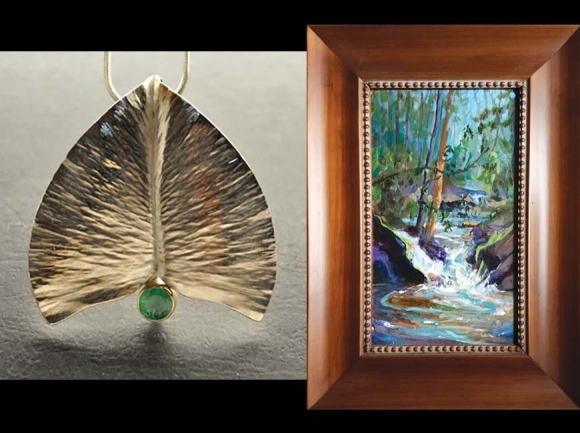 Local artwork will be auctioned off online this year for the annual Quickdraw fundraiser to support public arts education. Donated photos
By Andrew Dundas • Contributing writer | Paper, a folder and pencils — both colored and No. 2. These are just some of the supplies required in Kara Faust's art classes at Canton Middle School each semester. Yet, her school is not able to provide funding for these resources.
The problem isn't limited to Faust or Canton Middle. Jenny Wood, Arts Ed Supervisor for Haywood County Schools, said that the local district believes in art education and funds personnel, but "we fall short sometimes on supplies or resources."
Though Faust asks her students to bring some of these necessities to class, she said, many cannot afford them and bring nothing or just a folder.
QuickDraw is a local organization dedicated to solving this problem through funding art education and providing teachers with the supplies they otherwise wouldn't have. Faust said, "I would not have an art program without the QuickDraw funding."
"We give the teachers grants, attempting to fill, in full, everything they ask for," said Sandra Hayes, longtime committee member for QuickDraw.
This financial support is enabled by QuickDraw's annual fundraiser, which is currently underway. The event takes place between June 7 and June 30 and can be accessed at www.quickdrawofwnc.com.
"We've had 45 artists sign on and offer a piece of art to sell," Hayes said.
Some of their pieces are up for auction while others are ready-to-ship. Half of the proceeds from the fundraiser go to QuickDraw, Hayes said, and they use the money in two ways. In the fall, the organization provides grants to teachers like Faust who need the money for classroom supplies. Then, come spring, Hayes said, "We give out scholarships to students heading out to college who want to study some sort of an art-related career."
QuickDraw supports students studying all sorts of areas, including art education, art therapy, computer animation and film. For 19 years, the fundraiser has allowed artists and visitors to mingle over food and drinks, enjoying live demonstrations and auctioning off artwork. This year, however, QuickDraw has responded to COVID-19 by shifting to an online platform for the event.
QuickDraw met in March as COVID-19 loomed, Hayes said, and they had two options.
"We can either choose to cancel it for this year, like every other non-profit and sit on our hands, or we could attempt to transform it into something different," Hayes said.
The fundraiser includes paintings, ceramics, jewelry and more. This year, classes with artists are also available for purchase.
Wood said the support QuickDraw provides is important because a lot of students come to school specifically for the arts.
"It helps us meet all the needs of our students," she said.
QuickDraw's support helped Faust fund one of her favorite projects. Her class made face jugs and fulfilled the eighth grade art standard by learning about North Carolinian art history.
"Kids really enjoy making those face jugs and looking at different ones from past artists. They are really seeing the connection between the land they are living in and what art is coming out of the ground here," she said.
Alongside supporting students, QuickDraw is also dedicated to promoting local artists.
"Our goal is to shine a light on what artists do in our community, to really shine a light on the amazing diversity of talent of artists that have chosen to live here and create here because it adds to the richness of our community," Hayes said.