Archived Arts & Entertainment
Hear the sounds that carry you: A conversation with Andrew Scotchie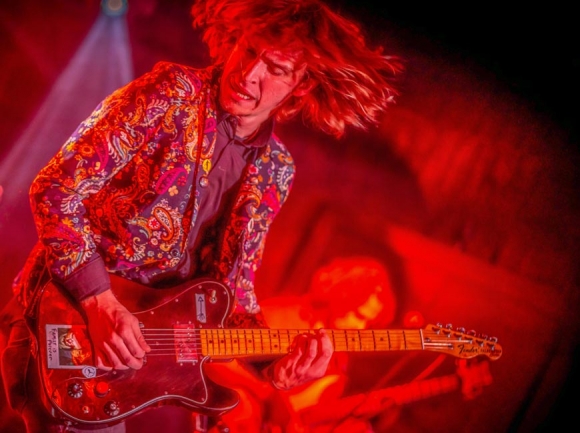 At just 27 years old, singer-songwriter Andrew Scotchie has already become a beloved fixture and voice of reason in the Asheville and greater Western North Carolina music scene.
Fronting his rock/soul act The River Rats, the ensemble is filled with a rollicking sense of self, this well-oiled powerhouse of electric strings and percussion. The message of the band remains one of optimism for our modern society through the lens of camaraderie and connectivity that is found at the core of music, especially when performed live.
And with the group's latest album, "Everyone Everywhere," Scotchie & Co. have harnessed the eternal hope and constant growing pains of America — a country still trying to figure itself out with a mirror currently placed firmly in front of itself.
If anything, The River Rats are finding justification in its mission to use the platform of an artist for the greater good, something Scotchie holds close to his heart and his aspirations as a musician and community activist whose talent and reach know no bounds — onstage and off.
Smoky Mountain News: Do you find that you're having a lot of full circle moments lately with the shutdown? You're constantly on the move, but to be told to sit still is a tough thing for any touring musician …
Andrew Scotchie: Oh, absolutely. There's been more time outside, which is crucial. And just really understanding my voice, the kind of way I pitch songs and everything. I've definitely written some really different things, [using] different quotes and just different approaches to songwriting.
I'm thankful right now and glad to have a family and friends [that] I have around me. You know, there's some people that are stuck in major cities right now, [where] I'm sure it's a lot harder for them. And I'm glad that my friends are involved and speaking out about the issues that matter — spreading the love and spreading equality.
SMN: Does that also show you a renewed sense of self, onstage and off?
AS: I definitely have a new sense of self. Surprisingly, I feel more at peace. You know, in the past couple of years [in] my early twenties, I spent way too much time working myself to death and never having free time to reflect.
Part of that was, "Oh, I have to work really hard now, so maybe later in my life I can have a little bit of breather." And I think part of that made sense and the other part of it was kind of stupid.
I didn't really take a lot of moments to pause and just appreciate the every day victories that is just being able to wake up and have a roof over your head, have good friends and family. And I definitely feel like a more well-rounded person, just overall more grateful for everything I have and know — past and present.
SMN: You mentioned about new approaches to songwriting. You've always been a very vocal person in the community — not only as a musician, but also as a resident. With everything that's been going on, does that emphasize the platform you have as an artist?
AS: Absolutely. As an artist, it's our responsibility to try to capture the times, to try to talk and to start a discussion. It's [not about] shoving a message down people's throats and saying, "It's this way or the highway." It's about having a discussion — to spread love, joy and equality.
It's really interesting because the songs on this new record talk about what's going on right now. And [the album was finished] right before "all this" started. So, all those things were bubbling up, and had been bubbling up for a long time. This is definitely a record that is meant to make people think whenever they listen to it. And I try to write about those things as much as possible.
SMN: The album title, "Everyone Everywhere," what does that title mean to you when you place it into the context of where we stand as a society in June 2020?
AS: The title came from an expression and a line that I had actually for a song. Hey, "everyone everywhere" has got something going on. And whether we see it on the surface, everyone's got something that shapes them as a person and their past experiences.
There's sometimes a story within a person that we don't know. And sometimes maybe we'll never know or it'll take a while to get to know that person. I know that a lot of the issues and a lot of the changes that are going on — not only in our country, but the world — are affecting everybody. And one message we try to push in the music is of unity and togetherness.
But, I think right now, especially with so many people not knowing, each state is different when it comes to the pandemic, which can be extremely frustrating. People are kind of split. Some people want to go right back to things [like they were before]. Some people want to ease back into it.
SMN: But, everyone's afraid. That's the other thing, people are afraid of what's going on, and they're also afraid of not going back to normal, you know?
AS: Absolutely. And, if there's anything I can help with that song, it's to remind people that we are never truly alone. In these times of social distancing and these times of turmoil within our own people and our government, of falling hard and being challenged every day and trying to pick up the pieces where our leaders have failed — it's really meant to bring people together and to spread unity.
It's to recognize the fact that everyone everywhere has some kind of story, some kind of a message that they want to get across — and music has always been that platform for us.
Want to listen?
The new album 'Everyone Everywhere' by Andrew Scotchie & The River Rats will be available for purchase and streaming on June 26. For more information on the band and its upcoming performance dates, visit www.andrewscotchiemusic.com.