Archived Reading Room
An old book for today's mayhem: The True Believer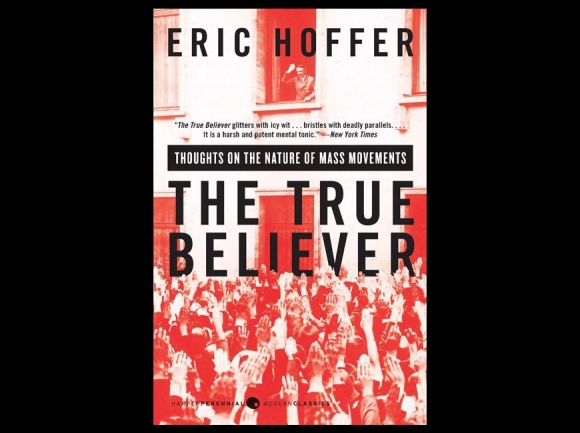 Let's take a look at fanatics, particularly political fanatics. Heaven knows there are enough of them around these days, most recently evidenced in the mobs that have looted, burned, and vandalized scores of American cities in the last couple of weeks in reaction to George Floyd's killing by a Minneapolis policeman.
Many of these thugs are simply people out looking for a flat screen television, some liberated booze, or a Rolodex watch. Others, however, are fanatics who have an agenda, namely the overthrow of the United States government, its Constitution, and its laws.
One of the greatest books written about fanaticism in the last 100 years is Eric Hoffer's The True Believer: Thoughts on the Nature of Mass Movements (Perennial Classics, 2010, 194 pages). Originally published in 1951, Hoffer's book is as pertinent as today's headlines, especially in regard to such radical groups as Antifa, the "anti-fascist" organization behind some of the violence across our country.
Hoffer, who worked as a longshoreman on the docks of San Francisco for 25 years, was self-educated and produced 10 books during his lifetime. Of these, The True Believer was his best known, becoming a best seller after President Eisenhower mentioned the book during a press conference. In 1983, shortly before his death, Hoffer was awarded the Presidential Medal of Freedom.
For Hoffer, a "true believer" could be a communist, a fascist, or a passionate advocate of some religion like Islam or Catholicism. The consequences of their beliefs might make them saints or sinners, but they share an extreme devotion to a cause.
The True Believer gives us such insights as the following:
"Success and failure are unavoidably related in our minds with the state of things around us. Hence it is that people with a sense of fulfillment think it a good world and would like to conserve it as it is, while the frustrated favor radical change. The tendency to look for all causes outside ourselves persists even when it is clear that our state of being is the product of personal qualities such as ability, character, appearance, health, and so on."
"To the frustrated a mass movement offers substitutes either for the whole self or for the elements which make life bearable and which they cannot evoke out of their individual resources."
"Unless a man has the talents to make something of himself, freedom is an irksome burden."
"They who clamor loudest for freedom are often the ones least likely to be happy in a free society. The frustrated, oppressed by their shortcomings, blame their failure on existing restraints. Actually, their innermost desire is for an end to the "free for all." They want to eliminate free competition and the ruthless testing to which the individual is continually subjected in a free society."
"Almost all our contemporary movements showed in their early stages a hostile attitude toward the family, and did all they could to discredit it and disrupt it. They did it by undermining the authority of the parents; by facilitating divorce; by taking over the responsibility for feeding, educating and entertaining the children; and by encouraging illegitimacy."
"The milieu most favorable for the rise and propagation of mass movements is one in which a once compact corporate structure is, for one reasons or another, in a state of disintegration."
Adages and quotations from The True Believer could fill three of these columns, but let's examine some of the above.
For the last quarter of a century, perhaps longer, we have seen disintegration in America in its politics and culture: the divisions between Red and Blue states, the name-calling, the labeling, the lack of respect and manners between opponents in Congress, the bitter Tweets and snide comments online.
We know little of the shadowy members of groups like Antifa, but from Hoffer's examination of fanatics, we can draw a psychological portrait of many of them. Doubtless a good number of them come from homes lacking a good and strong father figure, someone who might point them to meaningful work and a meaningful life. Many probably lack the "talent to make something of themselves." Real freedom — making decisions, taking responsibility for success and failure, competition — frightens many of them. Resentment of others and self-pity surely mark some of these people as well, particularly the followers.
In describing the fanatic, Hoffer writes, "Chaos is his element. When the old order begins to crack, he wades in with all his might and recklessness to blow the whole hated present to high heaven. He glories in the sight of a world coming to a sudden end. To hell with reforms! All that already exists is rubbish, and there is no sense in reforming rubbish."
These are men and women who destroy rather than create, indeed, who have no talent to create. As Hoffer points out, most of the "Nazi bigwigs had artistic and literary ambitions which they could not realize."
Finally, Hoffer tells us that such people recognize only one valid viewpoint regarding humanity and righteousness — their own.
Many have grieved and mourned the death of George Floyd in a righteous way, asking for police reform and offering prayers for his family.
But those who have shattered windows and looted stores, some of them political fanatics, have damaged more than mere property. Not only have they dishonored the memory of George Floyd, but they have also shattered the dreams and looted the aspirations of those people of all races who owned or worked in those establishments.
Read The True Believer, learn more about them, and decide where you stand.
(Jeff Minick is a writer and teacher. This email address is being protected from spambots. You need JavaScript enabled to view it.)