Archived News
Life on the road: WNC photographer embarks on adventure of a lifetime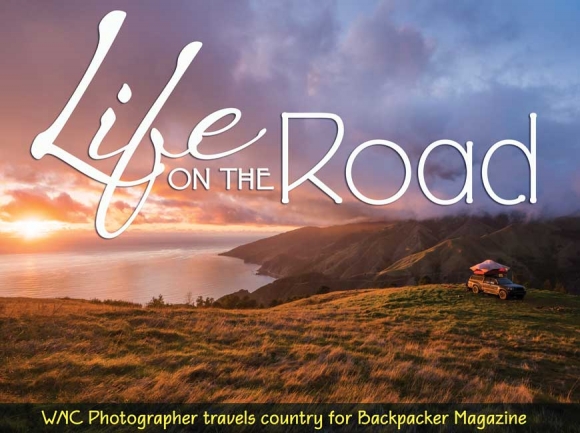 Sun and cloud mix over Yocum's campsite at Big Sur in California. Steve Yocum photo
Now 31, Steve Yocum was just 22 years old when he moved from Philadelphia, Pennsylvania, to the mountains of Western North Carolina.
He was tired of city life, of doing nothing but going to bars all weekend, every weekend. He wanted to get away, and when the company he'd been working for since high school gave him the chance to move south, he jumped on it. That leap led him to photography.
"Living here and finding these other things to do in the outdoors was the coolest thing ever to me, because we don't have any of that back in Philly," he said. "I remember getting a camera and being like, I want to show my friends back home that there's more to life."
Making the leap
Yocum has lived in WNC for a decade now, most of that time in Haywood County, and he's had a camera for about half that time. At first, none of his photos turned out looking anything like the scenes they were supposed to depict. But instead of giving up, Yocum dug in.
"It became an obsession and snowballed rather quickly, I would say," he said.
At first, though, that obsession had to compete with the full-time job that was drawing increasing amounts of Yocum's time, energy and peace of mind. He was in charge of IT for a multi-state region that included parts of Tennessee, North Carolina, Georgia and South Carolina, so he did a lot of driving.
As a guy working with just a high school education, he felt lucky to have the job — it came with good pay, a company car and coworkers who had come to feel like family in the years he'd been working there. But then the company suddenly fired much of its staff, and while Yocum kept his job, he found himself covering triple the area for the same pay.
He was running hard, too hard. In 2017, he got into a car accident after falling asleep at the wheel while driving the company car home from Charlotte. He hit a semi, bounced away and ran off the road. Yocum was more scared than hurt, but he knew it could have been much worse.
"It was just like, wow, why am I doing this? Life's too short," said Yocum. "Why do we work jobs that nearly kill us?"
He didn't quit right away, continuing to work at a breakneck speed that left little time for vehicle maintenance. Several months later, he had a blowout on the highway. It seemed like a sign. Something had to change.
Yocum decided to take a vacation. He traveled to the U.S. Virgin Islands to spend some time clearing his head and rediscovering the joy of life. Then, he quit his job.
The Cascade Range lives up to its name. Steve Yocum photo
Becoming a nomad
It was a leap of faith, but Yocum had a plan, or at least a direction. It had only been two years since he'd bought his first camera, a Sony Mirrorless, but in that time he'd gotten good. Really good.
Yocum's first big photography gig — and, in fact, the first dollar he made in the biz — came in 2016 when Leinenkugel's Brewery approached him about helping with the ad campaign for its Summer Shandy beer.
"They gave me a lot of money for it, and I thought, 'Wow, that's amazing,'" said Yocum.
He spent the money on better camera gear and started seeking out — and landing — more assignments. When Backpacker Magazine bought a photo he'd taken at Max Patch for a cover shot in 2016, he knew he was on to something real. The break was essential to building up the confidence he needed to cut the cord with his full-time job the following year.
"I took this chance and quit, and from there bigger and bigger things started happening," he said.
A nine-month tour of the U.S. he embarked on shortly after quitting served as a launching pad. Winter is a slow season for photographers in Western North Carolina, and Yocum didn't want to just sit around and twiddle his thumbs. He was also painfully aware that he'd just turned his back on an extremely reliable source of income. He didn't want to be poor.
"I wrote a bunch of these brands and companies that I had slight ins with and sold them on the idea that I would live out of my truck for nine months and could take product photos in these locations — just highlight the ones you want," he said.
The idea proved attractive to enough of those brands and companies that Yocum was able to make his plan work. He moved out of his rental and outfitted his truck as his new home, complete with a rooftop tent. It was during that year that Yocum met his girlfriend, Jordan Meeks, and as his nine months on the road drew to a close, she invited him to stay with her for the winter.
They did that for a couple months, and then began renovating an old school bus as their new home. That's where they live now. It looks like a cabin on the inside, said Yocum, complete with a woodstove and stone fireplace.
Jordan Meeks and the couple's dogs relax inside the school bus they converted into a home.
Professional road trippers
Within the week, Yocum and Meeks will be truck-dwellers once more after another life-changing opportunity from Backpacker Magazine. Yocum has sold work to the magazine regularly over the years, and through his contacts he got word that a coveted position in the annual Get Out More Tour would be opening up. Held each year for the past two decades, the tour meanders through the entire continental United States, promoting the brands that sponsor the tour while offering outdoors seminars and skills classes in various locations across the country. Long story short, Yocum and Meeks got the job.
"We're super grateful to be a part of it," said Yocum.
They plan to leave just as soon as Yocum can get his truck wrapped with all the necessary logos. The route begins with a northward trajectory, up through the Great Lakes Region and then turning east into New England and down into Virginia before returning westward, through Indiana and Illinois into Montana before hitting the Cascades and dropping down through California. From there, they'll turn east into the deserts of Arizona and Utah, catch early fall in the Rockies, and dip south into Texas, Arkansas, Alabama and Florida before winding up back in Waynesville at the end of October. The tour will look a little different this year due to the difficulty of holding in-person events in the era of COVID-19 — the schedule will include a variety of televised programs to replace many of the live events — but it will still go on.
Next summer, they'll do it all again, and every year after that for as long as they want the gig. It's not a lifestyle that suits everybody, but for Yocum, it's perfect.
"They could be a big deal to some people, but it's like, that's total freedom, right?" he said of the so-called drawbacks of truck life. "Every once in a while if you're a little hot, or you don't have all the luxuries of home — I can have those later in life, right? I don't know that I would call those things sacrifices."
Out in the middle of nowhere, he's away from the constant notifications that have become the norm of daily life. There's "this total presence," an ability to concentrate on good conversations, beautiful surroundings and your own thoughts.
That presence has become especially important to Yocum over the years, as the air seems ever more saturated with catastrophes and stereotypes and reasons to be suspicious of those who live in different places or harbor different political beliefs or have different life experiences than our own. For Yocum, replacing sound bites with actual conversations and actual interactions with the diversity of people he encounters on the road has proven the best antidote to despair.
"I'm given this hope," he said, "that it's not that bad."
And more than anything, Yocum loves the freedom of parking his truck in whatever patch of national forest or Bureau of Land Management property looks the prettiest, popping open his rooftop tent, and staying for a night, or two, or 10. There's nothing better than enjoying a camp-cooked meal in a spectacularly beautiful place that just so happens to be your home for the night.
"A lot of people travel and do things around vacation time," he said. "But it's like, if you could stay longer, why wouldn't you?"
Yocum and his two dogs take a dip during an adventure in Wyoming.
Follow the tour
Haywood County residents Steve Yocum and Jordan Meeks will be on the road through October, doing a variety of in-person events and televised presentations as the new Get Out More Tour ambassadors for Backpacker Magazine.
For photos, videos, the schedule and more, visit www.backpacker.com/news-and-events/2020-get-out-more-tour.