Archived News
Support small business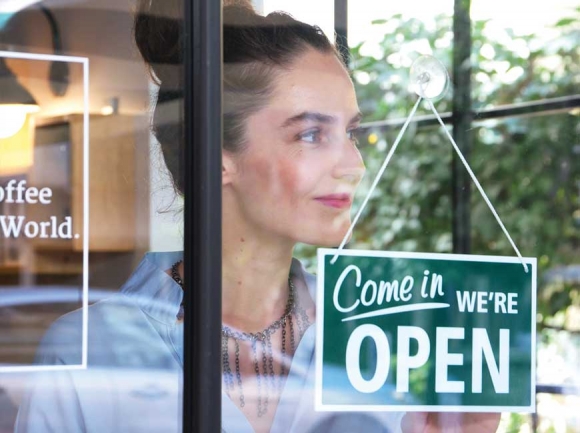 As small businesses across Western North Carolina work toward reopening while meeting new guidelines during the COVID-19 Pandemic, residents are encouraged to support them as a way to strengthen the local economy.
Chambers of commerce in each county are working hard to keep a pulse on the local business community while also trying to provide them with direction and additional resources during this difficult time.
"It is hard for me to evaluate a percentage but, I can say that it appears the majority of businesses are open. We will begin to see data over the next several months that will provide us with more reliable information," said Haywood Chamber Director CeCe Hipps. "The businesses that I have been in contact with are adhering to the state and CDC guidelines. They are being cautious and feel a sense of responsibility to their customers and employees."
Even though many small retailers and restaurants were allowed to open under Gov. Roy Cooper's phase 2 plan, Hipps said many of them are operating with reduced hours and/or days because of the fewer number of customers and their inability to hire back employees based on financial reasons.
"This will change as customers become comfortable and feel that safety guidelines are being followed in addition to customers also following the guidelines," she said.
Julie Donaldson, director of the Jackson County Chamber of Commerce said she's seen much of the same in Jackson's business communities — many businesses are open but with limited hours and capacity.
"The few businesses that have not completely reopened are mostly confined to food and beverage providers, stemming mainly from the governor's restrictions during Phase 2," she said. "Some businesses are waiting to hear what the Phase 3 restrictions are and will consider those before reopening."
Karen Wilmot, director of the Swain County Chamber of Commerce, said she was also happy to report many of the merchants in Bryson City have reopened as well. She added that some restaurants are not yet open for indoor seating even at half capacity.
"It's a mix of reasons as to not choosing to reopen yet. Some are exercising caution as they have staff who are immune compromised or fall in the high risk category due to age, while some others are utilizing the extra time to work out new systems to address staff and patron safety," she said.
Even during the best of times, Wilmot said it's important for residents to shop local, but now it's even more important as businesses navigate these uncertain times.
"Here in Bryson City and Swain County, which relies heavily on tourism, many of our local retailers had just received their spring stock when they were forced to close. Other service industries who typically would have been landscaping or cutting trees, or so many other things for those returning to their second homes were impacted with the stay home order as well," she said. "It's been up to our locals to support their friends and neighbors during this difficult time and, as usual, they have been wonderful, I've never been more proud to have grown up here."
Kelly Donaldson, assistant director for the Jackson chamber, said the downtown merchants are the face of our Main Streets and the money spent at those local merchants generally stays in the county.
"These are not just our local merchants, they are our neighbors and friends in the community," he said. "We support them and they support us. If we lost that, we'd lose much more than a few businesses. We'd begin losing what makes our town our home."
Hipps said she doesn't want to imagine what Haywood County would look like without the small business community.
"Sales tax goes down, the services we enjoy as taxpayers will be reduced and our home values will go down. It takes all of us to keep the wheels of economic prosperity in motion and protect our community and the businesses within our community," she said.
Regardless of your comfort level, everyone can support local businesses. Hipps said many businesses have been able to pivot quickly and improve their processes by converting to online orders, take out and curbside delivery.
While she doesn't claim to be an economist, Hipps said she does think the economic impact on COVID-19 will forever change the way business is conducted.
"Just as 9-11 has impacted us for a lifetime, I think the pandemic will as well," she said. "This is not the first pandemic that has occurred and will probably not be the last. We will just be smarter and more prepared for the next one."