Archived Arts & Entertainment
This must be the place: Home is where I want to be, pick me up and turn me around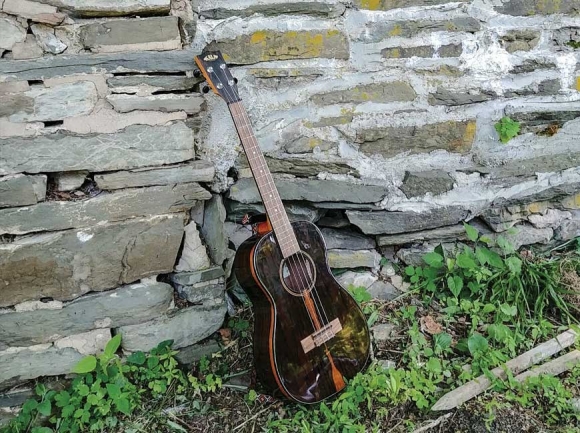 Garret's baritone ukulele visits the Hudson Valley.
It started with a text message. While making a sandwich for lunch in my parents' Upstate New York farmhouse the other day, my smart phone vibrated. It was my old friend Leah, a beloved face I hadn't seen or heard from in several years.
An art therapist in New York's Hudson Valley, she reached out to see if I could help her with finding some music for a group meeting she was hosting. She needed about an hour or so of "songs that people will dance to" from the 1960s through 1980s.
So, telling her I'd be more than happy to help out, I dove deep into the back of my melodic mind, pulling out numerous tunes that would be ideal for what she was seeking.
Of which, I made sure to include "Soulful Strut" (Young-Holt Unlimited), "The Safety Dance" (Men Without Hats), "Dance to the Music" (Sly & The Family Stone), "Amie" (Pure Prairie League) and "Happy Together" (The Turtles), among others.
A couple days later, she messaged me again. The playlist was a hit. She then asked what I was doing that coming weekend. Me? No plans. Interviews for the week had already been conducted. Articles not due to my editor for a few more days. She was in the midst of moving into a new apartment, but wanted to reconnect and hangout. It was decided I would roll into the Hudson Valley for a weekend of frolicking.
Along the 3.5-hour drive downstate, I thought about the last time I saw Leah. We both grew up in the same hometown on the Canadian Border. Though she was a couple years younger than me, we were on the cross-country team together and became instant friends. During my senior year, that crew of folks (teammates who became lifelong friends) were (and remain) some of the most beautiful and introspective souls I've ever known.
Stepping into her old apartment, there were moving boxes everywhere. Boxes of old memories, winter sweaters, countless pairs of shoes, kitchenware, and trinkets from her journey to the here and now. With a big bear hug, our years of distance were immediately erased over some cold beers held high, sitting on the hillside next to her kitchen window.
For the rest of that first night, we traded stories of our respective paths. She told me about her time going to the prestigious Fashion Institute of Technology in New York City and what it was like to live and work in Brooklyn in your 20s. I countered with my high desert adventures around the Rocky Mountains as a rookie reporter at a small newspaper in Eastern Idaho.
Then, we swapped tales of breakups and makeups and what it means to be alone and trying to make sense of "it all" in your early to mid-30s. She was moving out of the apartment she loved because it reminded her too much of her ex-boyfriend who packed up and exited last year.
"There are too many ghosts in here," she solemnly said. I sympathized with my own breakup a couple years ago, my ex-girlfriend now long gone. But, the memories, for good or ill, still remain within the walls of my humble abode.
The next morning, we packed up the bed of my truck with the boxes and headed for her new apartment across the Hudson River. Situated above a garage of a work colleague of hers, the newly renovated apartment sits within earshot of a huge waterfall down below the backyard.
After the last box was brought up from the truck, we sat, sweaty and weary, and cracked open a beer to christen the new spot. A slight grin rolled across my face, to which Leah noticed and said, "What are you smiling about?"
I told her I was smiling just thinking about all the great memories she was going to make within that space, all of new and old friends who will visit, this blank canvas and fresh chapter to pursue whatever you heart desires in due time.
Shortly thereafter, it was decided to go explore the backyard and figure out a way to get down to the waterfall. Throwing on our hiking gear, we traversed through thick brush and over dead trees, under heavy branches and around ancient boulders. Soon enough, there the falls were in all their aquatic glory.
We stood under the falls in awe. The sheer splendor and scale of the falls took our minds off of recent conversations, where our thoughts swirled around the idea of childlike wonder and being grateful for the moment we had each found ourselves in. Thus, it was only proper that we jump into the water and swim around, this cosmic baptism of sorts into a new and exciting phase of our separate lives.
Emerging from the deep waters, we sat on a rock and basked in the hot afternoon sun. With her back to me, Leah gazed out over the river and up toward the bluebird sky. "It's sad that I'll be enjoying this view alone after you leave," she said, a few tears welling up in her eyes.
"It's not sad. There's a difference between loneliness and solitude. And finding that inner peace by being alone is one of the great joys in life," I replied. "You'll find that, I promise. And besides, I'll always make sure to swing through here in my travels from now on."
She smiled and gave me a hug. We walked back up the riverbank and to the new apartment. Hopping back into the truck, we headed back to the old apartment to finish the packing and say goodbye to her most recent chapter. It was good to see my friend. There are certain people you're supposed to know and embrace in your life — she is one of those in mine.
Life is beautiful, grasp for it, y'all.