Archived Outdoors
Making history: In the summer of '67, former college president was Smokies' first black naturalist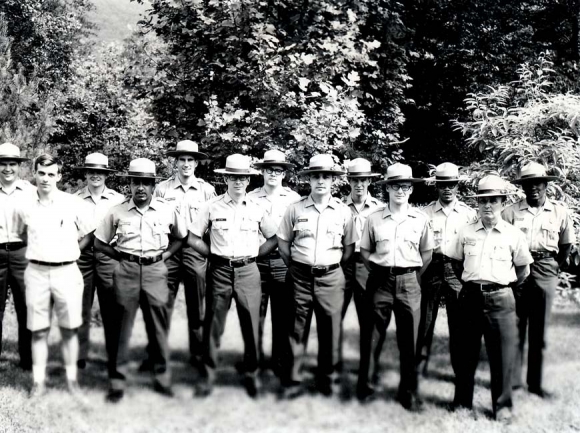 The summer of 1967 was the first time African-Americans were hired as seasonal interpreters in the Great Smoky Mountains National Park. Pictured from left to right are that year's hires (front row) Kenneth D. Young, Robert M. Stone, G. Gary Ward, Bon Whaley, W. Doug Trabert, W. Muriel Smelcer (second row), F. Paul Inscho, Howard F. Davis, Richard J. Sharp, Larry W. McCulloch, Frank L. Oakberg, Grover W. Barnes and Joe A. Lee. NPS photo
The year that Joe Lee turned 21, the Brown vs. Board of Education decision turned 13, the Civil Rights Act turned 3 and last published edition of The Negro Motorist Green Book turned 1.
It also happened to be the year that the U.S. Department of the Interior mandated that the national parks get on board with integration and begin hiring African-American rangers. Lee, a rising senior at Talladega College with a strong interest in biology and botany, applied for a naturalist position in the Great Smoky Mountains National Park.
He got the job, and in the summer of 1967, months shy of his 21st birthday, Lee became one of three men to serve as the Smokies' first African-American naturalists.
"I've had a very, very interesting life, and I wouldn't change it for anything," said Lee, "but in a lot of ways it started in the Smokies."
'A step up'
Lee grew up in Brewton, Alabama, part of a family of six boys and three girls. His father was a laborer and sharecropper, and Lee spent much of his childhood outdoors, milking the cows and bringing in fish and berries to stretch the family's meager grocery budget. The Smokies job made Lee the first of the family to leave home for a professional summer position rather than spending those hot months working in a field. His parents were proud, in the years afterward "religiously" storing his old ranger hat and uniform while he moved from place to place, until a house fire destroyed them.
That summer was "a step up," Lee said, "an opportunity that I had never envisioned" and one that "I will always cherish."
But it was also lonely, exhausting and at times even dehumanizing. It wasn't easy to be one of the first black rangers in a park where both the community and the visitors were predominately white. The park had "very few" African-American visitors at that time, said Lee, though those who did pass through were "very proud" to see Lee and his two black colleagues at work.
Lee was called names, of course, all manner of racial slurs, and challenges to his knowledge of the park's flora and fauna were common.
"I had the fortune of having studied my plants and my animals, and I felt very confident in what I was saying, but they always wanted to challenge you," he said.
Many of the park's white employees saw him and his black colleagues — Grover Barnes and Robert Stone, both of whom are now deceased — as an intrusion, said Lee. After all, they were there as the result of a federal mandate, not a local decision.
The black employees had to follow different rules than their white counterparts. Very rarely were they allowed to wear their park uniforms out in the community, and when they did they'd get all kinds of negative reactions from white locals not used to seeing black men sporting such trappings of authority. And, while the white naturalists were allowed to drive their vehicles home after nighttime interpretive programs, the black naturalists had to park their cars at headquarters and walk the half-mile or so back to their cabins.
The racism was real, but Lee was a product of the segregated South. It wasn't surprising to him. He had expected it.
"You knew it was going to be there, and it was not to a level that caused me to say I wanted to go home," he said. "The only thing that caused me to want to go home was being there late at night, nobody there, knowing that the bears were outside and you weren't going to go home tomorrow."
Building on tragedy
For Lee, it was an especially difficult time to be away from home, but also an especially difficult time to handle a racist environment. Right before his job in the Smokies was to begin, Lee's family endured a tragedy that made him question whether he should even report to work.
His brother-in-law Oliver Valree, a member of the U.S. Air Force, had been sent to Wichita, Kansas, and he and Lee's sister Earlene were to live in an apartment on the McConnell Air Force Base.
"Someone rigged the apartment where they were going to be living," said Lee. "They cut off the ventilation and he and my sister died on a Friday and they found them on Monday. They had died from carbon monoxide poisoning. That was indelibly lodged in my mind."
There was never any criminal trial. Instead the Lee and Valree families sued the housing complex for wrongful death, a case they ended up settling out of court for what Lee remembers to be a paltry amount.
Shortly after Oliver and Earlene's deaths, Lee found himself in the Smokies, living alone, far from home, working alongside colleagues who saw him — or, more accurately, his skin color — as unwelcome and out of place.
"Anytime a racial incident occurred in the Smokies, it brought back memories of that and what the possibilities were," he said.
But Lee stuck it out, and while the summer was difficult, it was also wonderful, and even formative. As a ranger, he met people from all over the world as they came to explore the park, and he spent his days in such spectacularly beautiful places as Clingmans Dome and Chimney Tops. He got to try his hand at leadership, too. When leading interpretive talks and nature walks, it was up to him to give good information to his charges, to look out for their safety, and to deal with situations as they arose.
There was no formal evaluation at the end of his employment, but he was offered an opportunity to continue working for the Park Service, so Lee figures he must have done something right. However, he decided that he really wanted to be back in Brewton with his family. After finishing college, he moved back home and taught science at the high school he'd attended as a teenager.
From there, he returned to Talladega, where he worked in positions from 1971 to 1995, with various sabbaticals to continue his education. In 1992, he was named the college's provost and vice president for academic affairs, and in 1995 he became the 12th president of Tougaloo College in Mississippi. He ended his career in 2008 after seven years as president of Alabama State University, but higher education wasn't done with him yet. Lee was asked to serve as vice president and provost of Cambridge College in Massachusetts while the board looked for a permanent hire, serving for a year and a half in that temporary position.
While 1967 marked his first and last time working for the Park Service, the experience remained with him throughout the decades.
"The responsibility was there and the lessons of leadership, always," said Lee. "They transferred everywhere I went."
Smokies Superintendent Cassius Cash (left) presents Joe Lee with a mounted flat hat in recognition of his contributions to National Park Service history. Valerie Polk/Great Smoky Mountains Association photo
Hope and sadness
Lee is 74 now, and he's battling cancer.
He lives in Jupiter, Florida, and he spends a lot of time thinking about what the future might hold for his two grandsons, the oldest of whom will start college this year. He's trying to gather information about his life, so that in the years to come they'll have a concrete understanding of who their grandfather was.
That's what led him to call the Smokies last year, asking if the park might have any records from his employment more than 50 years ago. The cold call came just at the right time, during year two of a three-year effort to research and collect stories relating to African-American history in the park.
"(The operator) said, 'I'll have someone call you. Don't go away. We've been looking for you,'" Lee recalled. "I didn't know what she was talking about, but there was a picture that had circulated that had three individuals that had been hired for the summer, and they had been trying to locate them, and I was the only one that was still living."
Lee got not just a phone call, but an in-person visit from the park's superintendent Cassius Cash, who brought with him videographer Valerie Polk from the Great Smoky Mountains Association and researcher Adam McNeil, who has been heading up the African American history research. In August 2019 the group traveled to William T. Dwyer High School in Florida, where Lee's grandsons attended, and in recognition of his contribution to Park Service history, Cash presented Lee with a framed photograph of all the park naturalists who worked the summer of 1967 along with a mounted ranger hat to replace the one that had burned in the house fire all those years ago. In an October 2019 interview Cash said it was a "magical moment," an indescribable meeting of two "bookends in this park's history."
"He (Cash) said that I was a trailblazer and made it possible for him to be there as superintendent," said Lee. "I never thought of myself as that, but I guess had I not been one of those, there would never have been African-Americans working in the park. I was a part of history in that regard, and the more I think about it, I was. It was groundbreaking. It was a beginning."
That beginning made today's ending possible. Cash, who has held the park's top job since 2015, is an African-American himself, the first one to serve as superintendent of the nation's most visited national park.
Lee was astonished to hear that a black man is now in charge of the park where his skin color once made him an outsider.
"I just couldn't believe it, because it was something that I didn't think would ever happen, to be honest and frank," he said.
Seeing Cash at the helm of park operations is simply awesome, said Lee, a promise that there is hope, that progress is being made.
But we're not there yet, something that recent events have made painfully obvious.
"When I think of race in this country right now, every time I get excited about how far we have come, I get sad about things that happen, and it couldn't be any worse than what happened with George Floyd in Minnesota this past week," he said.
Lee looks at his grandsons, who walk the streets with no fear of racial violence, and he worries, because stories like that of Ahmaud Arbery, the 25-year-old Georgia man who was killed by a pair of white men while out for a jog, occur all too frequently.
"I think about the times when I was stopped driving home. I was coming back from graduate school and I was working on my doctorate, and I was stopped because the person that was riding with me in the car — she looked like she was a white young lady, but she was actually an African-American that was very fair," said Lee. "And I know today that I was stopped because of that by a highway patrolman."
That was a long time ago, but events like George Floyd's death make it hard not to revisit those older memories, and to wonder if there will ever be a time when all such memories are old, when the tragedies of today are no longer pushed out by the fresh new ones of tomorrow.
"We have a long way to go," said Lee. "We have a long way to go to reach some kind of reciprocity in this country."