Archived Reading Room
Trailblazers & Traditionalists pulses with life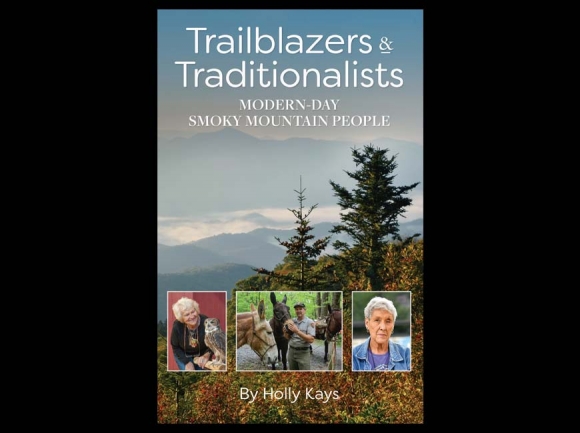 Years ago, in the parking lot of the Haywood County Public Library, I met a man in his late 20s who worked at the Champion Paper Mill. As we talked about what we did for a living — I was in debt to my eyeballs running a bed-and-breakfast and a bookstore — the man told me that when he was 18 his uncle had helped him buy a house in South Carolina and that he now owned 10 other houses, which he rented out. Fascinated by the history of the West, he made an annual trek every summer to places like Texas and the Dakotas to study first hand what he had read about in books. On his latest expedition he had traveled to the Little Bighorn Battlefield in Montana.
Here was a guy who was a product of the mountains, someone others might regard as backwoods, a redneck who probably spent his evenings swilling Budweiser and listening to country music.
I left our conversation in awe of him, reminded once more of two basic truths: appearances are deceptive, and everyone has a story.
In Trailblazers & Traditionalists: Modern-Day Smoky Mountain People (Smoky Mountain News, 2019, 177 pages), Holly Kays relates the stories of dozens of such people. Here we meet a man who has made over 9,000 flies for catching fish, a botanist in his 80s who has never lost his wonder and zest for our mountain trees and plants, a mother who has hiked the Appalachian Trail, the Mountains-To-Sea State Trail and a "seemingly endless list of other treks scattered across six continents."
Trailblazers & Traditionalists opens with "The Smile in Snowbird" in which we learn about 80-year-old Ella Bird, mother of 10 whom her fellow Cherokee chose to honor with a title rarely bestowed: "Beloved Woman." Ella's first language is Cherokee, which she learned growing up in a tiny, remote community near Robbinsville. In 2017, she received an honorary doctorate from the University of North Carolina-Asheville.
Ella received both these honors not for great deeds but for her character and her virtue. When Ella wonders why she was chosen as a Beloved Woman, Trey Adcock, director of UNCA's American Indian and Indigenous Studies program, replies that Ella deserved that title because she is "the spirit of service to the community and caring and being a mother and a role model and doing all that without needing the congratulations and the publicity of that."
In "The Carnivorous Plant Guy," Kays — who is a staff writer for The Smoky Mountain News — introduces us to Darwin Thomas, who works as an HVAC technician at Western Carolina University, but whose claim to fame is his collection of carnivorous plants. The self-taught Thomas has collected some 50 books about plants like the Venus flytrap and pitcher plants, is a member of the International Carnivorous Plant Society, and now owns three greenhouses filled with bug-eating plants, which he sells at various garden festivals around Western North Carolina.
Forty-six-year-old Kenny Capps of Black Mountain, "The Endurance Runner," found himself stricken in 2015 with multiple myeloma, a rare blood cancer. An ultra-marathoner, Capps was forced to give up running until a bone marrow transplant restored his strength. He began competing again in long-distance races, but wanted to do more to help others with this disease. He founded an organization, Throwing Bones, and began a fundraiser by running the Mountains-To-Sea Trail. That adventure raised $68,000 from sponsors and donors, money that will help others with blood cancer pay their medical bills and expenses accrued when traveling long distances to centers that treat the disease.
George and Elizabeth Ellison, "The Chroniclers of Lower Lands Creek," will be familiar to regular readers of The Smoky Mountain News by way of George's column "Back Then." Over many years, George has carved out a niche as a nature writer and historian of these mountains while Elizabeth has won a reputation for her paintings. The most fascinating part of their story, at least for me, was the description of the house in which they live. It's small, surrounded by an enormous porch, and was purchased by the Ellisons when Fontana Village was getting rid of some of the houses built for workers when the dam was under construction. For years, the Ellisons lived here without electricity or running water.
The woods and the winding creek on this property have more than influenced the work of George and Elizabeth; these lie at the very heart of their work. As Kays writes,
The way the light moves over the days and the seasons, the birds that parade past the kitchen window, the ever-present feeling that today could be the day that something amazing steps out of the woods — it inspires George and Elizabeth alike.
In addition to such mini-biographies, Trailblazers & Traditionalists also includes photographs of Kays' subjects as well as a helpful regional map.
If we look at the people around us, we realize that each of them is a walking, breathing book, a story waiting for a listener. Holly Kays clearly understands this concept. At the end of her "Prologue" she writes,
The point is, these stories are about the lives of people who call the Smoky Mountains home, but they're also about a point in time in those lives, a portrait captured at a particular moment in that now-rising, now-falling arc that we call life. I like to think of those arcs layering themselves on top of each other, a montage of beginnings and endings and pinnacles creating a landscape as dynamic as the mountains themselves.
Old.
Storied.
And pulsing with life.
If we look at the people around us, we realize that each of them is a walking, breathing book, a narrative awaiting a listener. In Trailblazers & Traditionalists, Holly Kays has given us a library of these stories.
( Jeff Minick is a writer and teacher. This email address is being protected from spambots. You need JavaScript enabled to view it.)