Archived Arts & Entertainment
BearWaters Brewing expands to Maggie Valley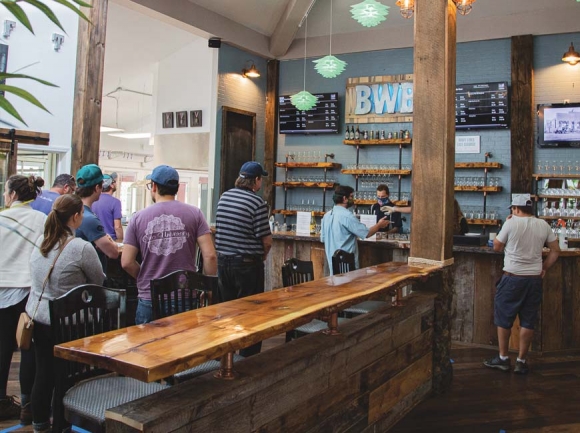 The new BearWaters Brewing – Creekside location in Maggie Valley. Donated photo
If you had told BearWaters Brewing founder/co-owner Kevin Sandefur eight years ago that some day he'd be at the helm of two brewery locations in Haywood County, and also play a big role in the economic revitalization of downtown Canton, he'd probably call your bluff.
"It's been quite a long journey, especially when I look back at how scrappy I was then compared to now," Sandefur chuckled. "And then, with life and experiences and things you do, you become more mature and more settled. You don't feel like everything's a fight, you finally become galvanized enough to move forward with a sense of peace and confidence."
In one of the great success stories of regional craft beer, BearWaters Brewing has grown from humble beginnings in a Waynesville storage garage to a highly popular destination in a large warehouse along the Pigeon River in Canton. For the 2019 calendar year, the brewery produced more than 1,200 barrels with around 90,000 patrons coming through the doors.
And with its Canton location (aka: BearWaters Brewing – Riverside) running on all cylinders, Sandefur and BearWaters co-owner Art O'Neil decided it was time to expand, which ultimately led to the discovery and acquisition of its new Maggie Valley location, aptly named BearWaters Brewing – Creekside.
"It was the right time to add another location and we secured the lease late year," Sandefur said. "We had looked at spots in Knoxville, Tennessee and North Georgia. But, ironically, we came across this place in Maggie. We had a checklist and it had everything — creek in the back, great parking, highway frontage and positive economic indicators."
Formerly The Garrett House, the Soco Road spot offers similar amenities as the Canton location, including backyard seating on nearby Jonathan Creek. Aside from its signature brews and a rotating cast of seasonal ales, BearWaters – Creekside has also teamed up with The Grey Eagle Music Hall & Taqueria, with the iconic Asheville business now bringing its storied reputation to Maggie Valley.
"The universe really brought our two businesses together, and this relationship has been pretty special," Sandefur noted. "They obviously have the entertainment and food side covered, and we're taking care of the craft beer side."
Sandefur added The Grey Eagle would also be involved in bringing notable live music acts to both Haywood County locations as things progress. And amid upcoming changes to the BearWaters – Riverside location, there are already plans in the works to construct a concert venue in the back of the property.
But, even with a whirlwind of recent expansion and decisions soon to be made, Sandefur is solely focused on the "here and now," of being in the moment and appreciating all of the great things he's not only built, but also crossed paths with in the process.
"With this brewery, it's kind of like watching your kids grow up, seeing how things develop and take shape," Sandefur said. "For us, we like watching people enjoy the spaces we've created, things we've put together where there was nothing before. It feels great to be able to make a positive impact on these communities."