Archived News
Casinos reopen at limited capacity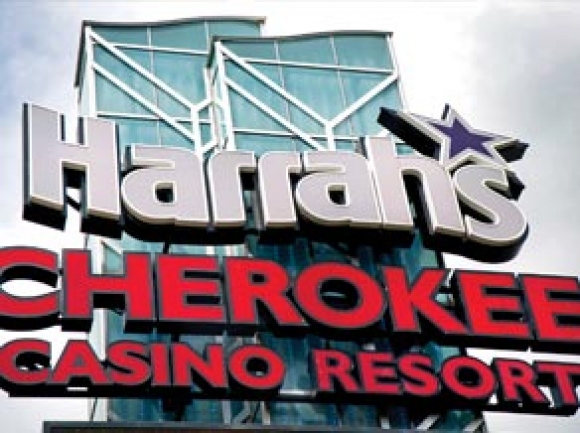 For the first time since closing March 18, Harrah's Cherokee Casinos in Murphy and Cherokee are now open to the general public.
The facilities reopened on Thursday, May 28, with various changes from pre-coronavirus operations. The casinos are limited to 30 percent of capacity, and while table games are included in the reopening with fewer playing positions per game, the poker room remains closed. Smoking is not allowed in the gaming areas, and guests are required to undergo a temperature check before entering and wear a mask while inside.
While most casino restaurants are open with limited seating and carryout operations, other amenities are closed and will open in phases as determined by the state and the tribe.
Opening weekend went well, said Regional Vice President for Marketing Brian Saunooke.
"We are pleased with the visitation to both properties in the early days of reopening," he said.
The resort in Cherokee saw about 4,500 guests per day over the weekend, with the Valley River location in Murphy receiving about 2,000 visitors each day. Neither property hit the 30 percent capacity limit set by the Eastern Band of Cherokee Indians. Under normal circumstances, occupancy this time of year would be above 30 percent but below 50 percent, said Saunooke.
While May 28 marked the casinos' first time welcoming guests from the general public, the properties have been open since May 18 on an invitation-only basis. The casinos are following new health and safety protocols from Caesar's Entertainment Corporation, including more frequent cleaning and sanitization, daily employee health checks, and a requirement that employees wear masks.
The tribe's decision to close the casinos this spring will have a significant impact on its budget, which draws more than half its revenue from casino proceeds. Visitation is expected to remain lower than normal over the coming months due to reduced capacity and visitor confidence in light of COVID-19, and Principal Chief Richard Sneed said that his recommended budget for the 2020-2021 fiscal year, which begin Oct. 1, will be based on 50 percent of normal casino projections.
Tribal members who receive per capita distributions are already seeing the effects. The June 2020 distribution represented a 3 percent decrease from the June 2019 distribution, and the tribe has suspended until further notice the per capita loan program that allows tribal members to borrow against their upcoming per capita payments.
Leave a comment
2

comments
are you open 24 hours or do you close and if so what time do you close? thank you and have a great evening!

Wednesday, 09/22/2021

are you open 24 hours or do you close and if so what time do you close? thank you and have a great evening!

Wednesday, 09/22/2021