Archived News
Beer branded with white nationalist lingo, imagery draws outrage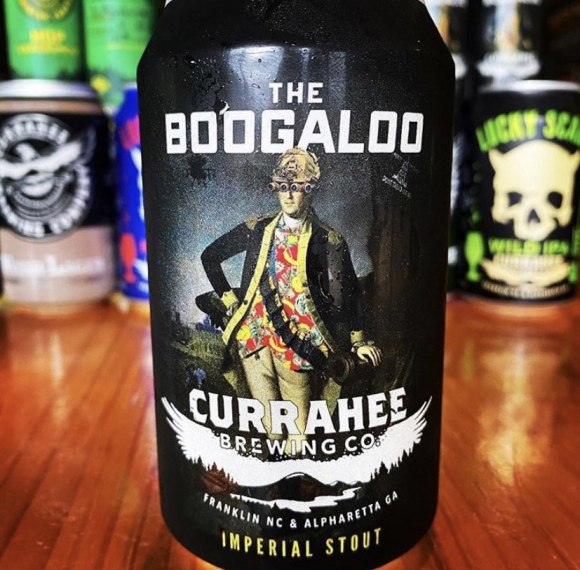 Currahee Brewing Company has locations in Alpharetta, Georgia and in Franklin, North Carolina.
Instagram/Currahee Brewing Co. photo
As cities across the nation smolder amidst the destruction of racially charged rioting over the murder of George Floyd by Minneapolis police officers, social media backlash against the branding of a locally-brewed beer has some people leveling accusations of alt-right white nationalism and anti-government militia sentiments at the brewers.
One of the men responsible for the beer says it's all just an honest mistake.
"It's unfortunate," said Brandon Hintz, co-owner of Currahee Brewing Company, an Alpharetta, Georgia-based brewer with a substantial taproom in Franklin. "I can understand why some people are upset about it. I'm disappointed in myself for not knowing, [not] taking more steps when we named the beer to figure out kind of more of the meaning, not just going off a couple of things you see on the internet."
The beer in question is an imperial stout called "The Boogaloo" and was released in March but conceived back in January. Hintz said the concept of the name and logo arose out of the protests over anti-gun legislation that took place at the Virginia capitol and in other states around that time.
"So we were kind of playing with that, due to the fact that I'm a fairly avid sportsman. We're also very Constitutionally-oriented. Our First and Second Amendments, all amendments, we try to support and defend," he said. "So we figured we'd make a beer to kind of go along with what's going on and play off of this whole Virginia issue that was happening."
Hintz said he was under the impression that the word boogaloo was simply an anti-authoritarian slogan denouncing government overreach, but he's since come to learn that to many, it means much, much more.
"We did not by any means know that it was being used by any type of racist white nationalist group at all, or we would never have used it or we would have dropped it," he said. "This can now has implications that we did not mean. We will be ridding ourselves of the brand and we just hope that people can accept our apology and understand it wasn't done with any ill will at all."
What's in a name?
The word "boogaloo" stems from a particular style of Latin music and dance popularized in the United States during the 1960s. From there, it evolved into to the "electric boogaloo," more closely related to the 1980s breakdancing phenomenon.
The 1984 sequel to the movie Breakin', titled Breakin' 2: Electric Boogaloo gave the word its widest cultural awareness, and the word would have likely faded right back into obscurity were it not recently given a sinister new definition by alt-right groups, according to Dr. Enrique Gomez, a Western Carolina University professor and current president of the Jackson County branch of the NAACP.
"My information for this comes from the Southern Poverty Law Center, which monitors hate groups around the country. What they've started to see in the last few months is the rise of groups on social media sites that use the term 'boogaloo,'" said Gomez. "The recent coinage and the use of this word has to do with supposedly the start of a second Civil War — essentially, people who are organizing potentially to start an uprising or commit violence against the federal government and other government officials."
Hidden in plain sight, the word boogaloo has become what's now known as "dog whistle" — a sort of coded message that is targeted toward a specific audience that's prepared to receive it while also passing undetected by the ears of those who aren't aware of its significance.
"There seems to be overlap with groups that are white nationalists," said Gomez. "We are deeply uncomfortable with this because this could for instance mean the rise of groups that are actively advocating violence, the overthrow of the government and essentially violating people's civil rights. This is in the context also at a time in which you have white nationalist groups that show up in state capitals, armed with guns and also groups that are essentially taking vigilante actions against people of color. So all of this is of deep concern."
Gomez isn't the only one concerned about the word and the movement; a January story by NPR National Security Reporter Hannah Allam calls it "a word coined by black and brown people now used by some who envision a country without them."
Slang that's sprung up around the movement has also produced variants, with some adherents to the boogaloo movement referring to themselves as "boojihadeen" who are awaiting "the boog" or "the big luau." The "luau" connection has also resulted in a specific piece of attire, the Hawaiian shirt, being associated with the movement.
A May 16 story in the [London] Times makes note of the Hawaiian shirt connection, as does a May 23 story by The Economist.
The can itself, produced by Currahee, bears an adaptation of a famous portrait of George Washington painted by American artist Charles Wilson Peale while Washington was still alive.
In the painting, Washington leans slightly to his left, his hand resting on the barrel of a cannon. Currahee's can has Washington sporting a Hawaiian shirt under his topcoat — obviously not what Peale painted.
"We were seeing some memes on the internet, quite a few about George Washington and kind of the joke was him wearing a Hawaiian shirt, you know, a modern day general obviously is not going to be wearing a Hawaiian shirt," Hintz said. "So we kind of played with that and we kind of rolled with it."
The can also shows, under Washington's right elbow, a small dark figure in a hat, crouched down on all fours as though picking crops — also not in Peale's original painting.
Brewing industry reaction
Executive director of the Asheville Brewers Alliance Leah Rainis wasn't aware of Hintz' explanation of or apology for the Boogaloo Imperial Stout, but that may not make much of a difference at this point.
"This was brought to our attention about 12 hours ago, on a Saturday night. I'm commending our board of directors for moving swiftly on this," Rainis said. "We're happy to have members who are so supportive and concerned. One of the cornerstones of our culture as the ABA is to ensure that nobody is doing anything that is harmful to the industry or to others."
According to Rainis, Currahee's "use of offensive imagery and language" on the Boogaloo can warrants removal from the ABA, a craft brewing industry group that represents more than 100 brewers and allied trade members in North Carolina's 19 westernmost counties.
"The Asheville Brewers Alliance definitely condemns the actions of Currahee Brewing Company with this new release," she said. "It's a direct violation of the ethics section of our bylaws. We are in the process of making moves to refund their member dues and remove them as members of our organization."
Rainis cited a section of the group's governing documents that reads, "In matters of day-to-day trade, members will avoid practices which are illegal in the state of North Carolina, detrimental to the interests of fair competition or harmful to the industry on the whole."
Bryson City-based Nantahala Brewing owner Joe Rowland, a board member of the ABA, didn't mince words in his statement to The Smoky Mountain News.
"This industry was built on a foundation of openness, acceptance and collaboration. It's a strong commitment to each other regardless of who you are, who you love, where you came from or the color of your skin that's helped us thrive," Rowland said. "It's that 'together all ships rise with the tide' mantra that's given us a voice in an industry traditionally dominated by large multinational corporate brewers. It saddens us to learn that a member of our craft beer community made a mistake and created a brand that is associated with racism and hate. Racism has no place in our society on any level including craft beer."
A similar statement was also issued by the owners of Sylva-based Innovation Brewing, Nicole and Charles Owen.
"We were shocked and extremely upset to see this come from someone in our industry," said the Owens. "This industry has unparalleled heart and has always represented community, inclusion and togetherness. We as people, brands and businesses have a responsibility to work towards positive change in society."
Hintz, for his part, continues to urge the public not to judge his or Currahee's identity based on what he maintains was an unintentional mistake.
"This isn't who we are as a company," he said. "It doesn't matter your race, religion, political voice, we do not discriminate against anyone nor do we want people to feel like we are discriminating because that is, again, a hundred percent not what we want."
Smoky Mountain News Arts & Entertainment Editor Garret K. Woodward and Blue Ridge Public Radio's Lilly Knoepp contributed to this report.
Leave a comment
1

comment
Ridiculous, libertarians is what these people are and literally harmless as compared to any activist group of any ethnicity which actually "demonstrate" on the streets of our cities. The idea that these people are trying to promote racism or supremacist concepts is insane.

Monday, 08/16/2021