Archived Mountain Voices
The peculiar weather of the Smokies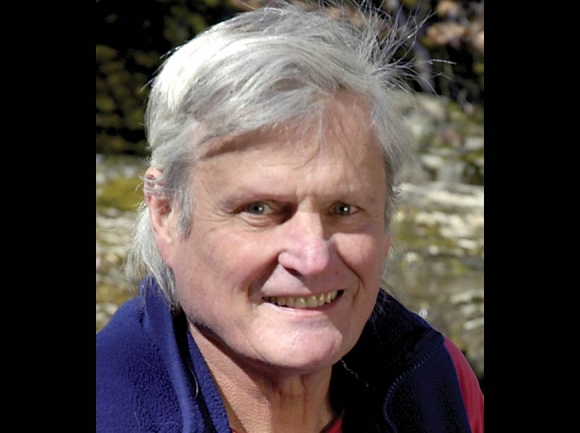 Weather continues to be the enduring topic for conversation here in the Smokies region. Long after the Eric Rudolph furor has died down, folks will still be thinking, wondering and talking about the weather. The best weather discussions are about strange weather … the stranger the better.
It's the first day of June, 2003, as I write this. My wife, Elizabeth, and I agree that this morning was the first time in a month we've seen sunshine on Lower Lands Creek in Swain County, where we live, before mid-day. In addition to the mid-May frog-strangler that swept away two of our footbridges and nearly washed out a culvert, the weather has been unseasonably cool and continuously rainy.
Some evenings we're still cooking on the wood-burning cookstove instead of the outdoor cooker. Most of the windows in the house remain closed at night. A blanket is still on the bed. The last time I remember late cool weather like this occurring was back in mid-June of 1977.
I suppose this is what is meant by the terms "blackberry winter" or "laurel winter;" that is, a snap of cold weather when the blackberries or mountain laurels are in bloom, as is the instance now. I've also heard folks refer to this sort of weather as a "dogwood winter" when it occurs in late April and early May while the dogwood trees are flowering.
Late spring and early summer cool or even cold weather isn't all that unusual in the long run. In Western North Carolina — A History 1730-1913 (Asheville, 1914), John Preston Arthur has a section devoted to "Extraordinary Events." Therein, he notes that June 5, 1858, is known as "The Cold Saturday" in Watauga County because on that date "a freeze killed corn knee-high, and all fruits, vegetables and white oak trees between Boone and Jefferson, according to the recollections of Col. W. L. Bryan of Boone." He also notes that there was "a slight frost at Blowing Rock on the night of July 26, 1876," and "a snow on the Haywood County mountains on June 10, 1913."
In Mountain Bred (Asheville, 1967), John Parris records some of "the strange terms" used locally to describe weather.
• "A poor man's rain" is one that doesn't "interfere with a man's working hours and was mighty good for sleeping."
• "Star-tears" are the dew drops "that stars weep."
• "A heavy rain, not an ordinary rain, is a frog-strangler or goose-drownder."
• "A stemwinder of a rain" is one that "falls straight down and beats the earth's face into dirty pocks."
• A "cross-legged snow" occurs "when snow slants out of the sky in two directions at the same time to form an X pattern." Furthermore, a cross-legged snow is always followed by more snow the next day and at the exact same time.
In the voluminous journals (now archived at Western Carolina University) he kept from 1904 until his death in 1931, Swain County writer Horace Kephart recorded numerous expressions used by people here in the Smokies to describe weather conditions. Here are a few.
• "The dews are so heavy that they patter from the trees like rain in the morning."
• "The sky denotes snow."
• "It was spittin' snow."
• "The e-le-ments looks a leetle dingy."
• "It may fair up an be a pretty week, next week."
• "It friz over."
• "It was all friz over."
• "The fog is friz shoe-mouth deep on the mountain."
• "It was along late in November and the ground all spewed up with frost."
Until recent times, forecasting the weather was an art form. The weather would surely be fair if chimney smoke rises; or if you heard a screech owl at night.
On the other hand, it would surely rain if the horns of the moon point down; or if the cows are lying down in the pasture; or if you see a blacksnake in a tree; or if an ant covers the hole of his anthill.
Editor's note: This George Ellison column first appeared in a June 2003 edition of The Smoky Mountain News.
(George Ellison is a writer and naturalist who lives in Bryson City. This email address is being protected from spambots. You need JavaScript enabled to view it..)