Archived Outdoors
Second Lady Pence visits the Smokies: Applauds reopening, mental health benefits of outdoor recreation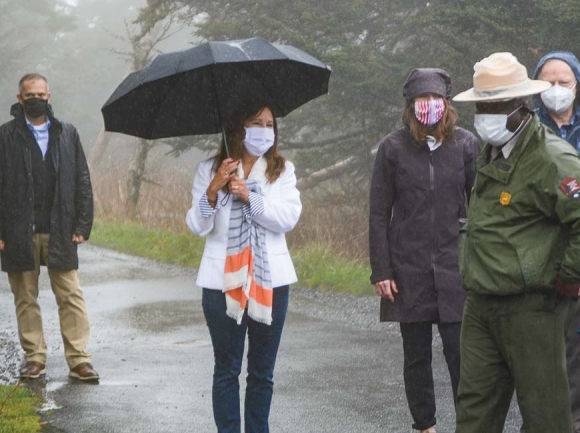 Second Lady Karen Pence (left) hikes to the Clingmans Dome Observation Tower with Smokies Superintendent Cassius Cash (far right). Holly Kays photo
Visiting Clingmans Dome is like being in the clouds, Second Lady Karen Pence said when she visited the site Tuesday, May 19 — and she certainly wasn't wrong. On a clear day, the views from the top of the Great Smoky Mountains National Park's highest point extend for 100 miles, and while the aforementioned clouds and accompanying rain slashed that range by roughly 99 percent, Pence said that was more than enough to appreciate the place's beauty.
"The sound of the wind, the sound of the rain on the tent, the trees overhead and the soft, earthy feel of the ground underneath our feet — not only are these experiences enjoyable to have, but they're good for us too," she said.
The Smokies is the most visited national park in the country, and the largest east of the Mississippi — Pence made her visit in recognition of the park's entrance into the second phase of reopening. It was the Smokies' first presidential visit since President Franklin Delano Roosevelt dedicated the park in 1940.
Prior to her May 19 remarks at the Clingmans Dome Parking Area, Pence and Deputy Secretary of the Interior Katherine MacGregor opened the gate that had closed Clingmans Dome Road to public visitation, and on Saturday, May 23, even more previously closed roads and trails reopened.
Importance of access
As the rain fell, about 55 mask-wearing people representing federal, state and local leadership in both Tennessee and North Carolina gathered underneath a tent erected on the parking lot to hear remarks from Pence, MacGregor and Smokies Superintendent Cassius Cash. Afterward, the group walked the steep half-mile trail up to the Clingmans Dome Observation Tower.
"We recognize the importance of this space, and we have worked hard as caretakers to ensure that we protect it for the generations of today, and those that are to follow us," said Cash. "This special place, like all national parks across the country, provides an important place for recreation, restoration and also for renewal. And that has never been more important than now."
Pence and MacGregor both focused on the park's beauty and the importance of outdoor recreation, both for mental and physical health and for the region's economy.
"Access and opportunities to public lands are incredibly important to those who wish to visit and recreate as well as to the local economies who should continue to thrive as neighbors to our parks," said MacGregor.
For fiscal year 2019, the National Park Service estimated that the Smokies' 12.5 million annual visitors generated nearly $1 billion in visitor spending and supported more than 13,000 jobs in gateway communities, MacGregor said. Outdoor recreation accounts for an estimated 2.2 percent of the nation's GDP, equating to roughly $430 million.
"The majority of our parks and an overwhelming majority of our 500 million acres of public lands entrusted to our management in Interior have remained accessible throughout this pandemic so people could use CDC's guidance and get outside," MacGregor said. "We've worked alongside state and local public health officials, which has led to some of our parks taking in some cases the extraordinary measures of closing, sometimes at the request of local communities."
While smaller, less-visited national parks like Gates of the Arctic in Alaska remained open during the pandemic, most of the larger, more-visited parks like Yellowstone, the Grand Canyon, Rocky Mountain — and the Smokies — did restrict access in response to coronavirus concerns.
Today is a happy day," MacGregor added. "Today we're here to transition to phased reopening side-by-side with our state partners."
Not everyone agrees with that characterization. The park's reopening has drawn dissent from the nonprofit National Parks Conservation Association.
"With its cascading waterfalls and blooming wildflowers, Great Smoky Mountains National Park in springtime draws so many crowds that it's become the most-visited park in the nation. Unfortunately, crowds come with incredible risk right now," said Southeast Regional Director David Lamfrom. "Karen Pence's visit to Great Smoky Mountains National Park downplays the risks of visiting a crowded park. When people learn that the vice president's wife visited the park, they may believe it is safe for them to visit over the long weekend. It's not."
Lamfrom pointed out that COVID-19 cases in both North Carolina and Tennessee have increased over the past week, and that the CDC is recommending that people avoid visiting crowded areas where it's difficult or impossible to maintain social distance.
"Park managers are working diligently to safely reopen the Smokies, but without adequate PPE for staff at the park and a guarantee that visitors can properly social distance, it is not yet safe for the park to operate with an influx of visitors," said Lamfrom. "We all miss visiting our national parks, but we cannot allow Great Smokies National Park to become a vector for COVID-19."
Lodging begins recovery following reopening
Lodging figures for parkside communities indicate that the park's reopening is already spurring tourism to the area, though levels are still far below what is typical for this time of year. In Jackson County, Smith Travel Research data showed that hotels were at 36.6 percent occupancy for the month of April, compared to 62.4 percent for the same period in 2019. However, that figure jumped to 44.7 percent for the week of May 10-16 following the park's initial reopening May 9 — for the same period in 2019, occupancy was at 60.9 percent.
In Haywood County, Smith Travel Research Data for hotels showed occupancy at 19.8 percent for the month of April, compared to 53.8 percent last year, though AirDNA data looking at occupancy for vacation rentals through Airbnb and VRBO said visitation was slightly up, at 45.4 percent versus 44.4 percent last April. Haywood County did not have any May data available.
No occupancy rate data was available for Swain County, but Swain County Tourism Development Authority Executive Director Mary Ann Baker said lodging taxes were down 82 percent in March and 73 percent in April as compared to 2019 levels, but that she anticipates the park's reopening will help those numbers recover.
"Lodging owners and managers report that since May 9, they have seen a steady flow of reservations, and many were booked for the Memorial Day weekend," said Baker.
Pence said that the measures Americans have taken over the past months have made a difference, but that it's now time to implement a plan to reopen the country.
"Thanks to the sacrifices that we've made to social distance during this pandemic, the Coronavirus Task Force has received reports showing that our efforts have slowed the spread," Pence said. "As we continue to put the health and safety of Americans first, the President outlined a plan to open up America again, and Governors Bill Lee and Roy Cooper are playing an important role in taking the necessary steps to help get America back to work."
It's been "inspiring," said Pence, to see people put the health of friends, family, neighbors and even complete strangers first by practicing social distancing guidelines, and Americans should continue to follow those guidelines even as places like the Smokies reopen.
"The Great Smoky Mountains offer half a million acres to explore," said Pence. "Half a million acres to explore — there's plenty of opportunity there to practice your social distancing. There's no reason why you need to be right on top of someone else."
Maintaining mental health
Pence also highlighted the mental health benefits of time outdoors, which are especially important during this time of stress and uncertainty.
"Spending quality time in the great outdoors reduces stress, calms anxiety and can lead to a lower risk of depression," she said, referencing a study from Stanford University. "More than ever before we must ensure that we're taking care of ourselves and we're taking care of each other."
Pence is the lead ambassador for the interagency task force PREVENTS, which stands for President's Roadmap to Empower Veterans and End a National Tragedy of Suicide. In response to the COVID-19 pandemic, the task force is in the midst of a public health awareness campaign called "More Than Ever Before," which is designed to encourage people to care for their mental health to combat stress and anxiety caused by the pandemic.
Since the pandemic began, calls to the National Suicide Prevention Lifeline and Veterans Crisis Line have increased, and an overall increase in mental health challenges is anticipated, said Pence. But, she added, with that challenge comes an opportunity.
"Our new normal has caused stress and anxiety, but right now is an opportunity to take this stigma away, because everybody is feeling anxiety," she said. "Everybody is feeling the stresses of being cooped up and inside and not at work and having business challenges. So it's the perfect opportunity for people to feel comfortable coming forward."
Pence encouraged Americans to check in with themselves every day to assess their mental wellbeing, to engage in activities that give them joy and to talk about their struggles and successes. They should also look out for those around them, and call the National Suicide Prevention Lifeline at 1.800.273.8255 if they're worried about themselves or someone they love.
"This is as critical as washing our hands, maintaining physical distance and other measures that help prevent the spread of the virus," she said. "This also isn't an option."